Look, I get it. You didn't watch The Oscars last night. Maybe it's because you cut cable ages ago and didn't feel like signing up for that free trial of Youtube Red. No judgment here. Even though your heresy contributed to the annual award ceremony's dwindling ratings, host Jimmy Kimmel did a bang up job as emcee, with jokes about Hollywood's problem with women, minority representation, and the fact that Timothée Chalamet is a child, yes I know he's in his 20's, but that guy looks like he's skipping 5th period History to be at every event he's seen.
Here are our favorite jokes of the night.
On improving the lives of women in the entertainment industry.
The penalties for making long speeches this year.
Reminding the world that Chalamet is a child.
Poking fun at Harrison Ford's piloting abilities.
Pointing out that Tonya had the best possible casting outcome in cinema history.
Bringing up the major mishap from last year.
Fun Fact: "What Women Want" cost more to make than "Saving Private Ryan." Look it up.
It's funny because our President is a racist.
Oscar is the ideal man.
Triggering broflakes everywhere.
Twisting the knife about everyone's favorite movie of the year.
Black Panther has made all the money.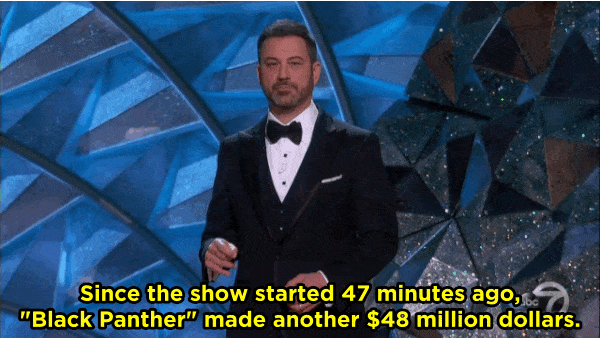 Oscar is a nonagenarian.
Tossing a little shade at PricewaterhouseCoopers.
On all the awards given out off-camera that no one gets to see.
And when he asked Spielberg if he has any of that dank grass.