Mother always knows best, and in these cases mother is also a celebrity with a huge following.
Enjoy this selection of funny celebrity moms on Twitter just keeping it real.
These kids will grow up knowing their childhood was broadcast to thousands of strangers online, which would probably screw you up a bit if these moms weren't also hilarious. That's the difference. Bad content + kids = therapy. Good content + kids = fond memories. I guess time will tell in the end, but for now let's enjoy some funny tweets.
1.
i dunno i can't find her https://t.co/fEj8rFHEMI

— chrissy teigen (@chrissyteigen) April 24, 2016

2.
Take a shower?

Or

Feed the baby?#MomLife

— Tyra Banks (@tyrabanks) March 26, 2016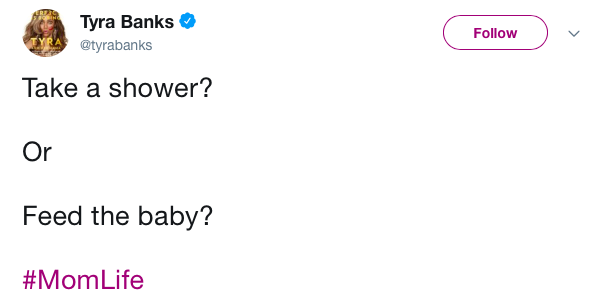 3.
At it again… Having more fun than my kids lol pic.twitter.com/3EnU15u9zc

— Britney Spears (@britneyspears) April 20, 2016
4.
Q. If you dress your baby in a black turtleneck is she dressed as a.)Audrey Hepburn b.)Steve Jobs or c.)Andy Warhol?

— zooey deschanel (@ZooeyDeschanel) October 27, 2015

5.
It just occurred to me that the majority of my diet is made up of the foods that my kid didn't finish…

— Carrie Underwood (@carrieunderwood) April 30, 2016

6.
New glam team alert 👻- KimKardashian pic.twitter.com/eAU5oP4V2B

— Kim Kardashian West (@KimKardashian) April 27, 2016
7.
If you're worried about your teenagers procreating, put them on a 6 hour flight with our kid. Scared Celibate. Guaranteed. 👍

— olivia wilde (@oliviawilde) November 30, 2015

8.
The Force is strong in this household. #StarWars #TheForceAwakens pic.twitter.com/aH8TOVJhXN

— Zoe Saldana (@zoesaldana) December 18, 2015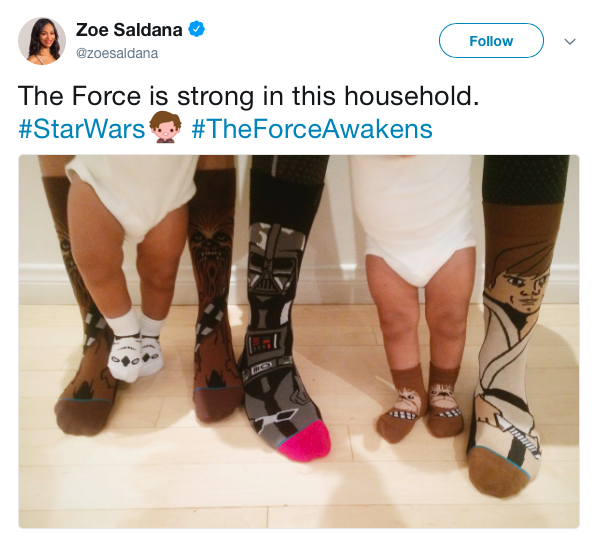 9.
Idk if I just ate a clump of pesto or one of my kids boogers. Interesting. #momproblems 🤔🤔🤔🤔

— Nicole Polizzi (@snooki) April 7, 2016

10.
#badmoms. I once took very good and clean floss out of the trash to floss her teeth. She yelled at me.

— christina applegate (@1capplegate) May 4, 2016

11.
Why don't kids understand that their nap is not for them but for us?

— alyson hannigan (@alydenisof) February 4, 2011

12.
Ladies and gentlemen, Otis Alexander Sudeikis has LEFT the building! (I'm the building) pic.twitter.com/uHfY3adroc

— olivia wilde (@oliviawilde) April 23, 2014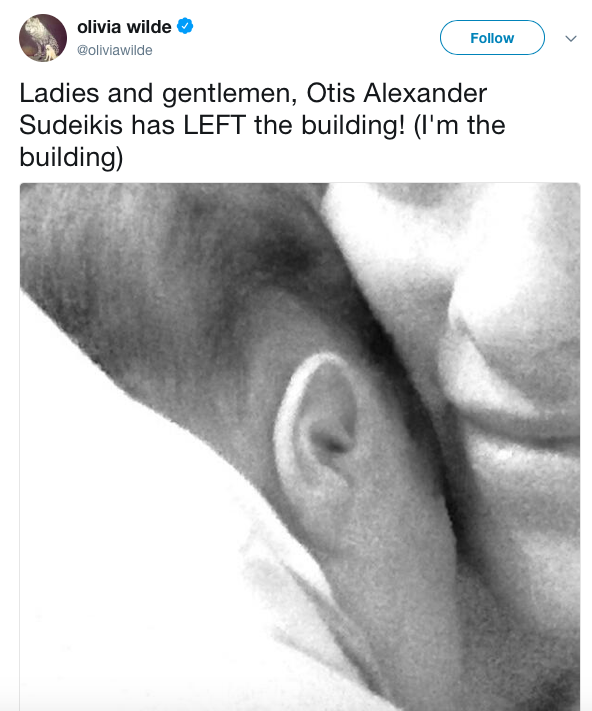 13.
Worst idea of the day.. The ornament section of Bloomingdales with a two year old 😳

— Hilary Duff (@HilaryDuff) December 5, 2014
14.
my life was once whiskey, tears, and cigarettes… now it's snot, tears, and the color of poop. #bliss

— P!nk (@Pink) June 14, 2011

15.
Guys, with GREAT pride I tell you this: Birdie got into preschool. So, our job as parents is done, right? Right?

— Busy Philipps (@BusyPhilipps) March 11, 2011

16.
245 pm. My son just told me I had a mustache like daddy's. #ThanksgivingThrowdown

— Anna Faris (@AnnaKFaris) November 28, 2014

17.
Only one plug working in my house. Do I charge the baby monitor or my phone. Asshole dilemma

— christina applegate (@1capplegate) December 5, 2014

18.
"It's 8:30am & I've already gotten into 5 fights" – thugs, and parents of toddlers

— Nikki Fre$h (@nicolerichie) January 14, 2013

19.
How do I do it all- with 3 kids & a full time job? This is how. Me & every other mom. #Naptime (photo @mrsbymrs ) pic.twitter.com/0MHEswANWL

— Reese Witherspoon (@ReeseW) March 18, 2015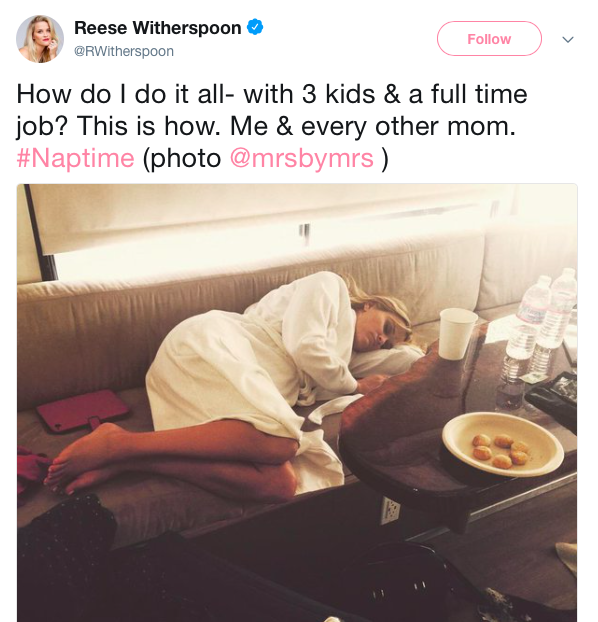 20.
My 4 year old son just said to me, "Mom, you should never trust farts." https://t.co/CQO0Cdj1z4

— Alyssa Milano (@Alyssa_Milano) March 4, 2016

21.
I think that when you have small kids, you just have to be ok with the fact that your car will always smell like slightly rotten apples.

— Busy Philipps (@BusyPhilipps) July 25, 2015

22.
It is sooo funny. I used to get crazy with my own costume. Now i'm lucky if I brush my hair. Too obsessed w my daughter's look.

— Bethenny Frankel (@Bethenny) October 30, 2015