"Never bring a knife to a gun fight" is pretty solid advice. You would think "never bring a bong to a bear spray fight" would be similarly solid (if strange) advice, but this worker at a Canadian weed shop has already proved that dubious axiom false.
A video uploaded to YouTube shows a clerk at a cannabis shop in Shannonville, Ontario going about his business with a coworker when three masked men in hoodies burst through the door. One of the men shoots off a cloud of bear spray at the two workers while yelling at them to "get the f**k down." The workers quickly duck, and two of the would-be burglars move to get behind the counter.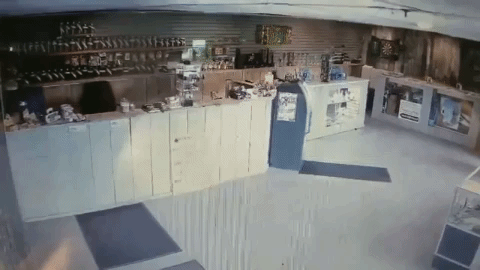 That's when the clerk, who according to the local police is from Tyendinaga Mohawk Territory, picks up the nearest weapon—a massive glass bong like the kind you'd find in a High Times magazine centerfold. He wields it like a club, hopping threateningly towards the group of assailants.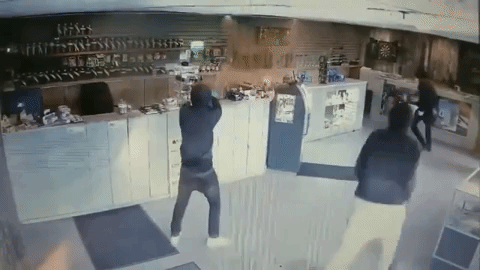 The robbers appear somewhat flummoxed by this display of resistance and don't seem to have a plan to deal with it. Bear Spray Guy tries to counterattack with his only move, the bear spray, but he already shot his wad and comes up empty—twice. He also slips a little on the carpet, giving the whole operation even more of a comic slapstick smash-and-grab air than it already had.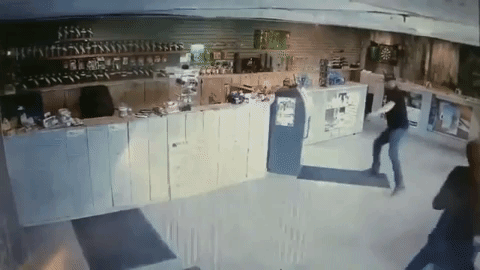 That's when another of the burglars, Recycling Bin Flinger, springs into action with—you guessed it—a recycling bin. He picks the empty container up, threatening to hurl it at the clerk, who—like the cocky action hero he has now become—shrugs and says "What are you gonna do with that?" The answer from Recycling Bin Flinger is to fling it, but unfortunately for him, it misses pretty spectacularly.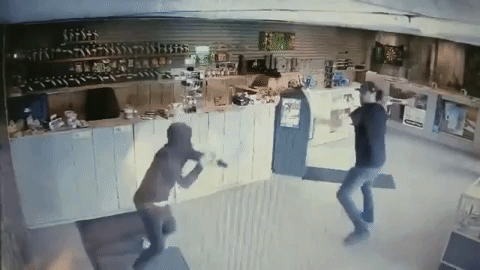 At this point, the crew seems to think it's best to cut their losses and, after a final self-assured head tilt from the clerk, flee through the front door. The clerk takes a final swing with the bong, shattering it on either the front door or one of the failed thieves (it's out of frame) and then opens the door to shout insults at the fleeing criminals. Whew.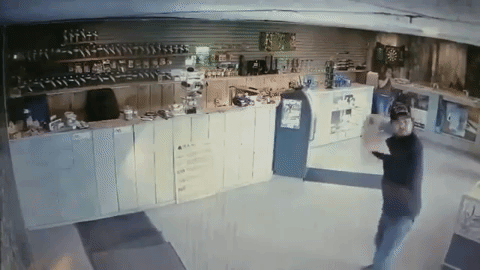 It's a good thing Canada has stricter gun control laws than the United States and these men were only wielding bear spray and recycling bins instead of, you know, actual weapons. It's also good that the clerk was so handy with that giant bong, because it looks like it's going to be a few more months until his adorably tiny guard dog is big enough to do some damage.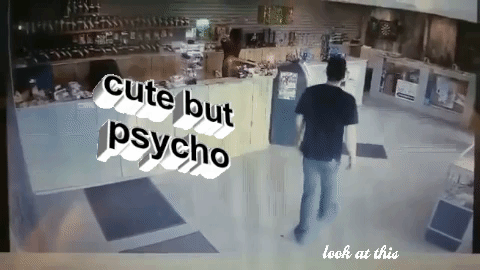 Watch the whole thing here:
h/t: Vice