Earlier this week, Twitter account @drakesbrother (not actually Drake's brother…I think…) tweeted out, "Weird Confessions: let's hear them."
https://twitter.com/drakesbrother/status/1081962215375282180
To say that Twitter delivered would be an understatement. If anything, Twitter over-delivered.
The confessions were, in fact, weird. Really, really weird. But what's striking is the common thread running through all of them. They're universal.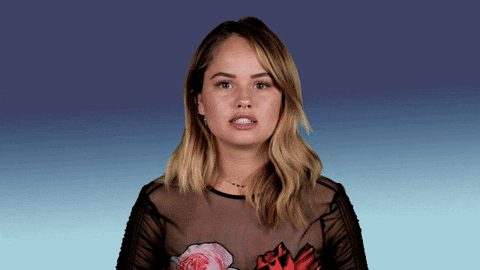 Sure, you probably won't relate to every single one of them. But odds are, you'll read a good many of them and be like, "wait, what? I thought that was just ME!" If anything, this thread proves that we are all equally psycho, OCD, neurotic, what have you. It's comforting, in a strange way.
1.
When I'm driving and I see the person behind me switch lanes & speed up, I do the same so they can't go infront of me

— fred (@Fredmaano) January 8, 2019
2.
if someone sneezes around me I hold my breath for like 15 seconds till all of their germs disperse in the air away from me

— diane (@DianeFryling) January 7, 2019
3.
All doors and closets in the room gotta be completely shut when Im sleeping.

— Ryo of Wildfire (@SpeedFors5) January 7, 2019
4.
https://twitter.com/Vcksn/status/1082487535413141505
5.
Whenever I'm inside a building I think of what would happen if there were to be a shooter come in through any of the doors and think of what'd I'd do and where I would hide

— Irma (: (@irmva) January 8, 2019
6.
I'm scared to use a flashlight at night because I feel that it's going to land on some weird monster/humanoid creature thingy and that's how I will die pic.twitter.com/gK2oD4BwMw

— Skywalker (@truly_wild) January 7, 2019
You May Also Like…
— Ruin My Week (@RuinedWeek) January 10, 2019
7.
https://twitter.com/xveronicaluvx/status/1082730740566118400
8.
My car radio volume has to be an even number or a multiple of 5

— Jackson Downs (@jacksondowns_22) January 8, 2019
9.
https://twitter.com/Buneta_x/status/1082678316434378753
10.
https://twitter.com/DizzyLizzyPDX/status/1082302895872126976
11.
https://twitter.com/AC_Phlegm_/status/1082215983278829568
12.
I can't be in a parking garage for to long because I'm always afraid a giant earthquake will happen and the building will collapse and I'll be trapped under the rubble and die slowly even though i live in an area where earthquakes are extremely rare

— Makiya (@_brownsuggababe) January 7, 2019
13.
https://twitter.com/Honeybrei/status/1082670169271517184
14.
I think of emergency/escape plans for every room/building I walk into for a variety of situations (public shooter, terrorist attack, natural disaster, etc.)

— . (@LateNightWeeknd) January 7, 2019
15.
when i'm in my car i talk by myself as if i were getting interviewed on tv

— jasmine esparza (@jvsmine88) January 8, 2019
16.
When I'm listening to music in public, I can only have one ear bud in my ear at all times. I need to be aware of my surroundings. I only put both in if I'm on a bus or plane.

— Asia✨ (@Plane2Asia) January 8, 2019
You May Also Like…
— Ruin My Week (@RuinedWeek) January 9, 2019
17.
https://twitter.com/AshhNicoleeC/status/1082678710208286720
18.
https://twitter.com/simplynidal/status/1082748256772329473
19.
I pay attention to numbers and patterns a lot, and accidentally memorize them. I'll be driving and read the license plate in front of me and it will be stuck reciting in my head all day

— Kira (@ohgawd_itskira) January 7, 2019
20.
https://twitter.com/Ashlingling_918/status/1082163195874205698
21.
https://twitter.com/sudxnia/status/1082631817126125569
22.
Me driving- "I could floor it and swing into the guard rail."
Other me: o.O
Me: "Lol I mean change the radio station! :)"

— Punky Brewster (@xLAWx_) January 8, 2019
23.
Okay this is probably gonna be one of the most weird ones but I have this constant feeling that being watched 24/7 and literally everyone is in on it. Pretty much like the Truman show for those of you that have watched it .

— Skinny ass Kelly Price (@Freshnoodlez) January 8, 2019
24.
i shower on my toes, i hate putting my whole foot on the shower floor

— I$HH (@ishhquinones_) January 7, 2019
25.
I naturally wake up between 2-4 am everyday lay there awake for about an hour then fall back to sleep

— Breezjáe. (@_breezjae) January 7, 2019
26.
If I'm waiting for a timer, I do a countdown with it in my head to see if I can keep up. I also countdown in increments of single digits. Makes it a lot easier.
(If it's 37 seconds, I go 7-6-5-4-3-2-1-0-29-8-7-6-5-4-3-2-1-0-19-8-7-, etc.)

— Lex (@lexieeWABO) January 7, 2019
You May Also Like…
— Ruin My Week (@RuinedWeek) January 9, 2019
27.
I had no idea sitcoms where taped n front of live studio audiences. So When i used to watch shows & heard people laughin, i thought it was the rest of the whole world at home watching & laughing into their tvs, so i used to laugh xtra hard right into the speakers .

— Red (@Redness427) January 8, 2019
28.
I do personal bets with myself like if I'm about to throw something in the trash I say "ok if I make this me and my gf will get married one day".

— Caramel Macchiato (@A1Kaycakez) January 7, 2019
29.
I sleep with the tv on because when it's quiet I start to overthink things and my anxiety kicks in

— Mxhzy (@Mxhzy_) January 7, 2019
30.
everytime i get in my car, i make sure i check the backseat because i dont wanna get choked out from behind

— : (@iam_vashonn) January 8, 2019
31.
sometimes i find the floor much comfier than my bed. i just be laying on it for no reason even tho my bed right there

— adelle s (@maadessi) January 8, 2019
32.
https://twitter.com/MandieMasked/status/1082549003324076033
33.
When I sleep I HAVE to have my fan turned on while keeping my covers over me, otherwise I'll be too cold without the covers or too hot without the fan. People find this weird???

— Axlogix ☽ (@Axlogixx) January 8, 2019
34.
If I knock/scrap one foot on the floor by accident I have to even it out and knock/scrap the other foot otherwise I feel uneven

— Harrison Carnegie (@Haz_ink) January 8, 2019
35.
https://twitter.com/B_doll23/status/1082688251712946176
36.
https://twitter.com/KrystalMIsable/status/1082155113504923648
37.
https://twitter.com/_urdestynee/status/1082191794773913601
You May Also Like…
— Ruin My Week (@RuinedWeek) January 9, 2019