As a man, I'm mostly useless in the pregnancy and birth process. Aside from back rubs, late night runs to the store for ice cream and pickles, and, of course, sharing lists of hilarious jokes that can hopefully make you feel less like you're alone in this whole thing. Enjoy!

1.
4-yr-old saw picture of me pregnant.
I explain that she was inside me. She thought for a bit then said:
"I never want to do that again."

— Zoe vs. the Universe (@zoevsuniverse) July 21, 2014
2.
Nobody on this train is decent enough to give up their seat for a pregnant woman & now I gotta stand here w/my sweater balled up in my coat.

— Caissie St.Onge (@Caissie) December 16, 2013
3.
[walks into 4D ultrasound office]

Receptionist: Uh sir. This is for pregnant women

Me: I just want to see my burrito again

— Thackery Binx (@Mr_Kapowski) August 5, 2015
4.
My Obgyn suggested I cut carbs to maintain a healthier pregnancy weight.
Frankly, I'd rather cut the Obgyn.

— full metal mommy (@FullMetalMommy) June 9, 2014
5.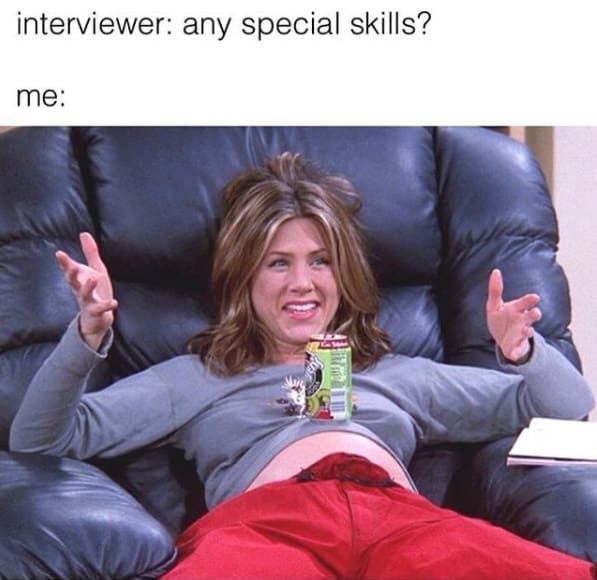 6.
3-year-old: Can the baby come out to play?

Pregnant wife: No, honey. She's not ready yet.

3-year-old:

Wife:

3-year-old: Babies are lazy.

— James Breakwell, Exploding Unicorn (@XplodingUnicorn) August 30, 2015
7.
Don't ask a pregnant lady "do you know the sex?" obviously she knows about sex she's pregnant you stupid idiot

— Dan Duvall (@lazerdoov) March 5, 2015
8.
I just left a voicemail and said " please call me back at your convenience. Amen." Instead of "goodbye". #pregnancybrain is real y'all

— Virginia Williams (@VirginiaWms) October 14, 2015
9.
I just started crying while watching a Post-It commercial.

Pregnancy confirmed.

— samantha jo ❄️❄️ (@samanthajcampen) August 22, 2012
10.
That terrifying moment when your in the bath and can't see your vagina anymore …? ?#pregnancyproblems #knewthisdaywouldcome

— Mallory (@Mallory0502) October 21, 2015
11.
Why the plus or minus on the pregnancy test, ept? How about a simple yes or no and we'll decide if that's positive or negative.

— I Kent even (@kentgrossarth) February 17, 2013
12.
Dollar Tree pregnancy tests.

For when you only want to be 35% sure.

— kitten~wrath (Sarah…) (@kittenwrath83) July 21, 2013
13.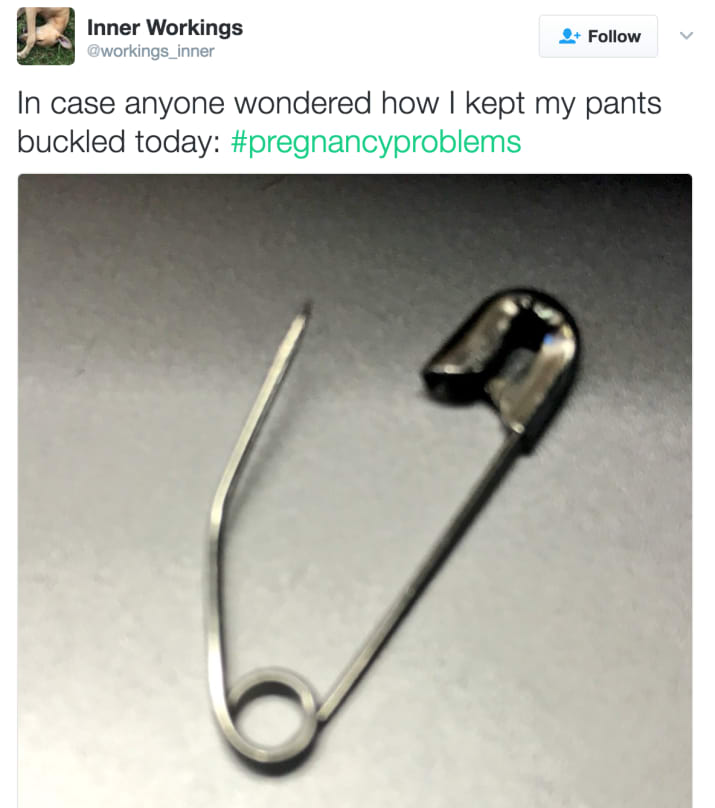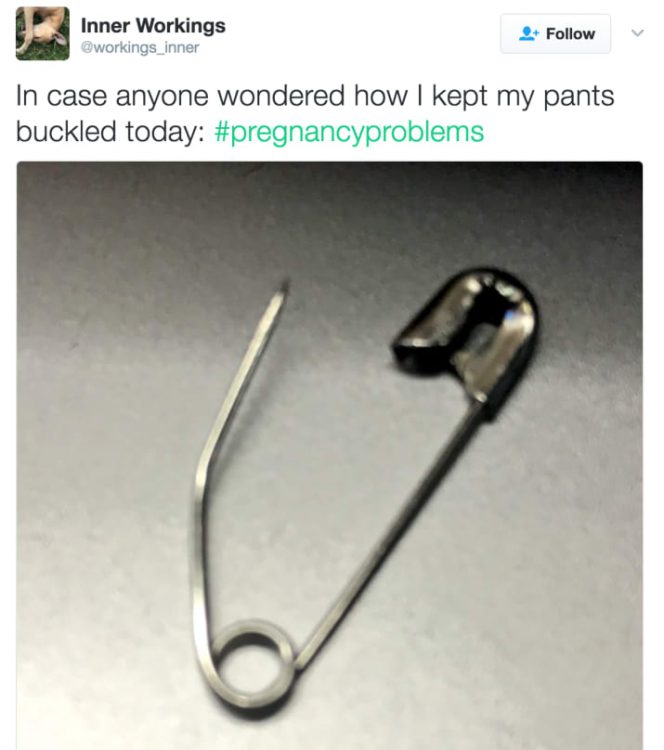 14.

15.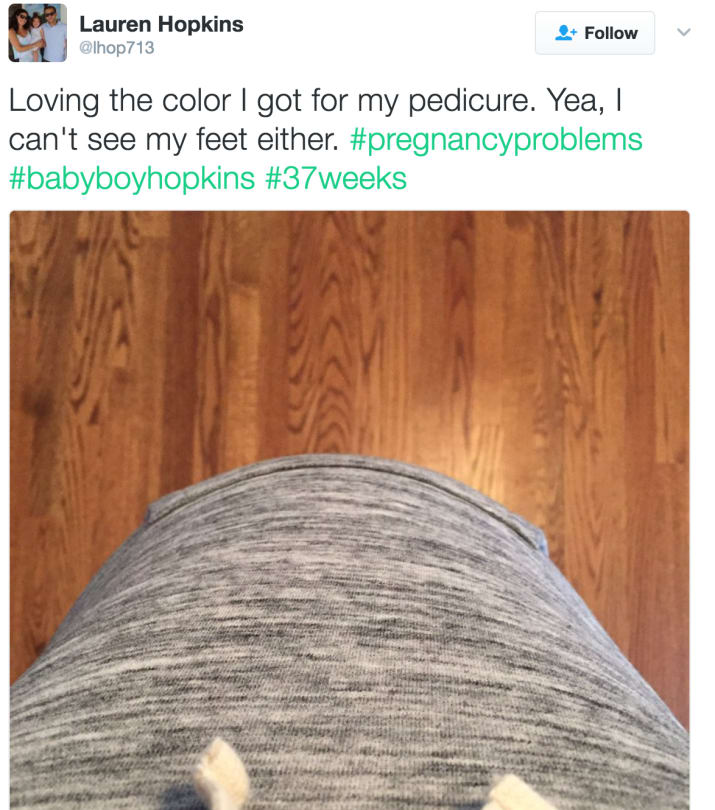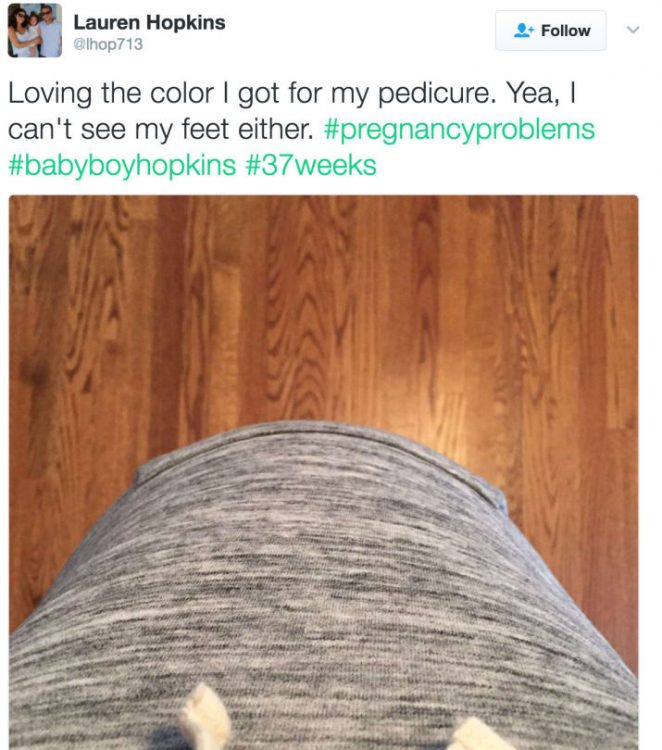 16.
*pregnant wife wakes up*
I think my water broke
*I hide the Kool-Aid packet and water jug I spilled in bed*
Let's go to the hospital

— Dr. Bucky Isotope for President (@BuckyIsotope) August 17, 2015
17.
Post that you're pregnant on facebook: 88 likes and 31 comments.

Tweet that you're pregnant on twitter: 2 stars and 491 unfollows

— Raspberry Jam (@Jenny4ashley) September 7, 2013
18.

19.
You can't get pregnant from sex with a condom, only from sex with a person

— donni saphire (@donni) January 25, 2015
20.
Pregnancy test commercials would be a lot more relatable if the women in them cursed and cried.

— αlly (@ToonieLane) August 15, 2013
21.
My home pregnancy test came back negative.

I guess my house is just getting fat.

— Nicken Drumsticks (@beefman138) July 17, 2015
22.
7-year-old upon learning I am pregnant: "It's the breastfeeding that will get ya. Breastfeeding is killer."

— Rachel Held Evans (@rachelheldevans) October 21, 2015
23.
5-year-old: What happens if the baby pees?

Pregnant wife: She won't. She waits till she's born

5: Right. Just like no one pees in the pool

— James Breakwell, Exploding Unicorn (@XplodingUnicorn) August 11, 2015
24.
Screaming out "BOOM PREGNANT!" during sex is never as funny as you think it will be.

— The Alicianater (@leechee420) February 14, 2013
25.
Nine weeks and I can't fit into any of my pants. I bet Goodyear could make a killing if it launched a maternity wear line.

— kristin (@shriekhouse) August 23, 2012
26.
So, if you get pregnant in Vegas, does the baby have to stay there?

— Amy W (@Ameiam) June 11, 2015
27.
Pregnancy test commercials would be a lot more relatable if the women in them cursed and cried.

— αlly (@ToonieLane) August 15, 2013