After over a year of waiting, the last season of Game of Thrones has finally come to an end, and the overall consensus seems to be: what the f*ck?
This last season seemed so rushed and was so bad that the nerds are in full revolt, demanding the writers remake the final 6 episodes. As for the rest of us, we're disappointed and are dealing with it the only way we know how. We're roasting it on Twitter.
1.
TYRION: People love stories. And no one has a better story than Bran

ARYA, WHO LEARNED SHAPE-SHIFTING AND MURDERED THE INVINCIBLE ICE KING OF DEATH: Bran has what now

— Jason O. Gilbert (@gilbertjasono) May 20, 2019
2.
Drogon destroying the iron throne because new king Bran got his own seat#GameOfThronesFinale#TheFinalEpisode#GameOfThronesFinale pic.twitter.com/T1onQnKqqT

— Pravin Suthar (@iAmpravinsuthar) May 20, 2019
3.
Accurate representation of how long Daenerys was Queen of Kings Landing. #GameofThrones  #GameOfThronesFinale #DemThrones pic.twitter.com/4W1rgvQVvq

— Geeks of Color (@GeeksOfColor) May 20, 2019
4.
bran: i don't want anything. i have no desires except to peacefully sit and ponder the history of the world

tyrion: how about we vote u to be the king

bran: ok i want that 🙂

— Bob Vulfov (@bobvulfov) May 20, 2019
5.
Jon Snow when he hears hes going to Castle Black for killing Daenerys.#GameOfThrones pic.twitter.com/UfSavSQCL4

— Hambino, The Great (@Hambino15) May 20, 2019
6.
Jon finding more excuses for Dany #GameOfThronesFinale pic.twitter.com/HJO4r7PjVR

— Michaela Barber (@Mrsbarber25) May 20, 2019
7.
why the fuck would bran need a master of whispers his whole deal is knowing everything

— Brandy Jensen (@BrandyLJensen) May 20, 2019
8.
Game of Thrones really ended like a last minute written essay that was due an hour ago.

— niggathée chalamet (@haaniyah_) May 20, 2019
9.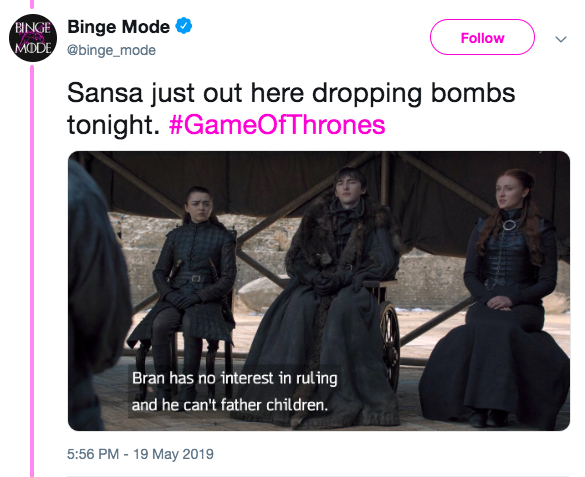 10.
GOT Series Finale summary with no spoilers #Thronesyall #DemThrones pic.twitter.com/U7FX7rN4gK

— Jeremiah (@jnflanne) May 20, 2019
11.
LMAO #GAMEOFTHRONES ACTUALLY ENDED LIKE THIS pic.twitter.com/UyctJWieqU

— D-Piddy 🎭 (@_dpiddy) May 20, 2019
12.
How is no one in King's landing coughing with all those ashes in the air??? #gameofthrones

— Michael V (@MichaelVallejo2) May 20, 2019
13.
Lord Baratheon looks stupid hot though. That's why it's entirely unrealistic that Arya wouldn't hit that a few more times before taking off on her Semester at Sea. #GameofThrones pic.twitter.com/Vt6scTmO32

— Christina Arango Dowling (@fatherdowling) May 20, 2019
14.
HE FOUND JAMIE'S GOLDEN HAND IN THE RUBBLE pic.twitter.com/g3XOO7Yb2Y

— antonio (@guxpito) May 20, 2019
15.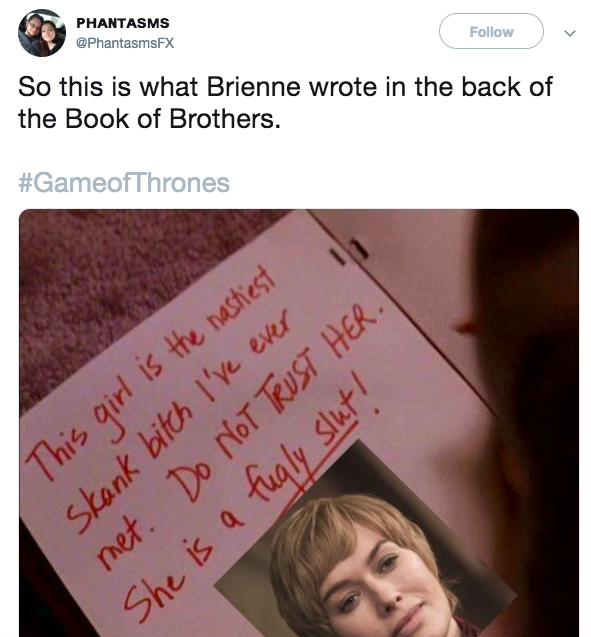 16.
ABSOLUTELY NO ONE:

SANSA: BRAN'S DICK DOESNT WORK #GameOfThrones pic.twitter.com/fkuPuO6F3L

— Nikhil (@HitmanNick047) May 20, 2019
17.
sansa @ all her haters after outliving all her abusers, getting the north's independence and being crowned the queen in the north #GameOfThrones #SansaStark #SansaHive pic.twitter.com/x2D5RICoBo

— mir. sansa stark warrior (@adamskylo) May 20, 2019
18.
Grey Worm when he couldn't kill Tyrion or Jon #GameOfThronesFinale pic.twitter.com/HbkSEiJpQG

— The Fool (@thanksquinton) May 20, 2019
19.
PEOPLE OF COLOR: "Game of Thrones" ends tonight. White people will be at their most vulnerable. Tonight is the night we make our move. #GOTFinale

— Hari Kondabolu (@harikondabolu) May 19, 2019
20.
"Jaime Lannister, the Kingslayer."

Brienne : pic.twitter.com/hjUIHpCr4r

— Jo🇫🇷 (@JordanLeRou) May 20, 2019
21.
Oh no. What are all the "Actually I don't watch Game of Thrones" people going to do to feel special now.

— Molly Hodgdon (@Manglewood) May 20, 2019
22.
Brienne out here altering Jaime Wikipedia page

— Tyler R. Tynes (@TylerRickyTynes) May 20, 2019
23.
*tyrion flips through rulebook*

"Oh shit. Guys, we've been playing the Game of Thrones wrong. We need to go back a few turns. There's a whole upkeep phase we've skipped"

— Mike Drucker (@MikeDrucker) May 20, 2019
24.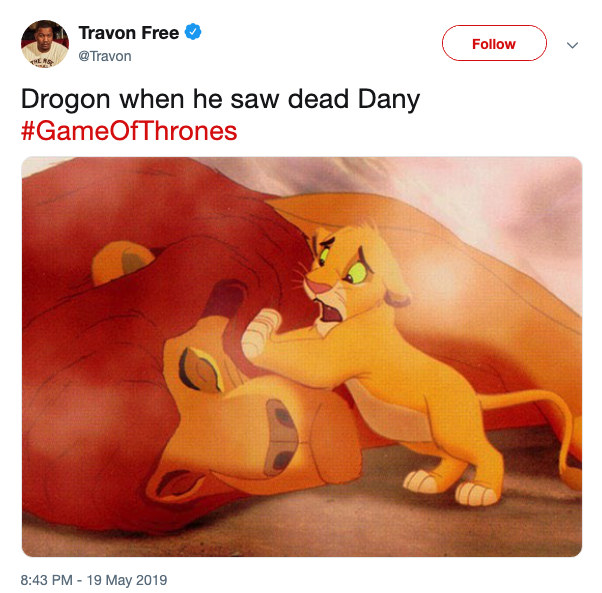 25.
Watching Drogon melt the iron throne #GameofThrones pic.twitter.com/LE4QZurm2Y

— Kathy Bates (@GrapesOf_Kath) May 20, 2019
26.
SER DAVOS: "To Bran, The Broken Dick, Whose Sword Doesn't Function Because And Again, I Just Want Make This Completely Clear, He's Got A Brokeass Dick!"
EVERYONE:
SER DAVOS: "To Bran the Broken?"
EVERYONE: "Aye!"

— Sam Grittner (@SamGrittner) May 20, 2019
27.
how bran won the iron throne pic.twitter.com/ejxu4KOqBC

— patrick (@boolin) May 20, 2019
28.
BRAN: "Bran the Broken"? I-is that the name we decided on? Have you guys been calling me th—
EVERYONE: TO BRAN THE BROKEN!

— Patrick Monahan (@pattymo) May 20, 2019
29.
When you don't contribute in the group project & still get an A #TheFinalEpisode #GOT pic.twitter.com/UwsAC1JYLH

— ||SMKS|| 📸 (@Sincerely_Shas) May 20, 2019
30.
Sansa: (survives torture and comes out on top by using her wits)

Arya: (trains for years with some of the best fighters in the world and kills the motherfucking Night King)

Bran: (falls out a window and says weird shit)

White men: This guy should totally be our king.

— The Volatile Mermaid (@OhNoSheTwitnt) May 20, 2019
31.
So Bran gets to be king, despite the fact that he just put his name on the group project and didn't do any work. #DemThrones

— Jemele Hill (@jemelehill) May 20, 2019
32.
Everyone: Ay, Bran should be king

Sansa: His dick don't work lol

Bran: Wow ok a simple "nay" would've worked but yeah, let's bring that up cool

— rob fee (@robfee) May 20, 2019
33.
Brienne and Tormund better fuck considering there are like 17 total people left in the world.

— The Volatile Mermaid (@OhNoSheTwitnt) May 20, 2019
h/t: RuinMyWeek