The tipping system sucks. People should not be dependent on how a random patron feels to make a fair wage. But until this system changes across the board, refusing to tip a server isn't a protest—it's a total jerk move. It's also usually something that only someone who has never waited tables would do. Good hospitality is hard work. Even bad service is hard work. I worked in restaurants for years. Even when a waiter sucks, I leave them 20 percent, because I know how hard it is.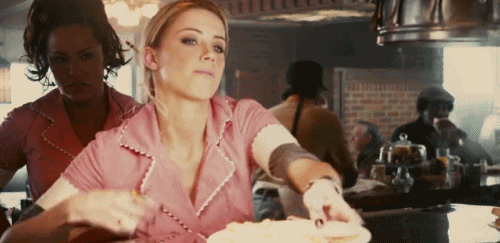 The people who leave bad tips are pretty much depending on either getting away from the restaurant before their server finds out or on their server being too polite to say anything. Well, you better run, because people do not want to put up with this foolishness anymore. Below are stories from servers about being stiffed with a little public shaming thrown in. And for all the guys out there leaving their number in lieu of cash? Don't.
1.
me trying to move on with my life after a table who was SO nice to me doesn't leave a tip pic.twitter.com/l2r3SWvi9I

— Ally Gesteland (@AllyGesteland) August 13, 2019
2.
Fellas: if you leave your female server your number on the receipt, please, for the love of god, at least tip 15%

— meg (@megannsaunderss) August 7, 2019
3.
My last table. A couple & a baby; said i was so nice and everything was perfect….tipped me 72 cents.i gave it back & said "thats ok…you keep it" & smiled & walked away.👍

— L's (@laurena_x0) May 3, 2019
4.
Bruh if you ever leave your number but not tip imma still text you but imma start off by calling you a broke bitch

— stormy 🌙 (@stormyjade_) August 11, 2019
5.
https://twitter.com/Sjwebb4/status/1160360989390442496
6.
Love when a group of 21+ ppl come to eat and leave no tip! And we don't charge gratuity! #waitress #badtip pic.twitter.com/TpvD0A00So

— Alejandra Vargas Melendez (@AleeAlee97) August 12, 2019
7.
My second to last day at my current job so I'm feeling ultra petty. My table left me a $2.25 tip on 200 and said no change. I chased them on their way out to give them their exact change back cause honey u need it more than i do don't spend it all in one place

— Syl⚘ (@chill_syl) January 2, 2018
8.
I waited on a couple who left me $0 on a $50 bill tonight so I chased them out of the restaurant to "kindly" thank them for their generous tip :-)) (also they were really freaking rude & disrespectful so fuk them)

— ranger roy (@burritoxo) January 8, 2019
9.
some of y'all go to coffee shops, order a frappe, leave no tip, and hang out there for 5 hours and it shows

— angie¹²⁷ (@angeIikaenderez) August 17, 2019
10.
I was helping out this family at work and right before they were about to leave the dad comes up to me and while reaching into his wallet says "here since you've been so nice" and I'm guessing it's a tip. He handed me a jehova witness business card. pic.twitter.com/QvFfPGji4P

— jocey (@Joceyyxoxo_) August 10, 2019
11.
@combatrrrock It's really not. My friend was tipped two cents once. She chased the couple down and gave it back to them.

— ghost (birthday) cake™ (they/them) (@partlycara) May 16, 2012
12.
https://twitter.com/YAMOMSAHOEBITCH/status/1123288299102199808
13.
PSA: please don't be this guy. He ordered a bunch of shit all for him to leave me no tip, scrunched up his tab, threw it on the floor, and left. Bitch i'm leaving work with $20 lmao. pic.twitter.com/e4kYem5siX

— pussy boot (@junipervanna) August 8, 2019
14.
FACT: Being a good tipper is attractive, y'all weak tippers are for the birds & should stay home.

Can't explain how unattractive it is when your tab is running high, but you don't leave the appropriate amount of tip.

Why go out to eat then? Come en la casa. https://t.co/nMHwbYCxHA

— 𝐆𝐚𝐛𝐫𝐢𝐞𝐥𝐥𝐞.🧚🏻‍♀️ (@Gabybarbieee) August 10, 2019
15.
boys really stay tipping me 10% and then leave their numbers on the receipts. you know what?? YES. i will text you. i'll text you my goddamn Venmo so that you can tip me the proper amount jfc who raised you

— Victoria Russell (@vroserussell) August 11, 2019
16.
A young couple came in tonight and they ate all their food and didn't give me any complaints but didn't leave a tip.. I have the girl on Snapchat, so do I snapchat her and ask why they stiffed me? 😂😂

— Kailey Price (@kaileypricee) August 16, 2019
17.
One time i was this guys waitress and he didn't leave me a tip after perfect service https://t.co/fijZaAqh0d

— Bailey Moses (@Baileyamoses) June 21, 2019
Wow, you never know when your public image will take a hit. Tip!