Animals. The only truly pure beings in this world. Well, except for cats. Cats are pure evil.
Point is, we can never get enough funny animal tweets and memes, and neither can you, so here are nineteen of the best we've found recently:
1.
Can't tell Tank "no" for nothing in the world because then he does this and makes me feel like shit pic.twitter.com/l9SY47d0ge

— GrizZzly (@GrizzlySZN) March 17, 2019
2.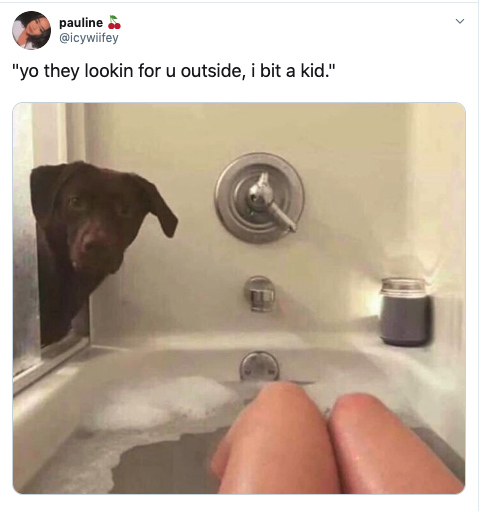 3.
Wait for it… pic.twitter.com/57eKVD7Lxa

— that bitch.🥂 (@ajahlenni) May 24, 2018
4.
I'll never forget when I took my cat to the vet and they took an ID photo pic.twitter.com/uHSGpwHFqm

— P*[(1 + r)n – 1]*(1 + r)/r Guy (@RamiBoiz) August 3, 2019
5.
When I hear a thump in the bathroom I know he's leaped from the toilet onto and over the shower door and also he has no way out unless I set him free pic.twitter.com/i44XhCNE5N

— gotta blame it on manuice (@ManuclearBomb) April 7, 2019
6.
i just caught my dog trying to climb up a pole wth?? pic.twitter.com/8cx1DEgHy1

— aly (@onlarrybro) May 16, 2019
7.
My cat did not want to be at the vet today. So he kept sticking his head in this trash hole. I died. pic.twitter.com/Q3z4YoJJMa

— Ashly Perez (@itsashlyperez) December 19, 2018
8.
my dog chewed a hole in my blanket and then did this pic.twitter.com/zgwoKx6gkT

— crim (@crimsonfarina) May 21, 2019
9.
Me: *opens bag of chips*
My dog: pic.twitter.com/KDlMV9i00R

— Aussies Doing Things (@aussiesdointhgs) May 13, 2019
10.
Today marks a year since I paid nearly £200 to be told my dog was faking struggling to breathe in order to be carried. pic.twitter.com/rGfBKz6FKF

— Neva (@vnevah) September 6, 2018
11.
I'm pet sitting. This is my friends cat checking me out for the first time pic.twitter.com/aW3GXjyf7K

— eternal classic (@etrnl_classic) February 3, 2019
12.
Idk if people believe me when I say Volta hangs out in the pool in her leisure time so I got it on video today pic.twitter.com/VbGIdEX1z4

— maura (@painthands) June 5, 2019
13.
My cousin's cat ate a wasp and I cannot breathe pic.twitter.com/9nSW0ZFClI

— Georgia Diebelius (@GJDiebelius) May 5, 2019
14.
My mom got her dog's feet shaved so that they wouldn't get as dirty when she went outside......... pic.twitter.com/ftFvNRDJ6D

— dalady (@DelayniJohnson) April 17, 2019
15.
Now........that's fashion pic.twitter.com/UKY7xFzq70

— Judy (@judith_ism) May 31, 2019
16.
Not EVERYTHING is bad.

Like this dog I met yesterday who did NOT want to walk anymore.

She is good! pic.twitter.com/ULPj6LKpvK

— Steph Haberman (@StephLauren) August 4, 2019
17.
when you're in an arguement with your man and he say something kinda true :/ pic.twitter.com/Do03uCZIil

— Camryn Springman (@camryns520) May 11, 2018
18.
My dog screams like this when anything inconveniences him pic.twitter.com/MfCqFT7wSd

— Hannah (@HannahBlackorby) July 12, 2019
19.
I went to visit my brother and his cat wasn't the biggest fan of me so I compiled all the videos I have of her and added music for your enjoyment pic.twitter.com/Te1SXg6oGy

— alexa ❃ (@alexahightower) June 11, 2019
More funny animals: