Animals. The only truly pure beings in this world. Well, except for cats. Cats are pure evil.
Point is, we can never get enough funny animal tweets and memes, and neither can you, so here are nineteen of the best we've found recently:
1.
Can't tell Tank "no" for nothing in the world because then he does this and makes me feel like shit pic.twitter.com/l9SY47d0ge

— GrizZzly (@GrizzlySZN) March 17, 2019
2.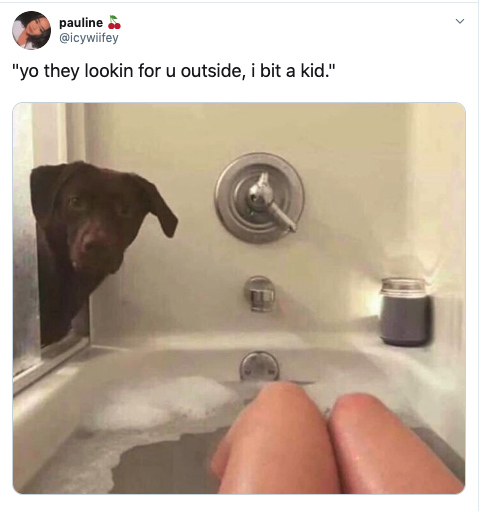 3.
Wait for it… pic.twitter.com/57eKVD7Lxa

— that bitch.🥂 (@ajahlenni) May 24, 2018
4.
I'll never forget when I took my cat to the vet and they took an ID photo pic.twitter.com/uHSGpwHFqm

— Rami (@RamiBoiz) August 3, 2019
5.
When I hear a thump in the bathroom I know he's leaped from the toilet onto and over the shower door and also he has no way out unless I set him free pic.twitter.com/i44XhCNE5N

— Amanul Crossing: New Horizons (@ManuclearBomb) April 7, 2019
6.
i just caught my dog trying to climb up a pole wth?? pic.twitter.com/8cx1DEgHy1

— A. (@onlarrybro) May 16, 2019
7.
My cat did not want to be at the vet today. So he kept sticking his head in this trash hole. I died. pic.twitter.com/Q3z4YoJJMa

— Ashly Perez (@itsashlyperez) December 19, 2018
8.
my dog chewed a hole in my blanket and then did this pic.twitter.com/zgwoKx6gkT

— crim (@crimsonfarina) May 21, 2019
9.
Me: *opens bag of chips*
My dog: pic.twitter.com/KDlMV9i00R

— Aussies Doing Things (@aussiesdointhgs) May 13, 2019
10.
Today marks a year since I paid nearly £200 to be told my dog was faking struggling to breathe in order to be carried. pic.twitter.com/rGfBKz6FKF

— Neva (@vnevah) September 6, 2018