From JLo's sexy (but obviously too sexy for your mom) thong to Shakira's sexy (but obviously too sexy for your mom) tongue to everything in between here are the funniest tweets and memes about the performance:
1.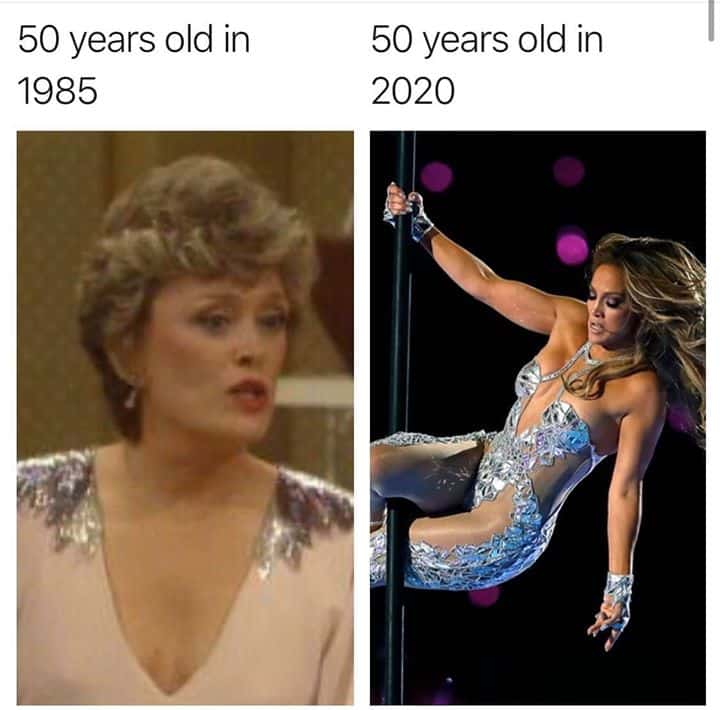 2.
when i get out of bed after only hitting snooze once pic.twitter.com/n5qJSVJCkL

— Maggie Serota (@maggieserota) February 3, 2020
3.
Shakira is 87
JLo is 103

Think about that.

— Jesse McLaren (@McJesse) February 3, 2020
4.
*me coming home drunk*

my dog: bark bark bark bark

me: pic.twitter.com/4isbo9PCpX

— rudy mustang (@rudy_mustang) February 3, 2020
5.
You can't get us all horned up with JLO on a pole and then unleash 50 children on the stage

— Tamara Yajia (@DancesWithTamis) February 3, 2020
6.
Kinda rude it JLo to shout "are you ready??" after shakira just sang for 10 minutes.

— Dr. Tyler Lemco (@tlemco) February 3, 2020
7.
Big deal, I watch 50 year old women pole dance every time I'm on the toilet

— Matt Koff (@mattkoff) February 3, 2020
8.
My mom watching JLo werkin that pole pic.twitter.com/9HEIZb2J2S

— grac (@Graacula) February 3, 2020
9.
Shakira: There's a she wolf in the closet let it out so it breathe
Me: pic.twitter.com/ILxVbHf5YD

— Quinton Quarentino (@Jonnyapplekor) February 3, 2020
10.
Halftime shows are like an app sampler – just a little of each song. I want the whole thing to be mozzarella sticks!!!!!!!

(moz sticks are JLo's pole dance to "Criminal" in Hustlers)

— Alison Leiby (@AlisonLeiby) February 3, 2020
11.
POV: you're my McDonald's ice cream cone when the machine isn't broken pic.twitter.com/Pgpbm6Rm6R

— 1984's George Whorewell (@EwdatsGROSS) February 3, 2020
12.
I find faulty the premise of Super Bowl halftime shows that "YOU LIKE FOOTBALL? THEN YOU'RE GONNA LOVE THIS MEDLEY OF DANCE HITS FROM 2004!"

— Mark Agee (@MarkAgee) February 3, 2020
13.
When mother is dead and you're finally allowed to pleasure yourself https://t.co/Z9JVl1FZdF

— pixelatedboat aka "mr tweets" (@pixelatedboat) February 3, 2020
14.
Me in the bathroom mirror at the bar #pepsihalftime pic.twitter.com/9YNRAHgZfp

— Erin M (@ErinMurray16) February 3, 2020
15.
my pizza rolls in the microwave be like #SuperBowl2020 #PepsiHalftime pic.twitter.com/cagKod9ibC

— jodi (@CURTIN_calll) February 3, 2020
16.
i can't believe how far our culture has fallen. shakira teaching kids how to eat ass on national television
pic.twitter.com/jmBTv22tTa

— Erika Heidewald, Ex-Controversial Demon (@erikaheidewald) February 3, 2020
17.
I've officially hit "Who the Hell Is That Up There Rapping" yrs old. Please pray for me during this time #BadBunny pic.twitter.com/Q6mXkUtc4t

— Roy Wood Jr- Ex Jedi (@roywoodjr) February 3, 2020
18.
Shakira is 43 and JLo is 50. You can't tell me they're not the most impressive athletes in that stadium tonight, my god.

— Lindsay Gibbs (@linzsports) February 3, 2020
19.
Mr Peanut live autopsy halftime show

— pixelatedboat aka "mr tweets" (@pixelatedboat) February 3, 2020
More in Super Bowl LIV: