How about a heavy dose of wholesome cat pics? It has been the internet's chicken soup since the beginning, and the reason is because they work.
However, the other side of the internet paints cats as evil. Knocking things off your desk for no reason. Random scratches and bites. Being in league with Satan. All very serious accusations, but you look at these kitties and tell me they're evil. LOOK AT THEM.
1.
Made the bed, kept cleaning the apartment, realized I hadn't seen the cat for a little bit and found him like this pic.twitter.com/ohB7CkmYcM

— Dani Balenson (@dlbee_) February 16, 2020
2.
My mom and her cat Hobbes! He just likes sleepin like that pic.twitter.com/LJY2Tf7ZRQ

— Olivia Chin Mueller (@ocmillustration) February 16, 2020
3.
enjoy this video of my cat's 6th attempt to jump on the counter. pic.twitter.com/D1nnhVMG09

— great value sophie turner (@savannah_moon_) September 28, 2019
4.
The local beloved cat cafe now comes with a muffin disclaimer! pic.twitter.com/3JOjwckNDa

— Michael's Cat (@michaelscat2) February 22, 2020
5.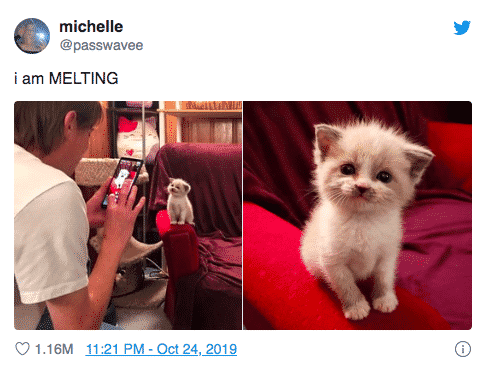 6.
We just spent a hour looking for her. pic.twitter.com/x00nQNP4nS

— Britney Diane (@britneydiane) April 29, 2017
7.
cat pretends to eat everything his owner eats pic.twitter.com/y2aRDXvjj4

— .️ (@eliterenno) March 14, 2020
8.
baking the beans pic.twitter.com/iXSwUEay0U

— lil waste of space (@pupperonis) May 28, 2019
9.
Cat trying to see what his lil human potato is looking at pic.twitter.com/5aC77SoIgc

— Berry (@Cyb4rGal) March 15, 2016
10.
My sister accidentally locked me out of the house so I went to check if the back door was unlocked and this happened pic.twitter.com/2zkjeyFJk5

— Gabby Tropea (@gabbytropea) February 18, 2019
11.
my cat discovered selfies pic.twitter.com/cH0a574626

— bubblegum kk (@moonliIIies) May 7, 2017
12.
I made my kitten a sweater so he wouldn't get chilly with the A/C on and now he thinks he's a stud pic.twitter.com/7hqT95IfGq

— Eden Honey (@edenirishoney) June 25, 2017
13.
STOP EVERYTHING ! I've found the cutest Tik Tok pic.twitter.com/NxXQm7GHlX

— (@dicaprioIic) October 16, 2019
14.
oh to be a tiny cat on a large couch https://t.co/0ABMOfyVWF

— cody (@CdyRnkn) January 16, 2020
15.
— dummy (@SuperStelIar) October 14, 2016
16.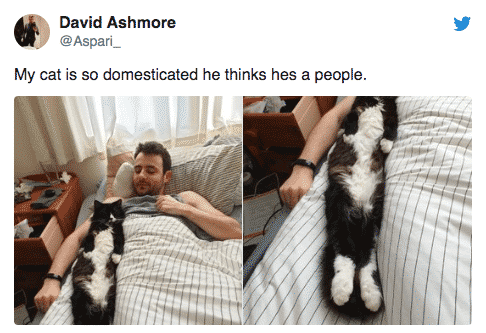 17.
LOOK AT THIS CAT MAKING A COOKIE IM SCREAMING SO CUTEE pic.twitter.com/mLliyyi1pT

— nan see (@melophobiaaaaa) December 1, 2019
18.
Sometimes my cat walks around with my slipper like he's wearing it pic.twitter.com/8PZKssZyfq

— KΔTY (@Dope_chakra) March 26, 2020
19.
THIS IS NOW THE ONLY THING THAT MATTERS TO ME. pic.twitter.com/uq2gntJbzH

— BRILEDOZER PLAYING #ACNH 24/7 (@GlamazonianRage) May 11, 2019
20.
RT if u agree pic.twitter.com/iUSuIG5hvl

— (@pyongyangfang) February 17, 2017
More cat pics: