The Internet seems incapable of responding to anything in a normal way, so of course, this Missouri couple brandishing deadly weapons on a crowd of peaceful protesters has been turned into a wacky meme called "Ken and Karen."
Their real names are Mark and Patricia McCloskey, according to the Daily Dot, and they're both personal injury lawyers who live in some sort of gated community that a group of protesters heading to  St. Louis Mayor Lyda Krewson's house passed by. The protesters were going to demand Krewson's resignation after she gave out the names and addresses of people advocating for the defunding of the police. This is obviously a gated community full of people who like to put people in danger:
A fellow lawyer from Missouri, a guy I know named Mark McCloskey committed an assault tonight in STL by pointing his AR 15 at peaceful protesters. He should be arrested and charged with assault immediately. The MO Bar should revoke their licenses. https://t.co/6N75iFLDtT

— doncalloway (@dcstl) June 29, 2020
A couple has come out of their house and is pointing guns at protesters in their neighborhood #StLouis #lydakrewson pic.twitter.com/ZJ8a553PAU

— Daniel Shular (@xshularx) June 29, 2020
here's what happens when you march on Portland Place in St. Louis, MO

they're scared of their own community pic.twitter.com/Ng8qW1Pa6C

— avery (@averyrisch) June 29, 2020
The couple obviously looks ridiculous, since they clearly don't know how to handle guns, are barefoot, and frequently point the barrels of their weapons at each other. But what's not ridiculous is that they're clearly willing to kill the Black and brown people marching by and have the means to do so. And Donald Trump has retweeted a video featuring the couple, in seeming support of their horrible actions:
Donald Trump this morning proudly retweeted the video of "Ken and Karen" pointing their guns at black people in St. Louis. Trump never misses an opportunity to fan the flames of white resentment and racial unrest. pic.twitter.com/zdSi7GReAX

— Keith Boykin (@keithboykin) June 29, 2020
Well, the president being awful is nothing new. Neither is Twitter naming this couple "Karen and Ken" and making them into a total joke. On the other hand, now everyone knows where they live. You ask for danger, you get danger. Instead of brandishing weapons when the Mayor is being addressed, try giving a good interview to Fox News.
1.
what you think you're gonna look like//what you actually look like pic.twitter.com/x8j163q5CS

— Dave Itzkoff (@ditzkoff) June 29, 2020
2.
This woman has mustard on her shirt pic.twitter.com/og1gXCids2

— Carey O'Donnell (@ecareyo) June 29, 2020
3.
when antifa destroys all the buffalo wild wings and cheese factories in suburban midwest, this is their final boss pic.twitter.com/ACPstQ0cPh

— Ali Breland (@alibreland) June 29, 2020
4.
I can't believe they activated the Margaritaville National Guard. pic.twitter.com/szOeoqAefK

— Jason Gore (@sonicdork) June 29, 2020
5.
U.S. Gravy Seals pic.twitter.com/aCsXHEoSTq

— Franklin Hardy (@franklinhardy) June 29, 2020
6.
Protecting my home by barefootedly shooting my tiny husband in the head with a .22 pic.twitter.com/DixdI7w2HJ

— ThirstingToDefundTheMIC (@crhinca2) June 29, 2020
7.
look we're all thinking it—they're gonna fuck like ANIMALS tonight pic.twitter.com/TUbrJ8Lj5t

— police fund razer (@jakecurrie) June 29, 2020
8.
"say hello to my little husband" pic.twitter.com/06o1pkg5LF

— Joe McAdam (@joemcadam) June 29, 2020
9.
St Louis Gun Karen out here lookin like the Hamburglar pic.twitter.com/O6a1tc6M4e

— Respected Scientist (@SortaBad) June 29, 2020
10.
This was the PERFECT opportunity to finally use their homme-debout and they missed it smh https://t.co/nKOGhpKEWt pic.twitter.com/34nm4XNQfv

— Mark Byrne (@markwby) June 29, 2020
11.
This Mr. & Mrs. Smith sequel looks terrible pic.twitter.com/bMICfpmLX0

— Jess Dweck (@TheDweck) June 29, 2020
12.
her finger on the trigger like that pic.twitter.com/aJGMX1JJgS

— Molly Priddy (@mollypriddy) June 29, 2020
13.
How can we speak of debt
Let's not haggle for darling Cosette pic.twitter.com/cgyBy2QtZ2

— Marc (@MarcSnetiker) June 29, 2020
14.
— Edward Stockwell (@EdwardStockwell) June 29, 2020
15.
Good thing Halloween will be canceled because I'm already sick of this couples costume pic.twitter.com/Y4MjMhW7n6

— Orli Matlow (@HireMeImFunny) June 29, 2020
16.
— Anti-conceptual mindset crisis (@CarlBeijer) June 29, 2020
17.
I want what they have pic.twitter.com/8OhZcXuMzO

— American Propagandist (@ArmyStrang) June 29, 2020
18.
Omg who did this?! STL Ken and Karen pic.twitter.com/z7fSsjSvVh

— Daniel (@DailyLibber) June 29, 2020
19.
Psyched for the True Lies remake where the lie is that they tip delivery people appropriately pic.twitter.com/RznfTqmKND

— Chase Mitchell (@ChaseMit) June 29, 2020
20.
Say what you will about Ken and Karen, but this is some ride or die relationship goals shit. If you can't seamlessly move from watching House Hunters to hopping off the porch with the strap, then I don't want it pic.twitter.com/PlZZO3x2i2

— Nick #BLM ✊ (@NickLylesComedy) June 29, 2020
21.
Ken and Karen have had enough pic.twitter.com/QtogVCFbEJ

— Insónias em Carvão (@insoniascarvao) June 29, 2020
22.
The fact that I knew what Ken and Karen was before I clicked on this lol twitter YOU WILD for this one pic.twitter.com/VcxB183FtO

— Oopsieze (@pantheonrising) June 29, 2020
23.
When the Olive Garden manager asks Ken and Karen to put on a mask pic.twitter.com/cGelXz4Eib

— Guy P. Football (@Guy_P_Football) June 29, 2020
24.
Ken and Karen really went downhill. #KenandKaren pic.twitter.com/AUFXojRSeo

— Victoria (@vmendozaaaa) June 29, 2020
25.
This new season of Ozark looks awful.

Ken and Karen Snell are interesting characters though. pic.twitter.com/MBc2rdVgTF

— Ryan L. Thomas (@ryan_l_thomas) June 29, 2020
26.
Some rare Ken and Karen pic.twitter.com/0xmkl5U1LG

— ► ◄ (@drippyonfruit) June 29, 2020
27.
Whoever is responsible for adding this to Google Maps is my new hero.

This is the house of that gun waiving couple and someone marked it as a "Ken and Karen's Public Bathroom".#KenAndKaren #StLouisprotest pic.twitter.com/7aJYOCcNqk

— enlightenm3nt #MaskUp (@enlightenm3nt) June 29, 2020
28.
Next, on the Real Karens of St.Louis …

Ken and Karen have wild monkey sex after Ken has his first erection in 17 years. pic.twitter.com/y8WsUq2E5z

— Ham on Wry (@realHamOnWry) June 29, 2020
29.
When Ken and Karen don't see the manager immediately pic.twitter.com/iHcdzixI9w

— Wicked Neffie of the East (@pocahontasphnx) June 29, 2020
30.
Ken and Karen will be played by Nick Offerman and Amy Poehler in a movie. pic.twitter.com/M5phR1zeJh

— Cameron Grant (@BackupCoolCam) June 29, 2020
31.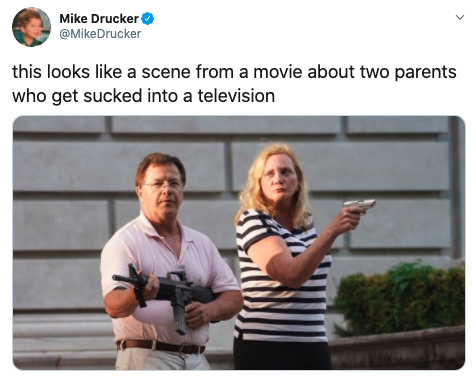 32.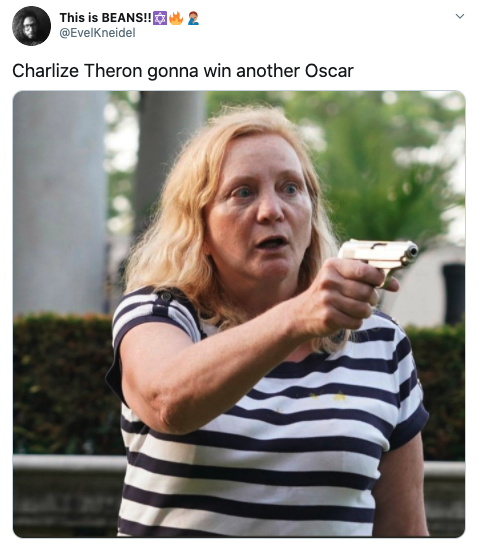 33.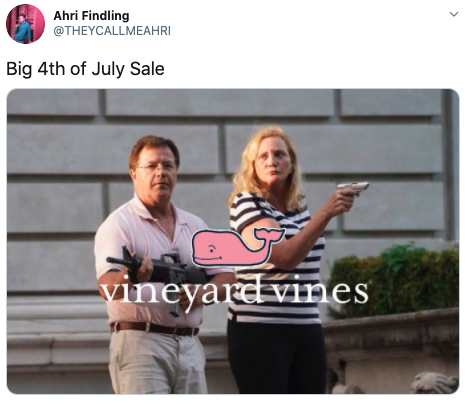 34.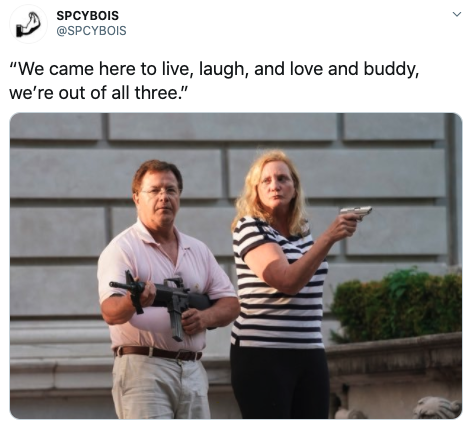 More memes about 2020: