If you ever think your family is awkward just look at the ideas people come up with for Christmas photos. There's an Instagram account dedicated to awkward family photos and the submissions are just perfect. Not being able to see family this Christmas is a bummer but at least you won't be taking any awkward family Christmas photos.
Follow Awkward Family Photos: Instagram | Twitter | Website
---
1. "Our Awkward Family Swim Team Christmas Photo."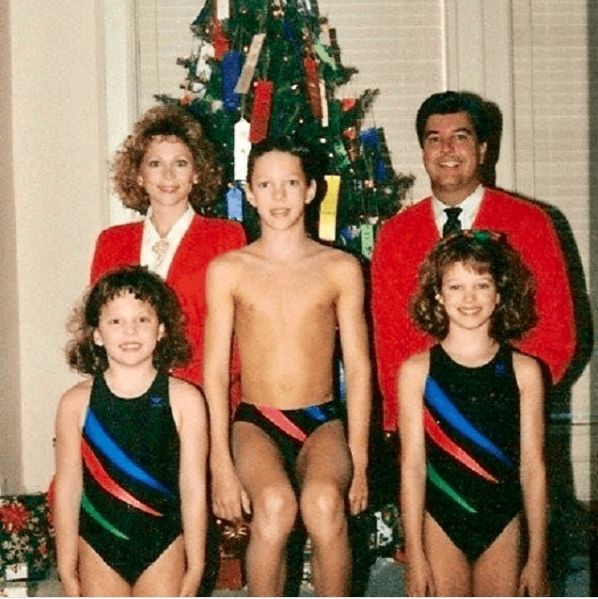 2. Last-minute awkward family Christmas photo.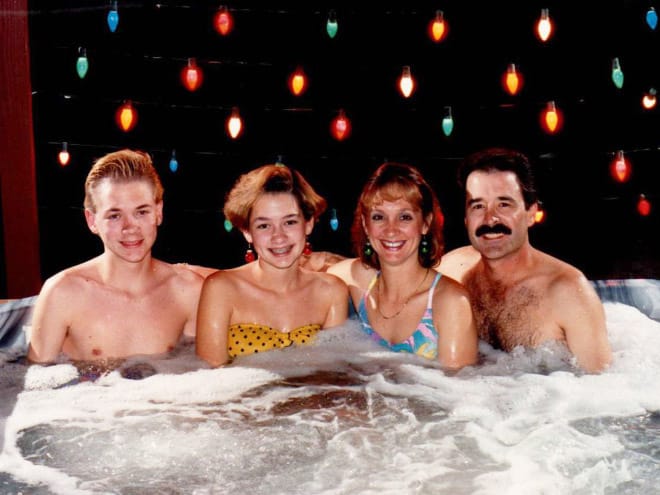 3. Before dad has to go to work.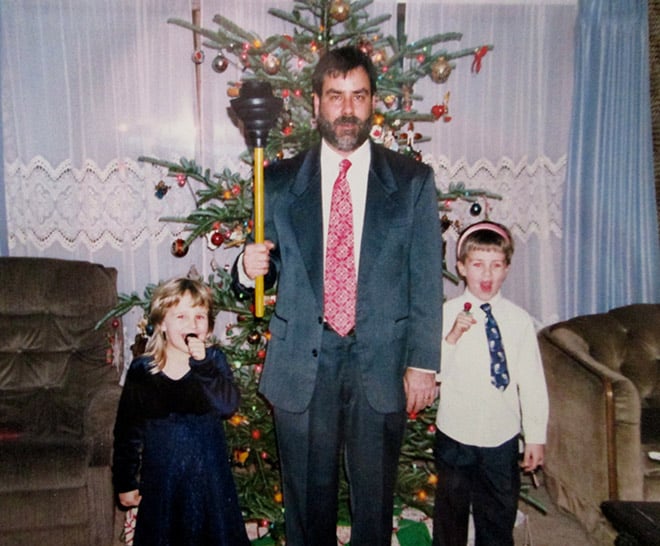 4. He looks just like his father.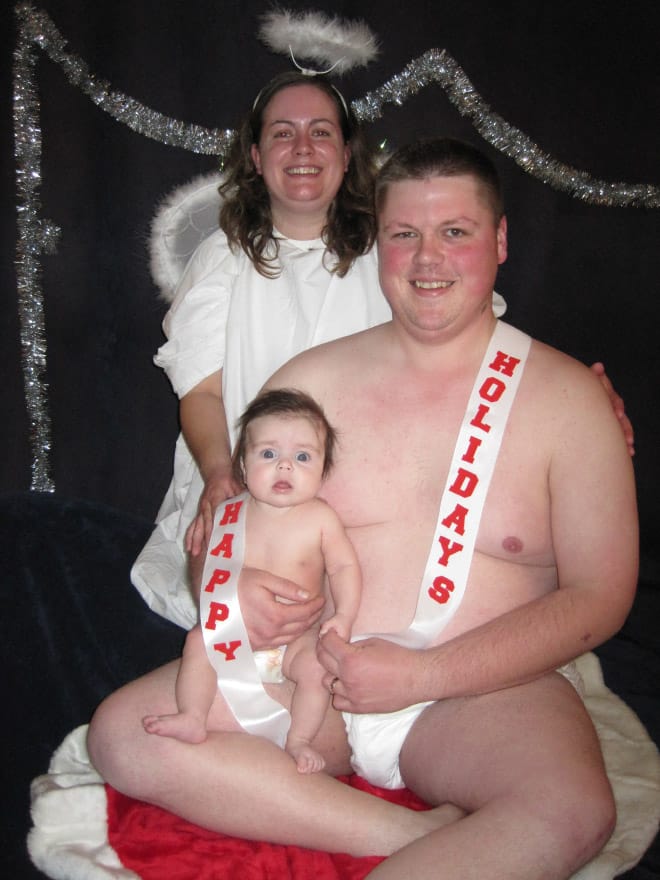 5. A for effort.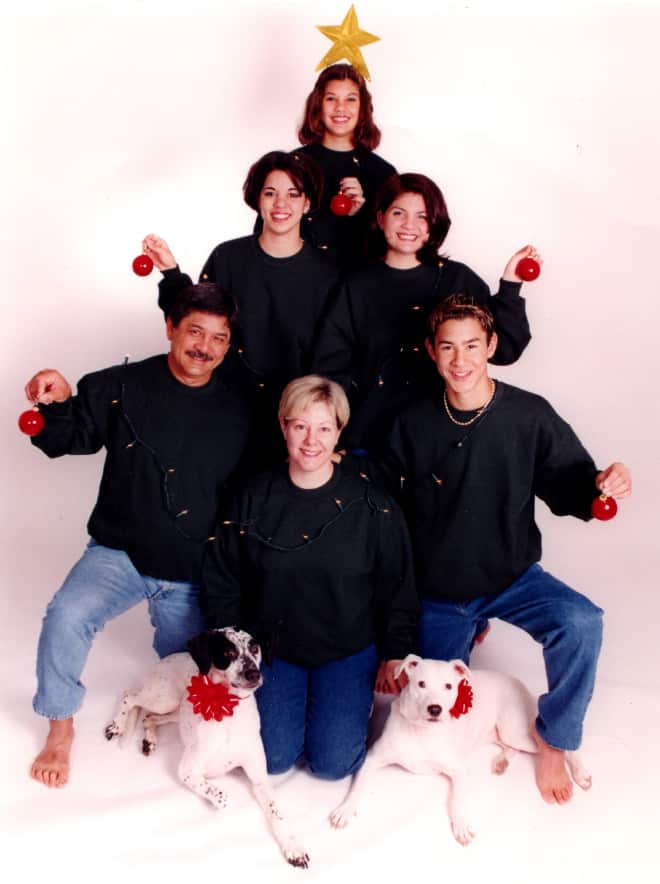 6. I wonder where they all are now.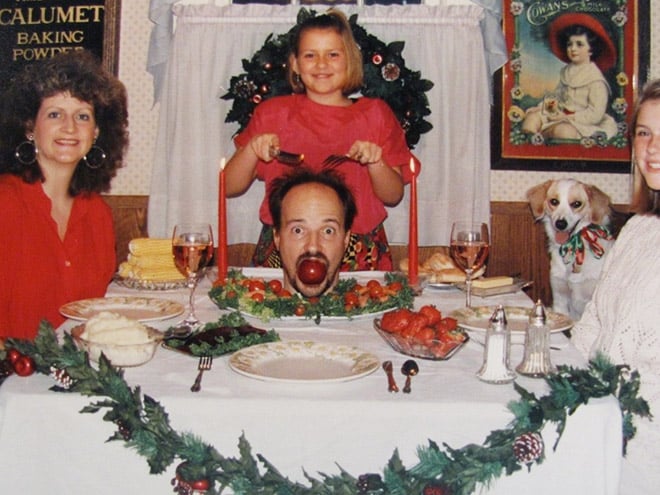 7. I have so many questions for these people.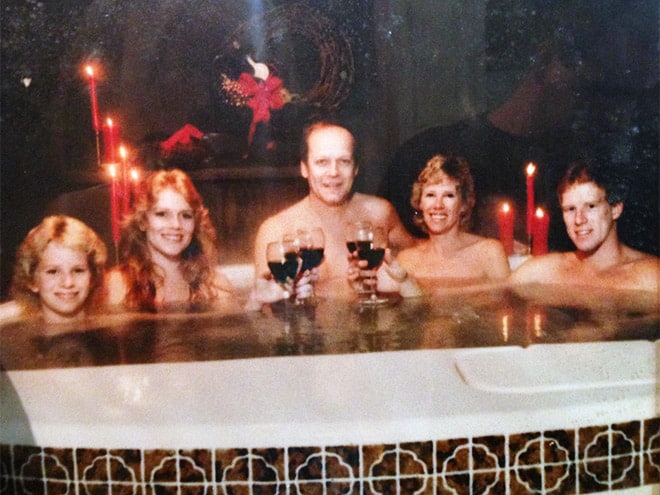 8. I can smell this living room from here.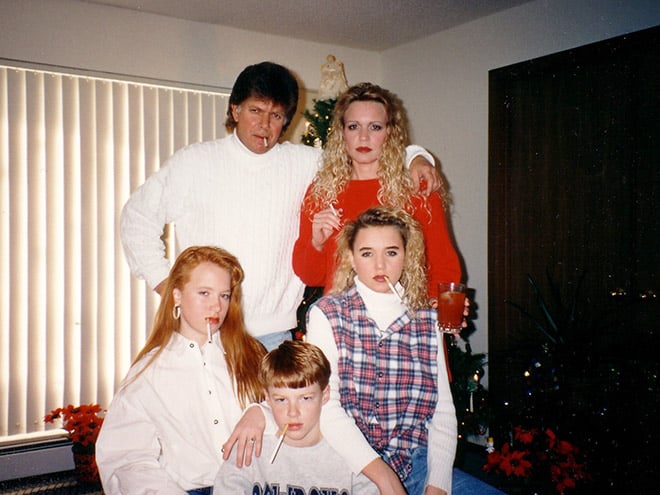 9. Someone check on Santa.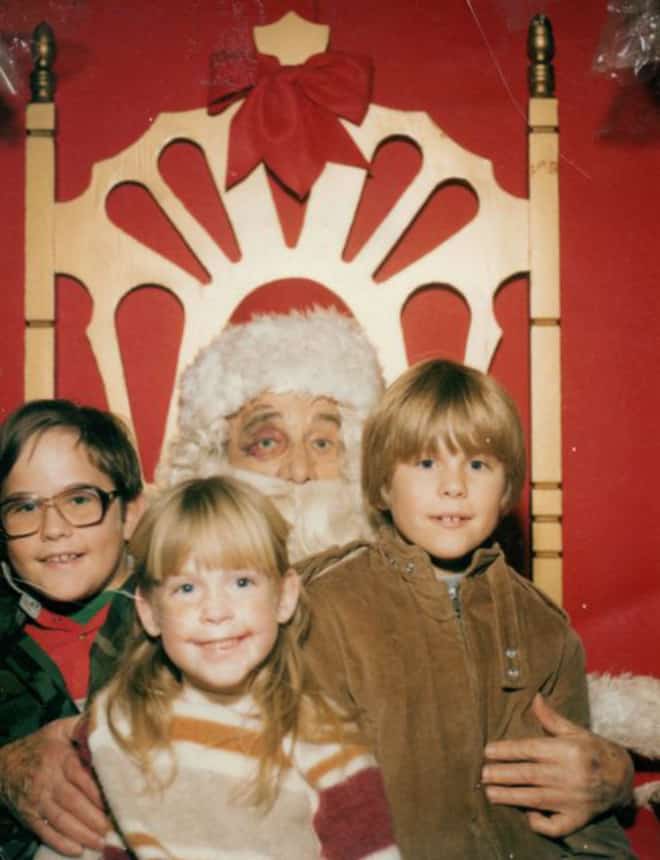 10. Was the tongue necessary?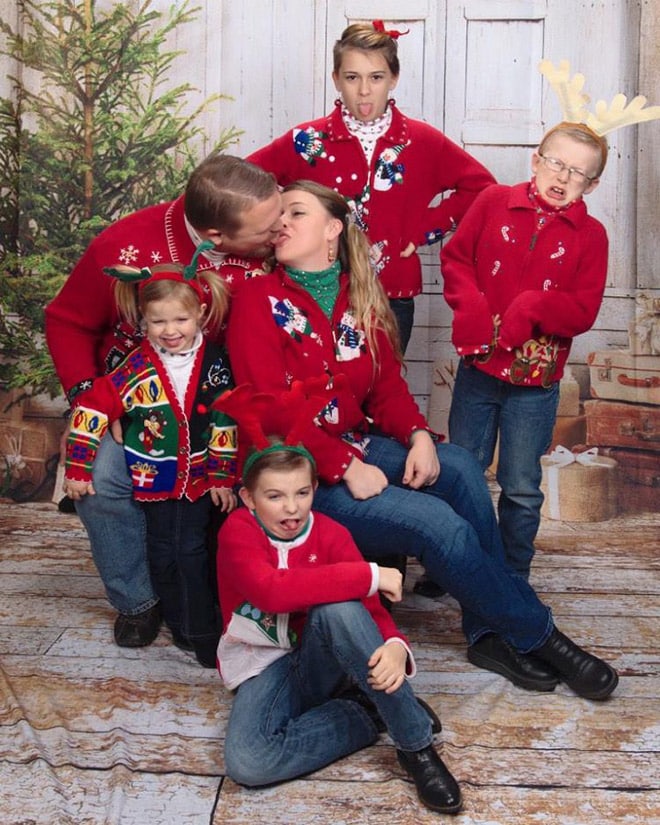 11. They seem fun.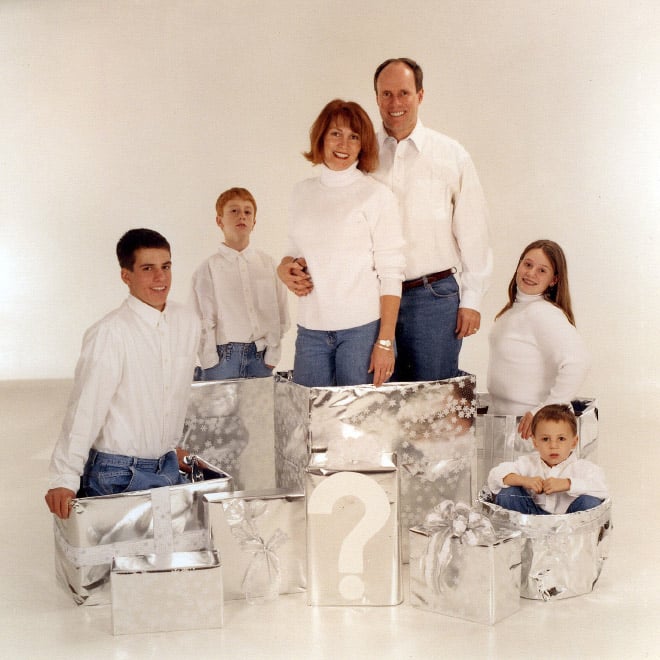 12. This one's going on the back of the fridge.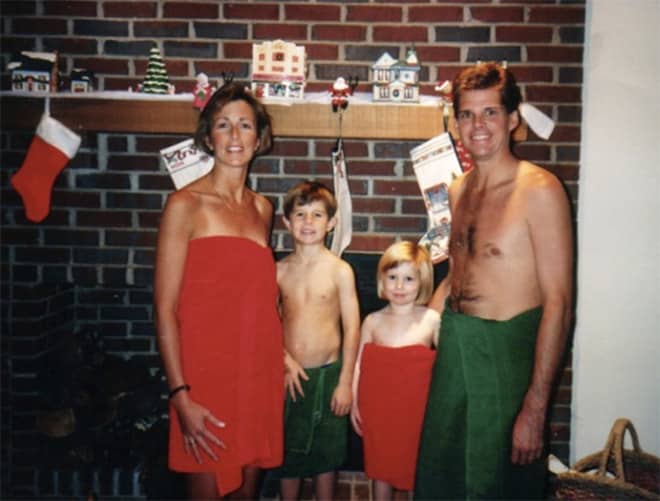 13. They've become the tree.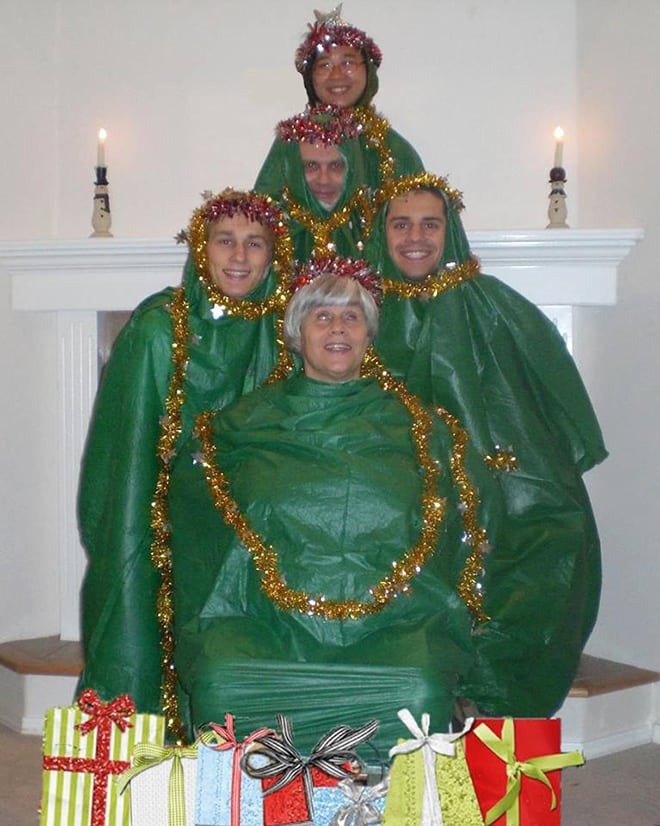 14. I gotta know who took this pic.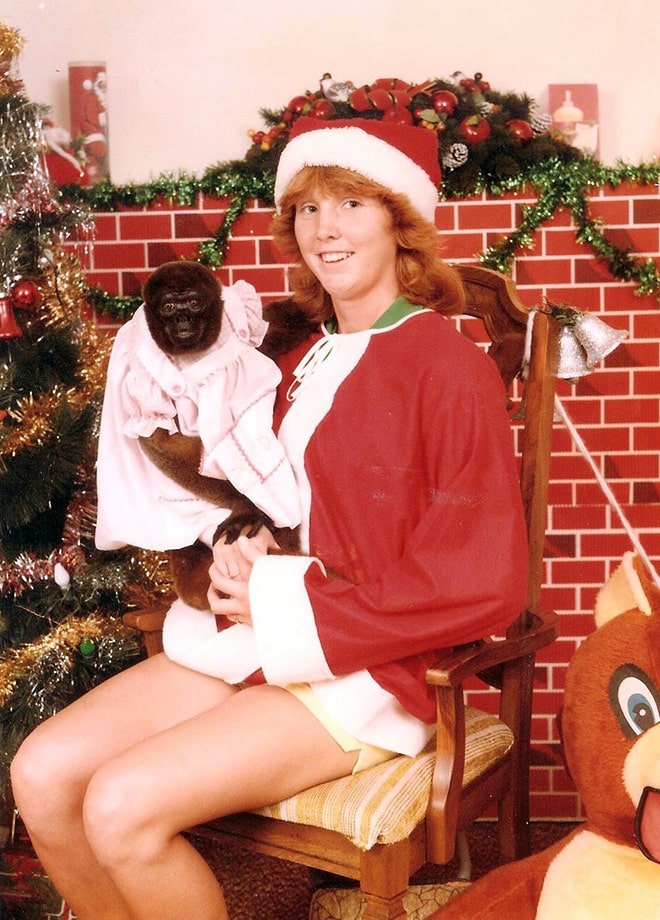 15. Classic awkward family photo.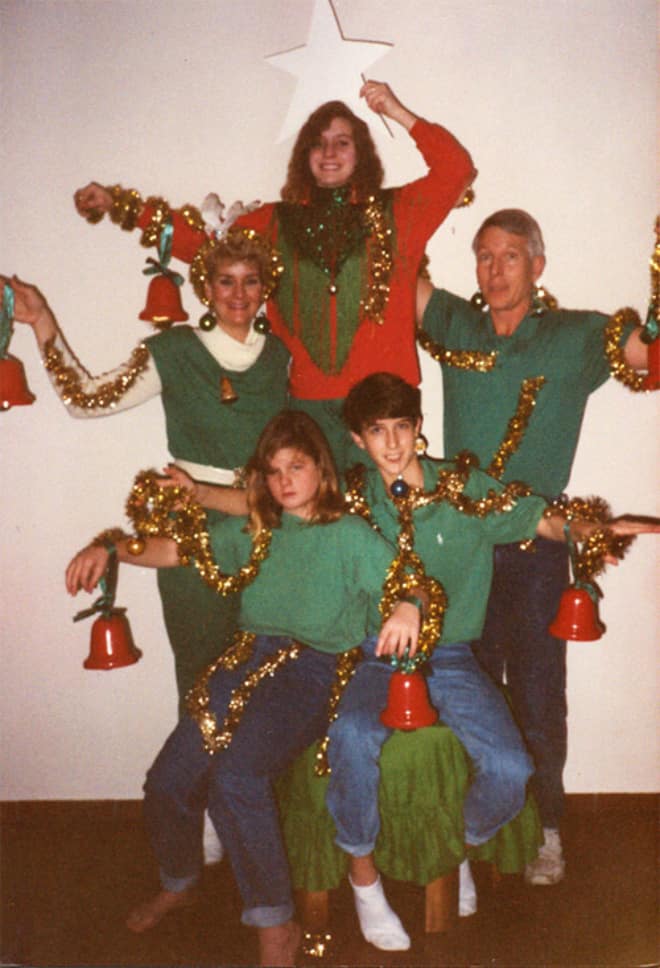 16. Not turning over a new leaf this year.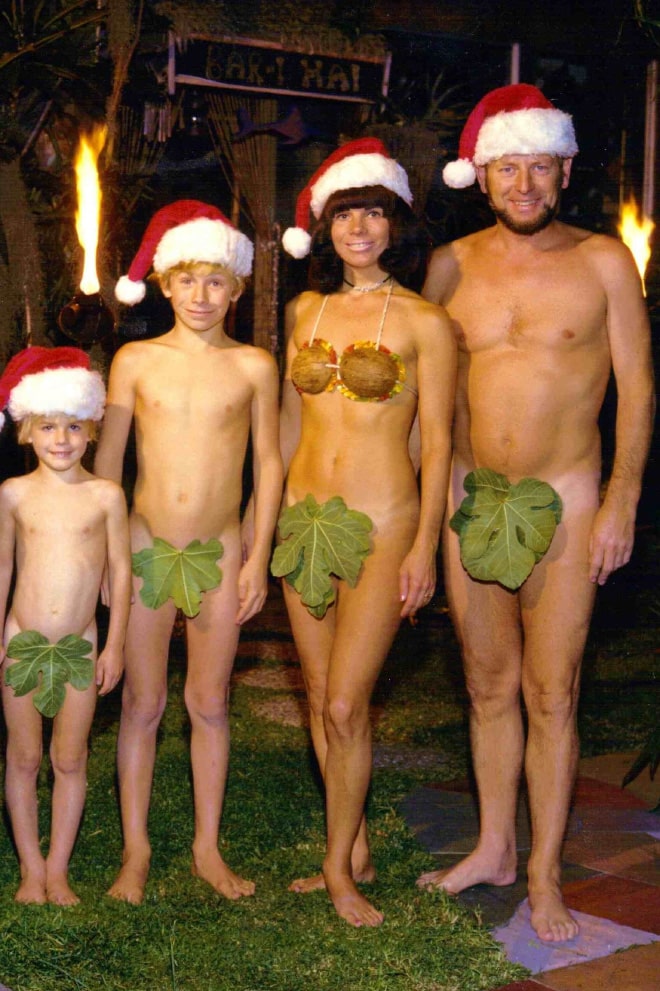 17. "One year old me, Santa in furry slippers and the most disturbing and scary Befana ever. Italy, 1996 (In Italy the Befana is supposed to be an old, kind woman who delivers gifts to kids on Epiphany eve)."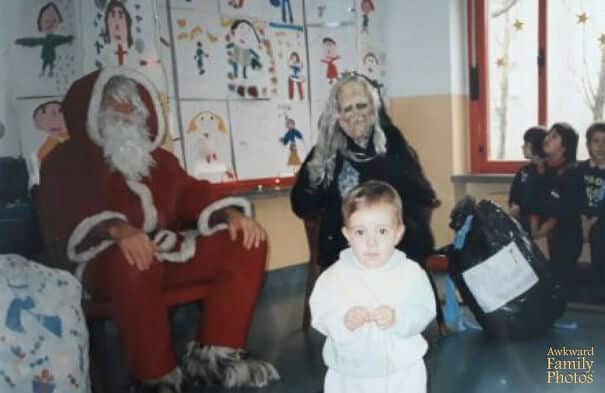 18. "The moment my mom realized I was going to be a handful."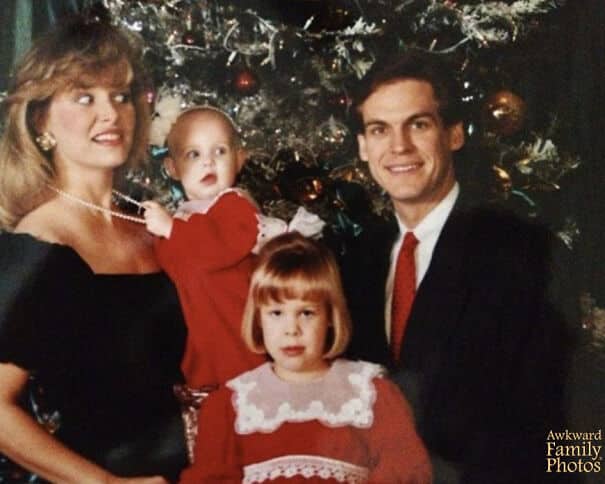 19.
"Our Aunt Helen made these for the three of us and while I know she worked very hard on them, I was mortified. That's me on the left. I'm smiling but my eyes are red from crying because I didn't want to wear it. The compromise was that I didn't have to wear the bonnet. I don't have much of a fashion sense but even then, at a tender young age, I knew this was wrong, very wrong."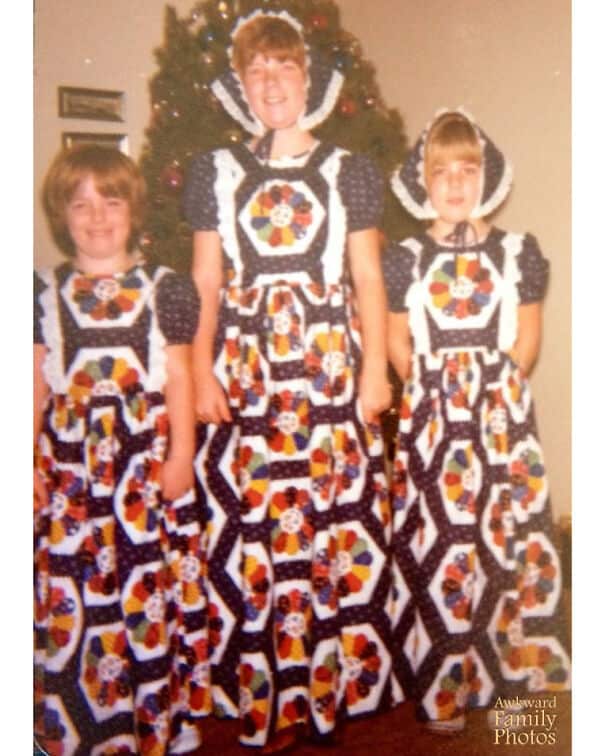 20. "Mom, there's a reason there wasn't a line to see this Santa…"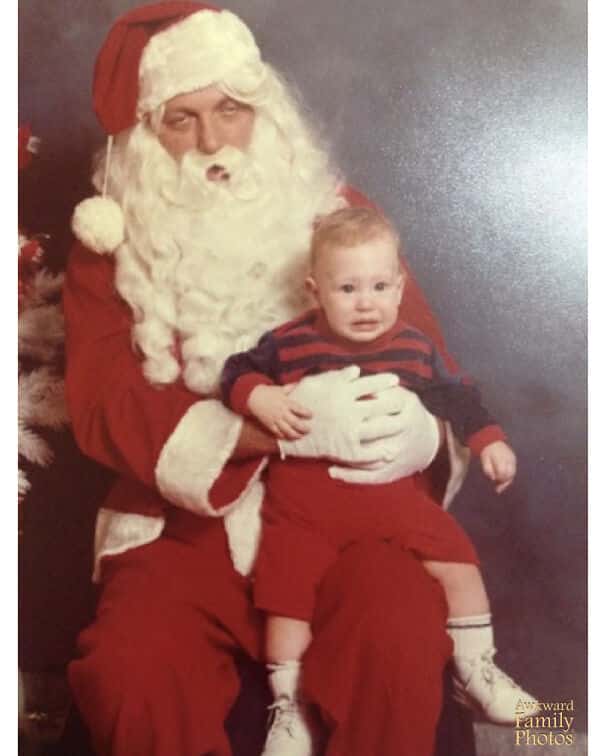 21. "The Santa display was sad, and Santa looks even sadder. I found this pic of me with Santa and couldn't help but notice the surroundings and his miserable look."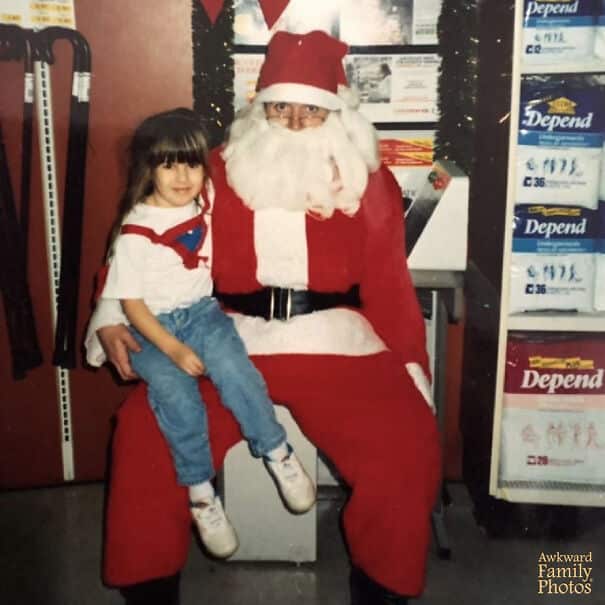 22. "We were trying to create a winter wonderland scene and save money by shooting our own picture. We ended up with almost 90 photos that all looked like this, so we just went with it and this year I got actual requests to post this card."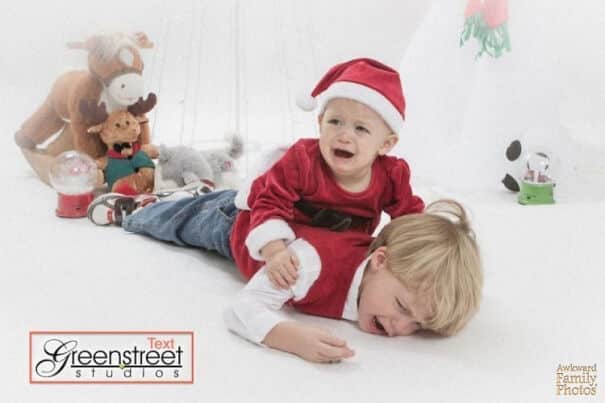 23."We were taking our family Christmas photo, and let's just say the dogs weren't in a Holly Jolly mood. This photo was the worst of the batch, but now it's a conversation starter. We keep it right by the entrance of our home here in St. Louis."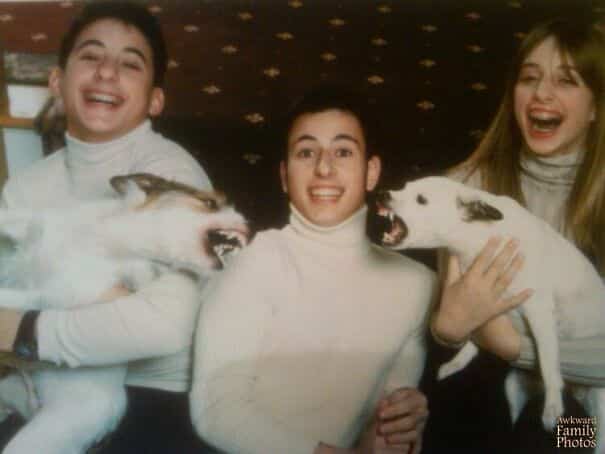 24. "Me and my parents. December 1992"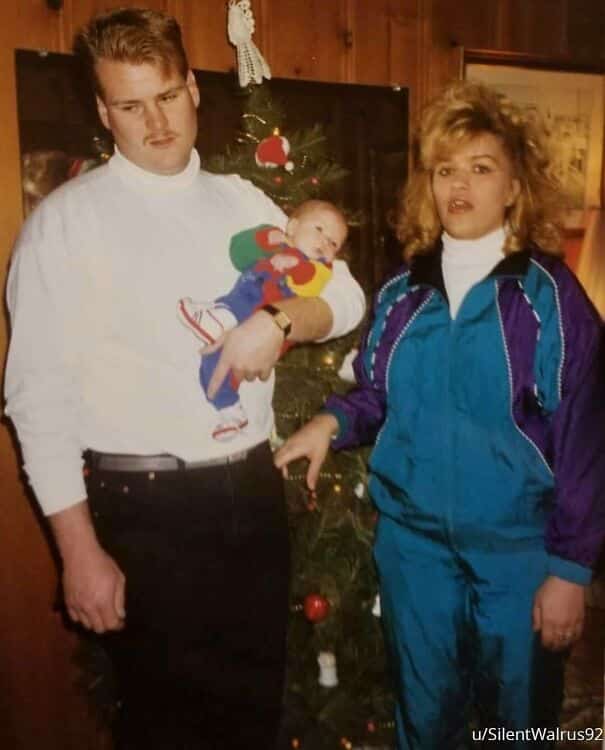 25."My memories of meeting Santa are fond ones. I came across this pic, however, and was startled by the look on this particular Santa's face. He looks a little less interested in what I want for Christmas, and a little more interested in how I'd taste in a stew."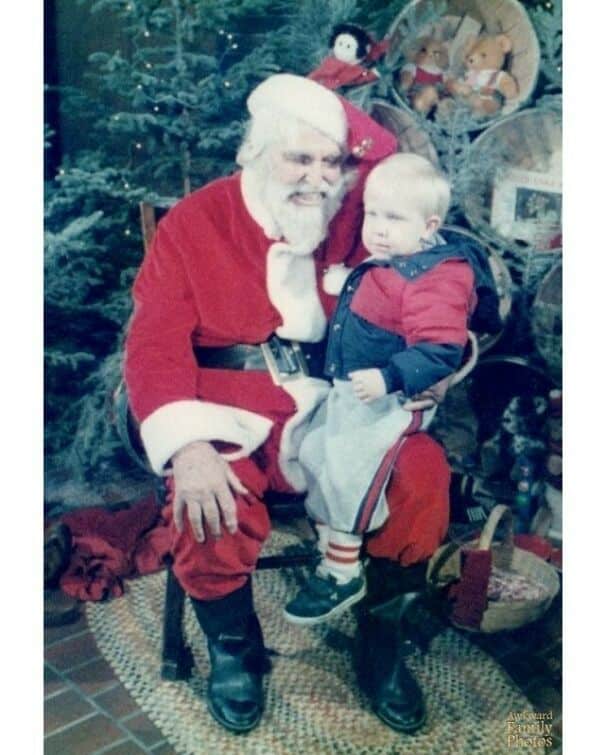 26. "This was supposed to be our Christmas card. It turns out she just hated that sweater."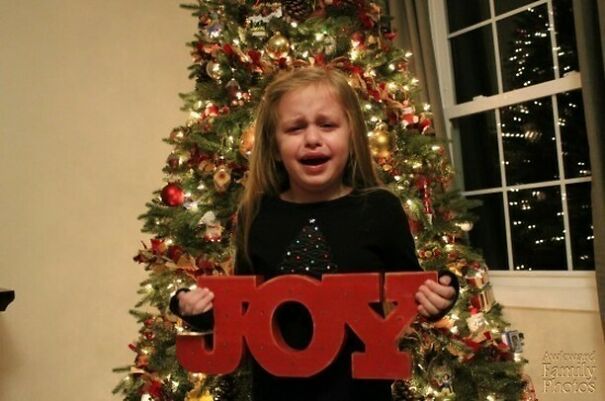 27.
"This is the 2006 Christmas Card photo that we sent out, with our 6-year-old English Bulldog, Joan."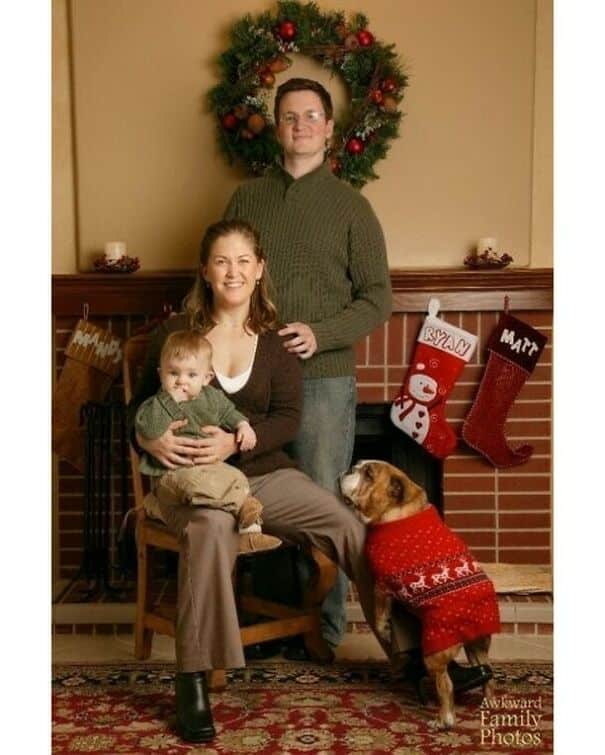 28. "I'm not wearing that."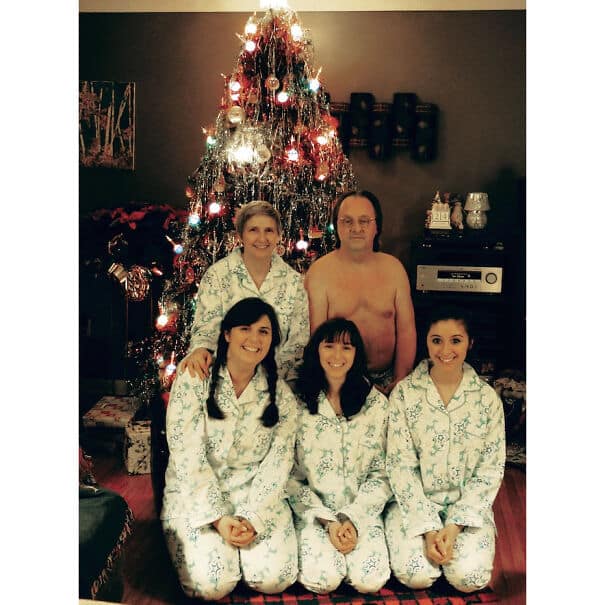 29.
"Merry Christmas from your friendly, neighborhood mall goths. 2005."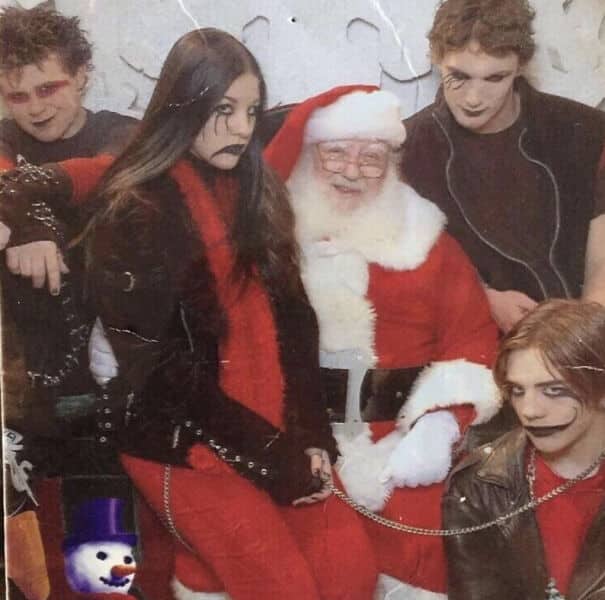 30. "Christmas 2009. We went to the mall to take a picture with Santa and seemingly nothing went wrong… my son didn't cry, the line was manageable but Santa's attention was focused elsewhere."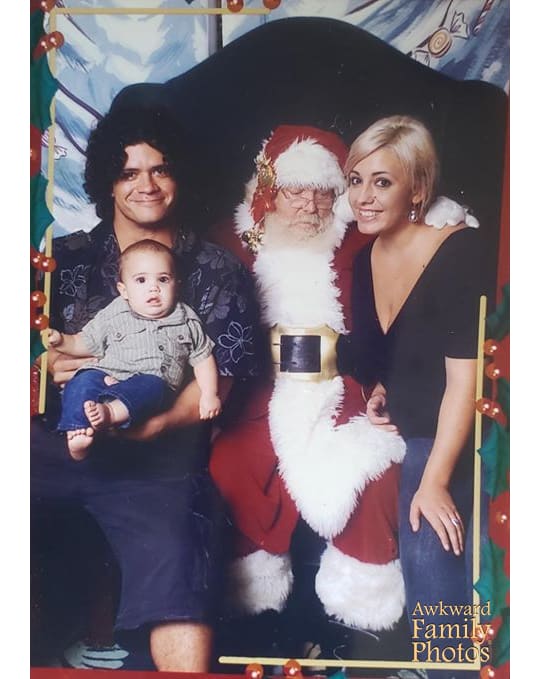 31. "This was the picture that my family sent out as our family Christmas card back in '91."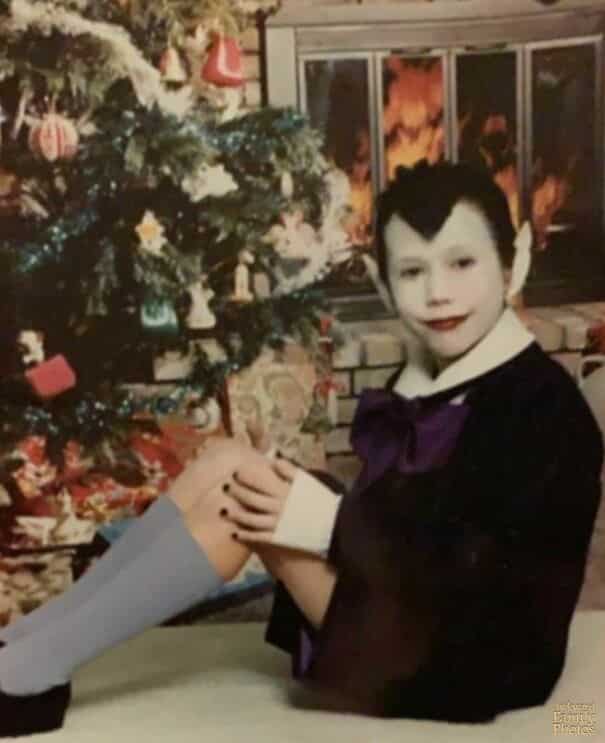 32. "We took the kids to take pictures with Santa. Needless to say, we were shocked as we scrolled through the photos and saw our daughter's middle finger up with her head turned and smiling."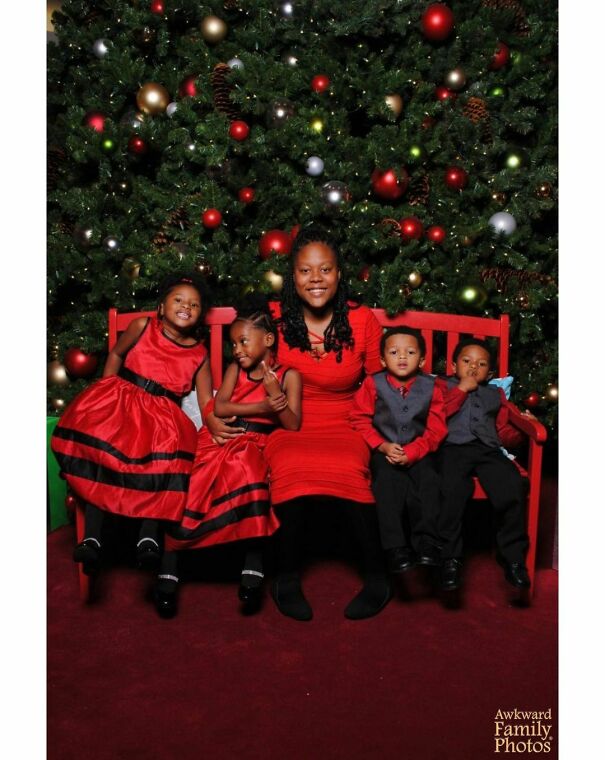 33. "The infamous Christmas photoshoot of 1984. Dad's short-shorts and high socks highlighted his fashion-forward attitude and athleticism; my sister's cheerleading perfection revealed her vow to never look bad in any photo- ever, and my single jazz hand stance complete this Awkward Family Christmas Card from over 30 years ago."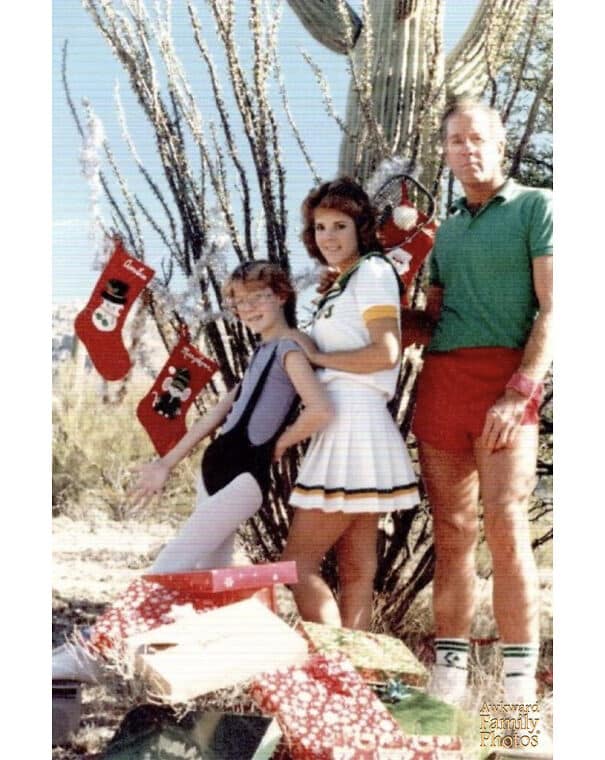 34. "This is a picture of me and my dad at Christmas time. Dad was smoking a cigarette and reading."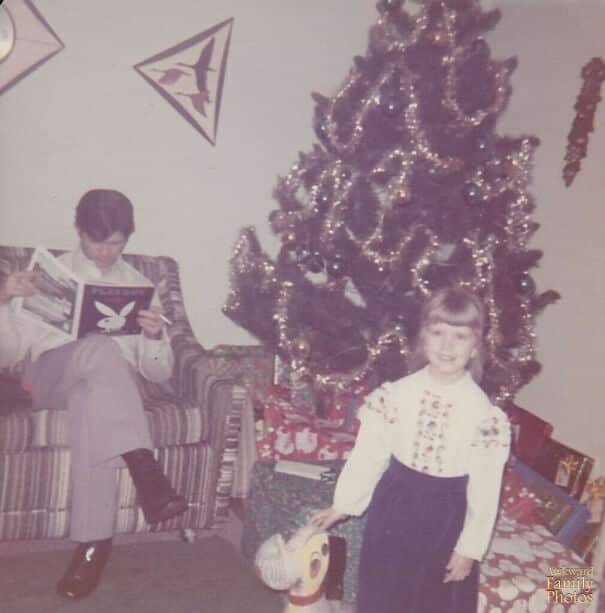 35.  "I tried to get some Christmas card photos with my boys this year. My 5-year-old was NOT having it and refused to cooperate (look under the sign). But this one took the cake for me since the baby is puking as well."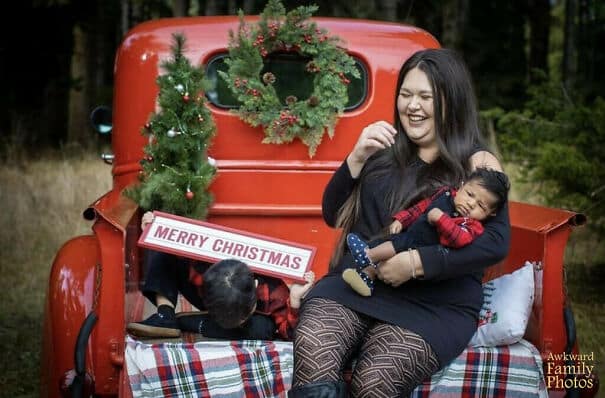 More Funny Pics: