I can't believe this movie came out 20 years ago. What a weird way to feel old.
Also, because it was so long ago, a lot of the "adult" jokes in it went over my head.
This twitter thread from @notgwendalupe breaks down some of the jokes and the replies dig deeper.

this isn't a joke but i'll add it anyway, here's the original animated intro of the movie pic.twitter.com/fU1vAZ8QhI

— pop culture (@notgwendalupe) June 14, 2022
not even 4 minutes into the film pic.twitter.com/wP4xExLNwd

— pop culture (@notgwendalupe) June 14, 2022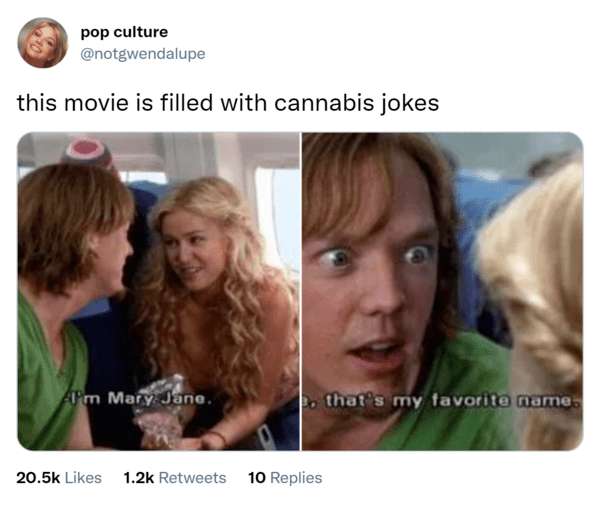 shaggy telling fred he's the 'big banana' of the group and fred just agrees with him 💀 pic.twitter.com/SkGL4B1JEf

— pop culture (@notgwendalupe) June 14, 2022
velma singing 'can't take my eyes off you' to daphne AND fred while being drunk pic.twitter.com/fjgqZxX8Ae

— pop culture (@notgwendalupe) June 14, 2022
this scene was probably shot but in a different way because there were trailers using it: pic.twitter.com/QnOeSFvKgM

— pop culture (@notgwendalupe) June 14, 2022
shaggy saying he doesn't go to places with hydrocolonic clinics, which is a procedure done through the rectum of a person pic.twitter.com/NHcoRXM3Su

— pop culture (@notgwendalupe) June 14, 2022
fred saying that scooby doo basically licked his own balls during a past meeting pic.twitter.com/kMS5p0jYkt

— pop culture (@notgwendalupe) June 14, 2022
fred looking at daphne's body naked pic.twitter.com/ybgxuHOsC2

— pop culture (@notgwendalupe) June 14, 2022
there was a scene filmed with linda cardellini and sarah michelle gellar kissing, but it was cut out pic.twitter.com/GAuIFl5th1

— pop culture (@notgwendalupe) June 14, 2022
this scene was deleted because it showed velma wearing a bikini 💀 pic.twitter.com/tsUipL9p3Y

— pop culture (@notgwendalupe) June 14, 2022
this deleted scene shows when the gang first arrived to spooky island, shaggy stared at mary jane's chest, velma's love interest confuses her with a boy, etc. pic.twitter.com/JJ5ZczXmwL

— pop culture (@notgwendalupe) June 14, 2022
daphne GAGGED THEM BAD pic.twitter.com/5zJNfvqJ15

— pop culture (@notgwendalupe) June 14, 2022