If you've ever wanted to see what 15 feet of snow looks like, then you can just check the pictures California residents have been sharing on Twitter in the past few weeks.
Over the last few days, California has been pummeled with record snowfall, which is way out of the norm for that region that has dealt with drought over the last few years.
While some are hopeful that maybe this will help bring some much-needed water to the region, their main concern for right now is digging out of this unexpected snowfall. This whole story sort of reminds me of the freezing temps in Texas a couple of years ago.
Here are some of the remarkable pictures (and videos) of the California snow.
---
1.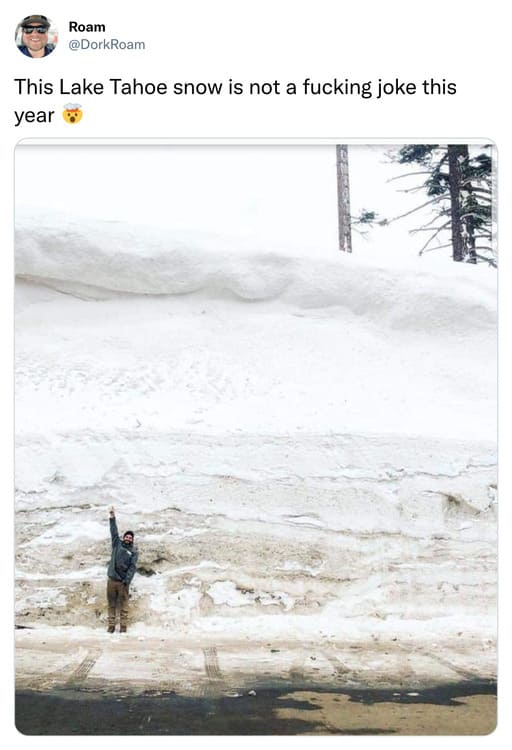 2.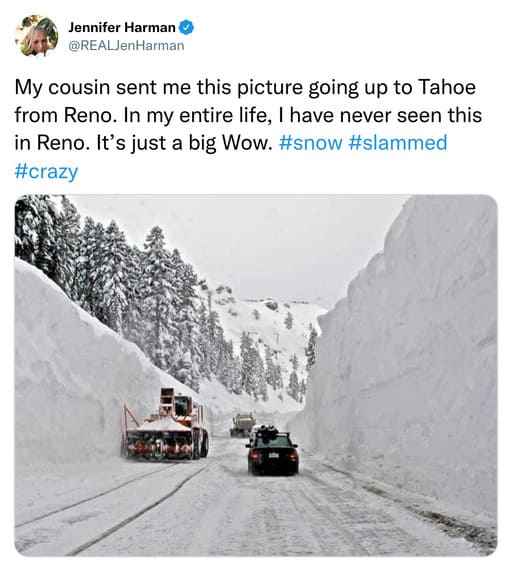 3.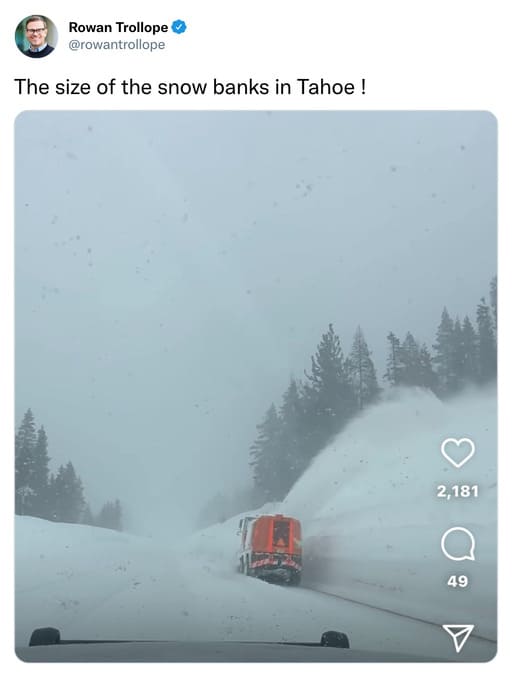 4.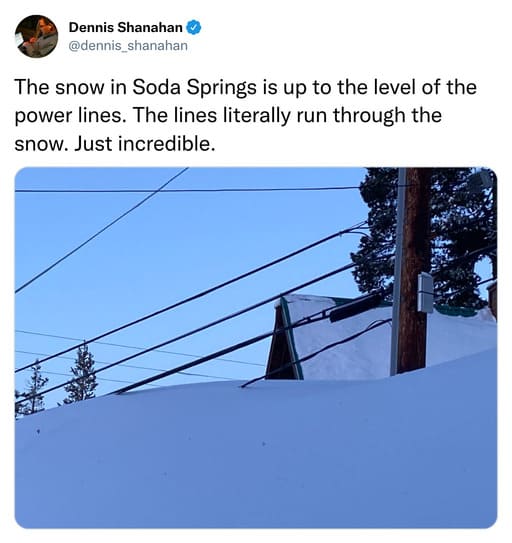 5.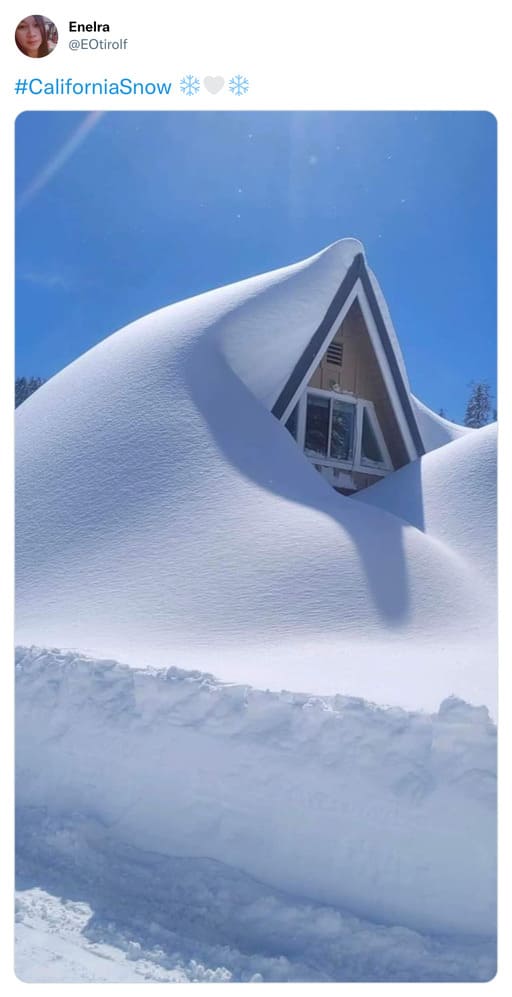 6.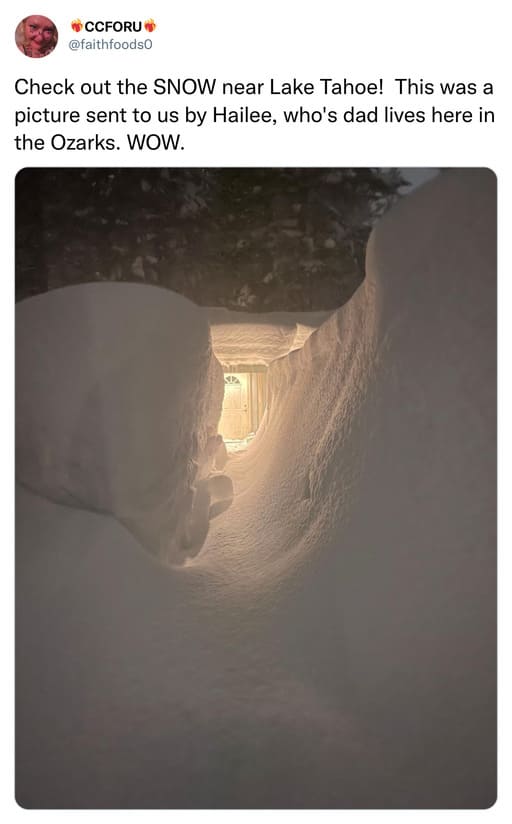 7.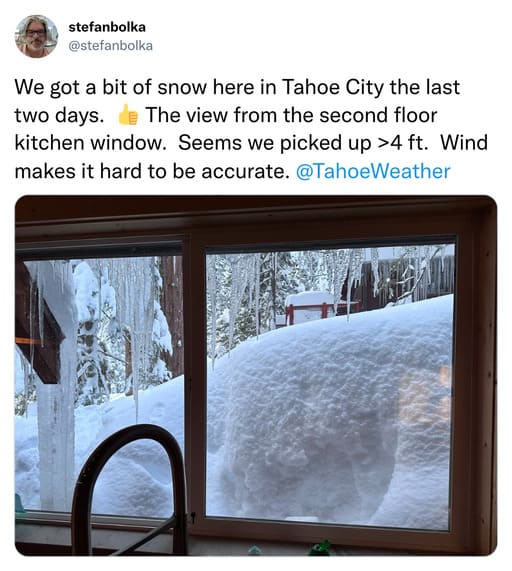 8.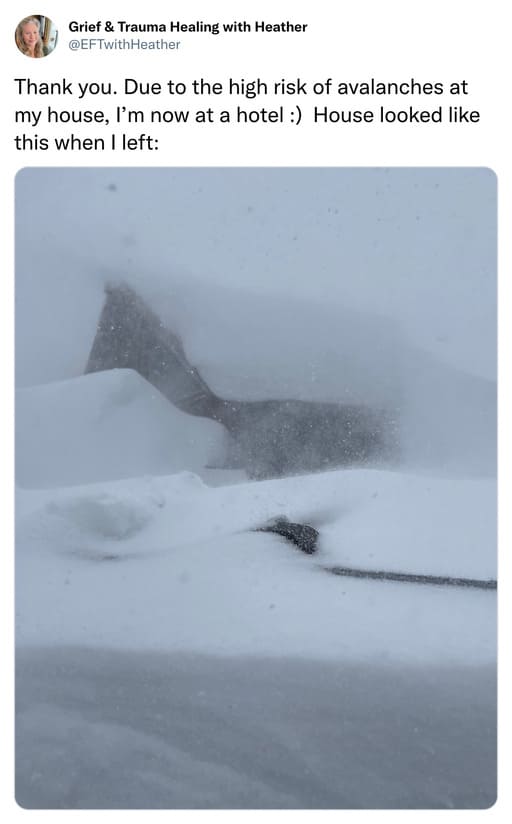 9.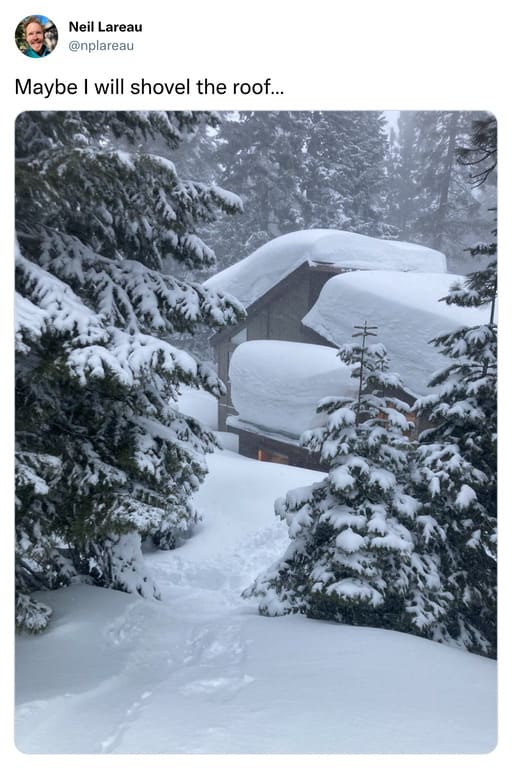 10.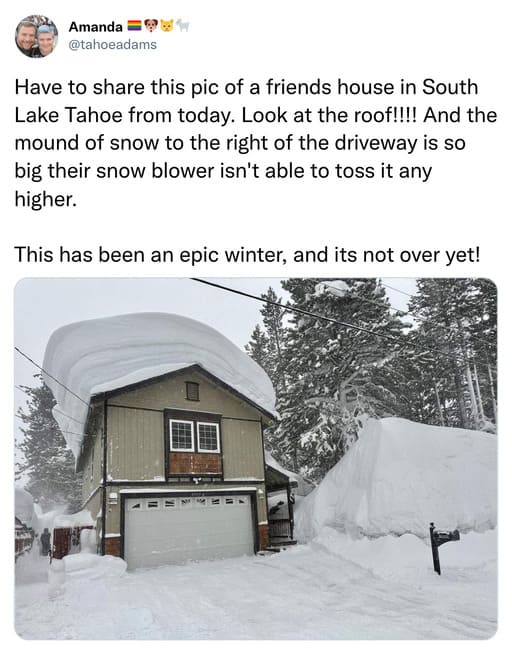 11.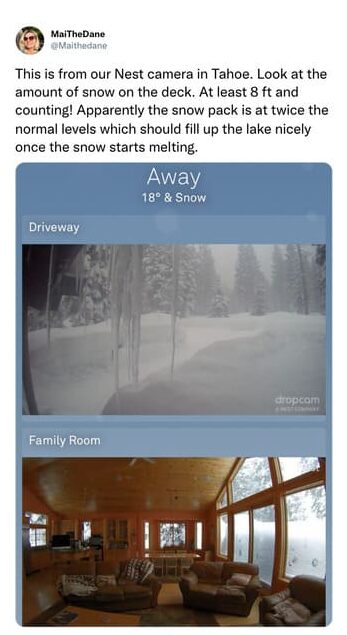 12.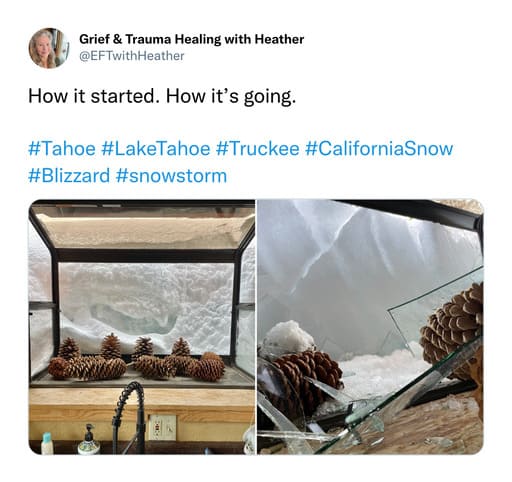 13.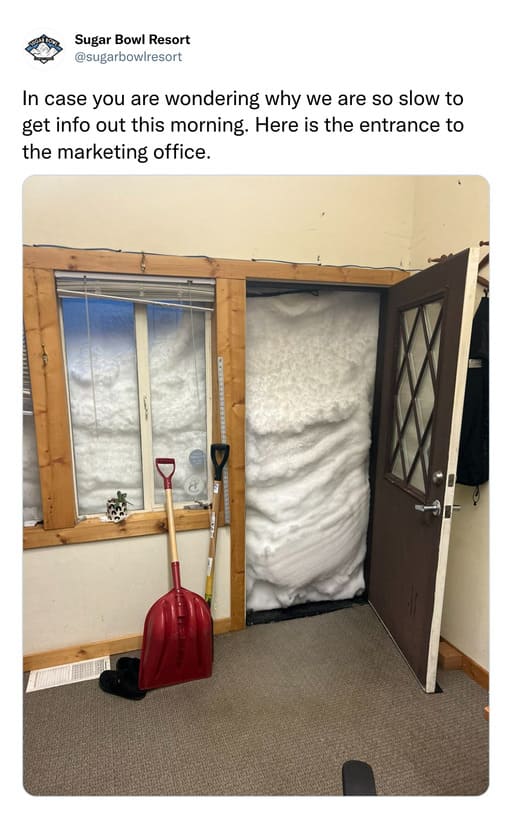 14.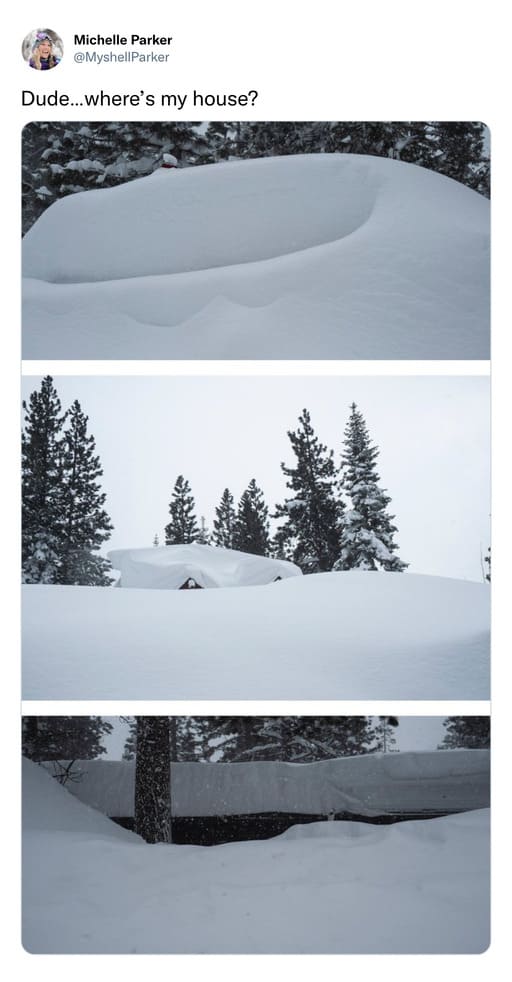 15.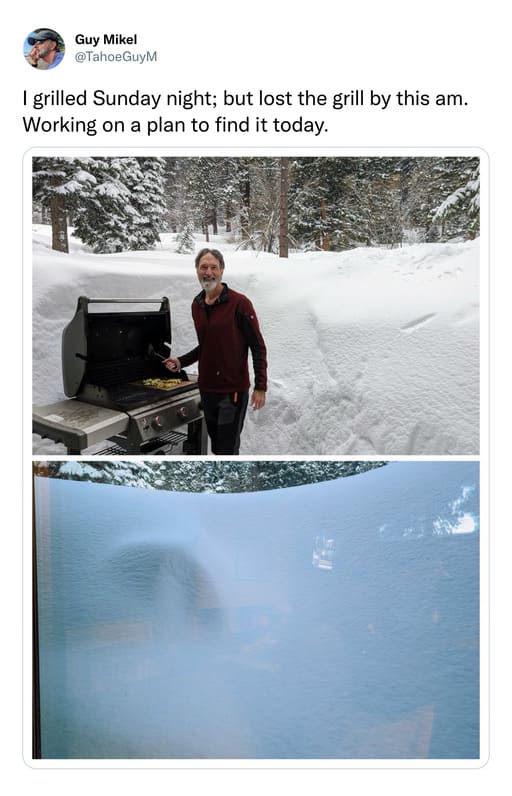 16.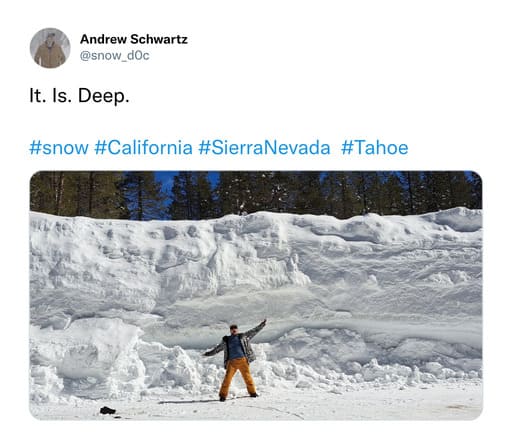 17.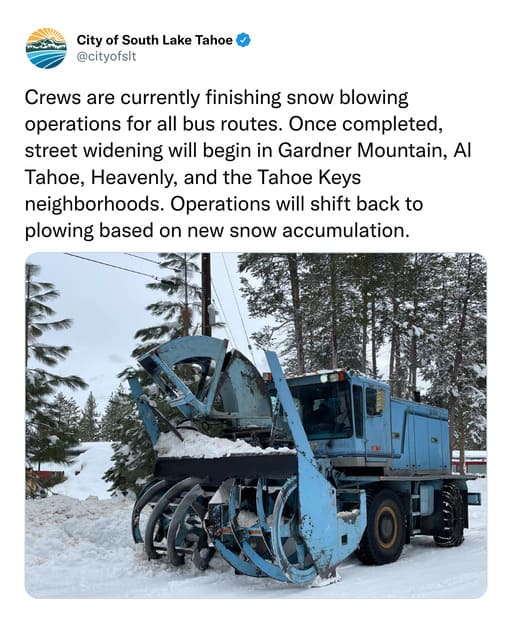 18.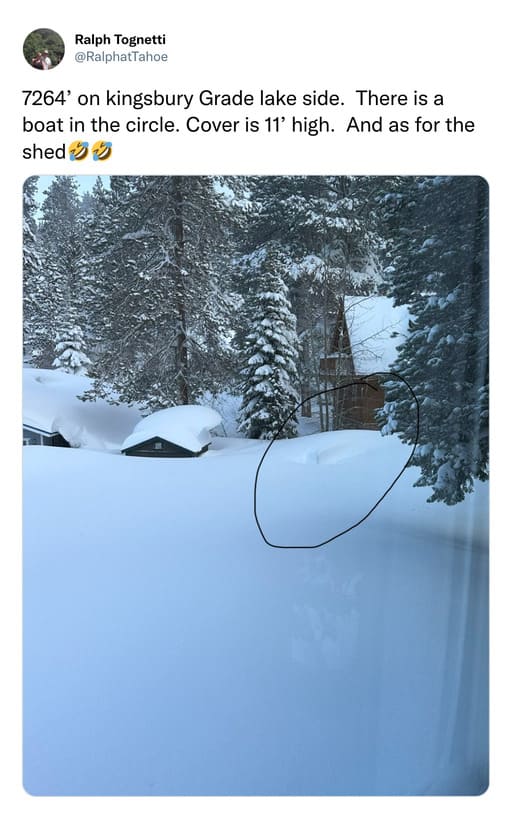 19.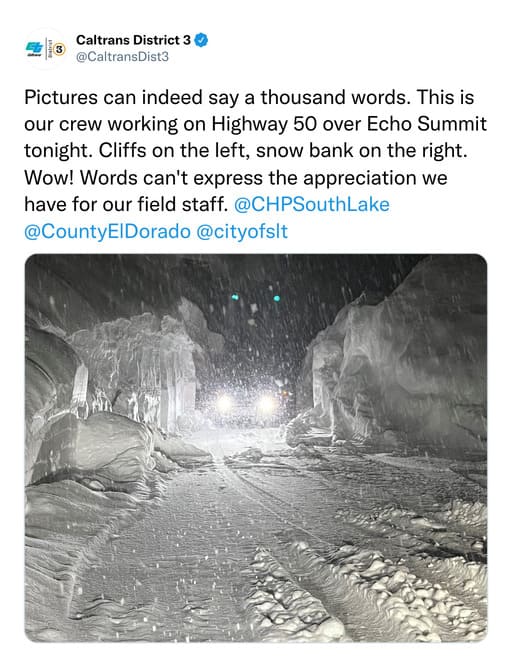 20.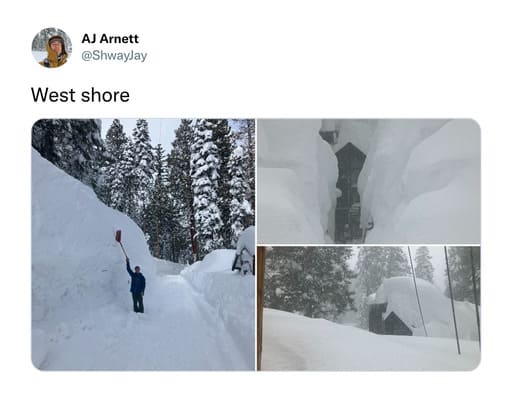 21.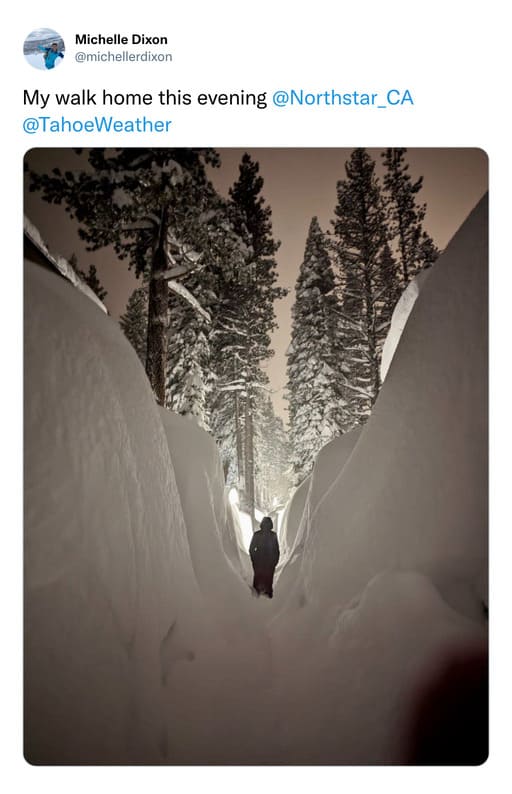 22.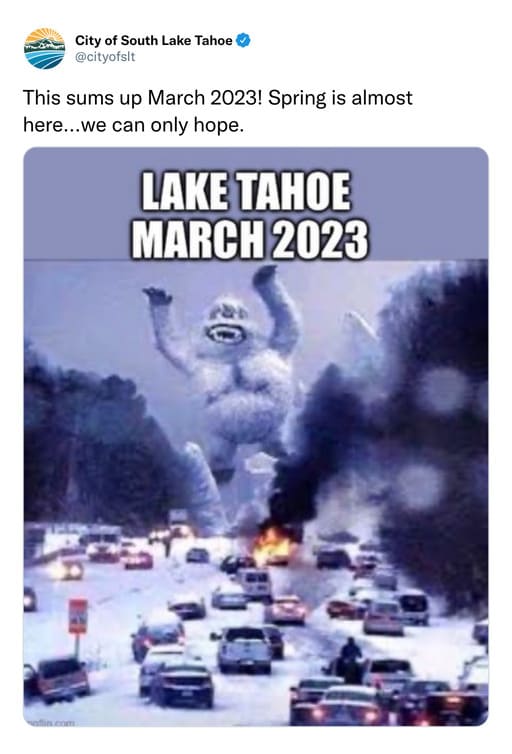 23.
Meanwhile, while we're getting tornado warnings out in the Midwest, at home in CA (South Lake Tahoe) my parents are resorting to big measures by shoveling snow into the snowblower… which is sitting on our roof!! 🤯 #cawx pic.twitter.com/Zih8ZyefeE

— Sierra Bedwell (@bedwellbacteria) March 1, 2023
24.
#CaWx too much snow for the resorts. too much snow to hike. only thing accessible is the cabin roof. @kcraFinan @Weather_West @TahoeWeather pic.twitter.com/qFulAD5PKU

— Frito⛏ (@Jee_Oh_Fry) March 1, 2023
25.
Leaving homewood this morning. WHEW! @TahoeWeather pic.twitter.com/AgHJI6dJZR

— haley (@macphail_haley) March 5, 2023
26.
Snow is up over the 10 foot bridge to our house. In 20 years, never seen that before. @TahoeWeather @Northstar_CA pic.twitter.com/L4tpz7wpVR

— Susan Safipour (@SafiTahoe) March 6, 2023
27.
Crews are working tirelessly around the clock to clear I-80 of snow & ice. Route remains closed between Applegate & the Stateline. Whiteout conditions in some areas. Over 30 inches of snow fell on Donner Pass the past 24 hrs. @CHP_Truckee @CHPGoldRun @nevadadot @CaltransHQ pic.twitter.com/FyTkVYireI

— Caltrans District 3 (@CaltransDist3) March 5, 2023