The Oscars, also known as the Academy Awards, are one of the biggest nights in the entertainment industry, where the most talented filmmakers, actors, and actresses gather to celebrate their achievements. It's also one of the biggest nights for memes and tweets.
From the red carpet outfits to jokes about the Will Smith slap, last night's Oscars birthed numerous funny memes and tweets that captured the hilarious moments of the night.
So if you missed the Oscars, don't worry – Twitter's got you covered.
From celebrities' outfits to Andrew Garfield's monologue reaction, here are the funniest memes and tweets from the 2023 Oscars.
---
1. To start with, Twitter users shared their commentary on the red-carpet happenings and Rihanna showing up.
me judging all the oscars looks tonight pic.twitter.com/qZID7SxK6P

— High End Homo (@highendhomo) March 12, 2023
2.
Me when I change the duvet cover https://t.co/drtvmkUu3W

— Reina Sultan (she/her) (@SultanReina) March 12, 2023
And everyone kinda made the same joke here: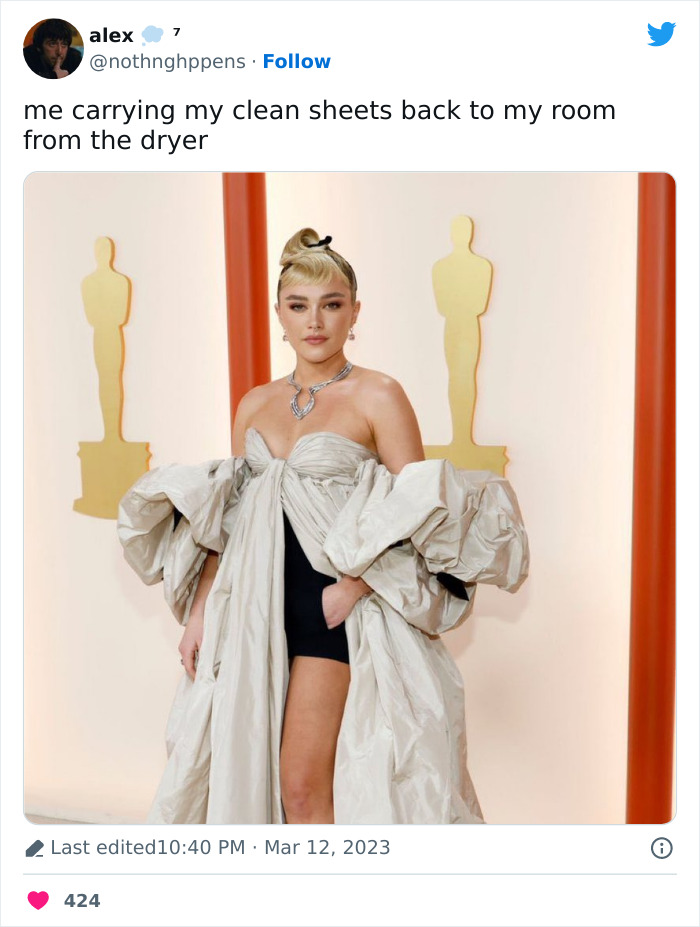 3.
me when I walk around the house in a beautiful gown and a ghost slaps me pic.twitter.com/1dT6OnslWy

— Garrett Finch (@itsgarrettfinch) March 12, 2023
4.
Rihanna arriving to Oscars dressed and walking like my mom when she was called up to the principal's office pic.twitter.com/GZsR8liUKt

— 🔥 🏠 with a Y 🏠 🔥 (@wyntermitchell) March 12, 2023
5.
I, too, look like this after a single Martini. pic.twitter.com/ZHqnvzYS9M

— Tim Fitzgerald (@tim__fitzgerald) March 12, 2023
6. Will Smith's infamous slap at Chris Rock at last year's ceremony was the subject of ongoing jokes among viewers.
if chris rock goes onstage tonight, someone better be brave enough to do the funniest thing in the world

— zach silberberg (@zachsilberberg) March 12, 2023
7.
Slap jokes just left and right. Right and left. pic.twitter.com/Ggg7gCI2Cc

— HOOD VOGUE is tired of poverty (@keyon) March 13, 2023
8.
I'm taking a shot everytime they reference the slap

— Ex Vaulter Employee (@kingbealestreet) March 12, 2023
9.
Jimmy Kimmel made another slap joke. pic.twitter.com/rafW2oQxcO

— Official Alma Madrigal Hate Account (@JordisTweeting) March 13, 2023
10. In my opinion, Andrew Garfield was the best new meme to come out of last night.
only thing i liked about jimmy kimmel's monologue was this andrew garfield reaction pic.twitter.com/X1ujr1cash

— NOSTALGIA (@notgwendalupe) March 13, 2023
11.
Absolute legend. pic.twitter.com/1wnSDakLu7

— Dave Itzkoff (@ditzkoff) March 13, 2023
12.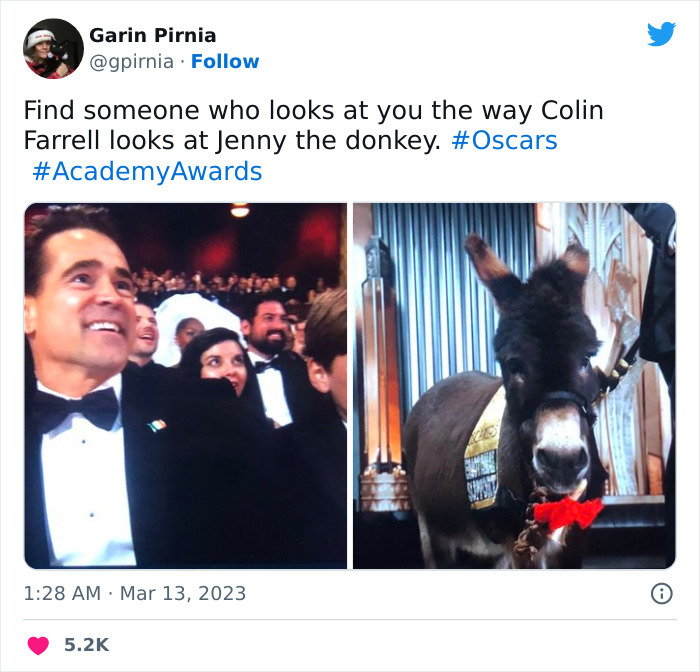 13. There wasn't a single person in the audience with dry eyes when Ke Huy Quan received his first Academy Award for Best Supporting Actor.
Ke Huy Quan ain't sat down this whole award season.

— HOOD VOGUE is tired of poverty (@keyon) March 13, 2023
14.
There is NOBODY more happy to be in this room than Ke Huy Quan. #Oscars pic.twitter.com/Y6YweycfW1

— Phil Yu (@angryasianman) March 13, 2023
15.
Ke Huy Quan!!!!!!!!!!!!! HE WON pic.twitter.com/lONywwwe9R

— 💫 (@heyjaeee) March 13, 2023
16. After losing the Oscar for Best Supporting Actress to Jamie Lee Curtis, there were people who were disappointed with Angela Bassett's snub.
Me stealing the oscar to give it to Angela Bassett #oscars pic.twitter.com/KfkLUJo0h9

— ♈︎ (@bvbhive) March 13, 2023
17.
Jaime Lee Curtis????? Over Angela Bassett and Stephanie Hsu??? #Oscars pic.twitter.com/yp7odMPJ77

— wine mom yor forger🍷 (@autumnvelvets) March 13, 2023
18.
Jamie Lee Curtis should have won the Oscar for Freaky Friday twenty years ago

— shailee (@ShaileeKoranne) March 13, 2023
19. The Oscars performance of "Hold My Hand" by Gaga sparked a lot of commentary on her stripped-down appearance.
Lady Gaga right now pic.twitter.com/yY1ekoQJIS

— Mohanad Elshieky (@MohanadElshieky) March 13, 2023
20.
Working class Gaga is out tonight!! pic.twitter.com/CHSvgbvVNM

— I could've just sat on in with massa (@WrittenByHanna) March 13, 2023
21.
HOOOLD MY HAND pic.twitter.com/TnCENITmc4

— Joey Sims (@joeycsims) March 13, 2023
22. The film "All Quiet on the Western Front" dominated the entire show.
War movie: *exists*

Academy Awards: #oscars #AcademyAwards pic.twitter.com/u3BpbA9vxe

— Jon (@jonbon757) March 13, 2023
23. Some expressed their thoughts on Austin Butler's loss to Brendan Fraser for the Best Actor award.
austin butler experienced complete ego death and is, to this day, letting the ghost of elvis drive him around like a ratatouille. and for what

— mattie rose (@Lubchansky) March 13, 2023
24. Michelle Yeoh's historic win for Best Actress at the Oscars was also celebrated on Twitter.
MICHELLE YEOH OSCAR WINNER pic.twitter.com/O50rXhdopG

— zoe kravtiz is a nasty woman (@sailorfemme) March 13, 2023
25.
wait halle berry giving michelle yeoh her oscar… that's so powerful

— rina (@ULTRAVIOL3NC33) March 13, 2023