A fun part of parenting is always having the right answer or teaching your kids something for the first time and blowing their minds.
That only lasts for so long, though.
I'm not there yet with my kids, but according to parents on Twitter, seven is the age kids start to have thoughts of their own that are possibly hilarious and profound on purpose.
7 is prime no filter age, as these tweets and memes show:
Disclaimer: Obviously some parents are full of shit, so don't be surprised if a few of these end up in the Didn't Happen dump this week.
1.

2.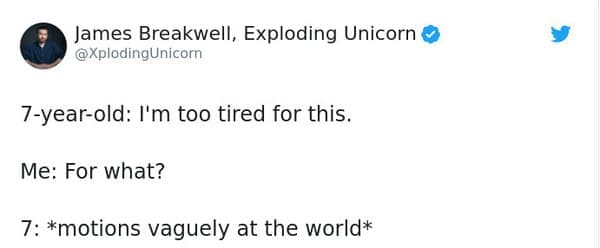 3.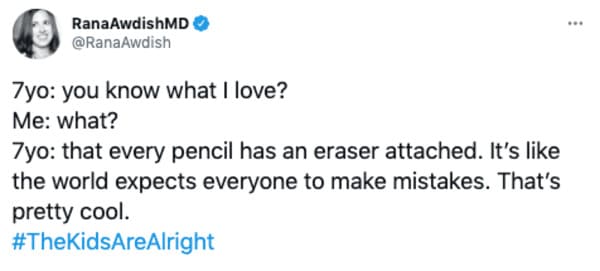 4.

5.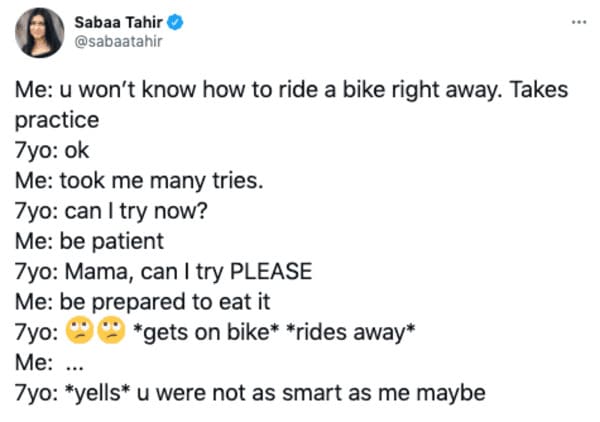 6.
7yo: How do you like my snowman?

Me:
7yo:
Me:
7yo:

Me: Why's the carrot at—

7yo: He's standing on his head.

Me: Ooohhhh

— Jessie (@mommajessiec) January 27, 2020
7.
My son asked my 7yo how she would survive a bear attack and she replied she would try to be his friend, thus making her the most adorable of my children but also the least likely to survive an encounter with an actual bear.

— Jessie (@mommajessiec) September 24, 2019
8.
Being a parent teaches you a lot about yourself. For instance, this morning my 7yo told me that I'm not as funny as I think I am.

— Lurkin' Mom (@LurkAtHomeMom) May 7, 2018
9.
My 7yo just said , and I quote "I know diamonds are expensive , like $27 but they are my birthstone, so I should have some."

— Heather 🦠doo do doo do doo do doo do (@dishs_up) February 1, 2020
10.
7yo: Daddy, I can't find my stuffed animal
Me: Here it is
7yo: How did you find it?
Me: I looked
7yo:

— Robert Knop (@FatherWithTwins) August 16, 2017
11.
Me: Ready for school?

7yo: [in only underwear with pants tied around his neck like a scarf & a sock on each hand] Almost

— Valerie (@ValeeGrrl) January 10, 2017
12.
[laser sounds]

[dinosaur sounds]

[enraged death screech]

Me: What were you doing?

7-year-old: Taking a bath.

— James Breakwell, Exploding Unicorn (@XplodingUnicorn) January 4, 2020
13.
7yo: I am so excited about sleeping in tomorrow.
Me: Me too!
7yo: I think I'll probably sleep until SEVEN!
Me: *sobs quietly

— Sarah del Rio (@sarahdelri0) September 4, 2015
14.
7yo was doing parkour over the furniture when he slammed into a door, got his jeans caught on the handle and was kind of dangling upside down and I don't know if that's all part of parkour but I clapped anyway

— MumInBits (@MumInBits) May 6, 2019
15.
My 7yo's toothbrush has a suction cup on the bottom, so she stuck it on the tile wall and tried brushing hands-free. *Wipes tear of pride*

— SpacedMom (@copymama) September 10, 2017
16.
7yo- You worked way harder than me today, dad.

Me: I always will, lil buddy.

7: Not when you're dead.

Me: (Whispers) Jesus Christ.

— Cam Houle ~ Dairy Farmer (@dailydairydiary) November 20, 2016
17.
My 7yo son had the most mature breakup!

7YO: BTW mom, I broke up with my girlfriend.
ME: everything ok?
7YO: yah. We just realized we like different things. Like, she likes to walk around and chat and I like to run around and play a lot. So we decided we should just be friends.

— 🥧 SUZANNE 🥧 (@425suzanne) February 2, 2020
18.
My 7yo said if she ever gets married she wants to have a pajama-themed wedding, and I feel like my parenting has come to fruition.

— SpacedMom (@copymama) June 11, 2017
19.
Wife: "Do NOT lick the dog!"
7yo: "But he licked ME!"

— ReasonsMySonIsCrying (@ReasonsMySonCry) April 21, 2019
20.
7yo: Why can't I have coffee?

Me: It'll make u even more energetic than u already are

7: But u drink it all the time& u never have energy!

— Salty Mermaid Entertainment (@saltymermaident) August 13, 2016
21.
My 7yo: Why do you have a tattoo on your butt?

Me: It's my lower back & lots of girls were getting tattoos there in the 90s.

Her: But why? Who did that to you?

Me: A tattoo artist near my college

Her: In college? (shaking her head) You made some bad choices, woman.

— LaToya Jordan (@latoyadjordan) February 3, 2020
22.
7-year-old: I'm tired.

Me: Maybe you should go to bed earlier.

7: Maybe today should be canceled.

— James Breakwell, Exploding Unicorn (@XplodingUnicorn) January 10, 2020
23.
My 7-year-old told me she wants a pet chinchilada. Do I find this at the pet store or a Mexican restaurant?

— Jessie (@mommajessiec) November 26, 2019
24.
7yr old "Do women get their periods on weekends too?"
Me "Yes"
7yr old mutters to herself "Jesus Christ"

— kelly oxford (@kellyoxford) November 20, 2015
25.
7yo son: May I have some water?

Me: What are the magic words?

7yo son: I can get it myself.

Me: There you go.

— Laura Marie (@lmegordon) January 6, 2020