Some people just aren't keen on the idea of Valentine's Day. Regardless of whether or not they're single when that fateful February day rolls around, they just end up negging on each and every heart-shaped decoration and exorbitant prix fixe menu.
And honestly? It's hard to blame them. Valentine's Day is an unnecessary amount of pressure to place on a romantic relationship (or a single person's psyche), and most of us can't help but get a little pissed off about the whole charade. Roses and chocolates and sexy lingerie are all well and good — but at a 15% markup in holiday-specific colors? Maybe not so much.
Here are some good, salty jokes for anyone who wishes that Valentine's Day would just tuck its tail and run right back into the advertising office from whence it came. I hope that all of you (myself included) find the perfect tray of nachos to spend some time with during V-Day this year.
1.
Can we replace Valentine's Day with another thanksgiving?

— SomeGirl (@autonymm) January 28, 2018
2.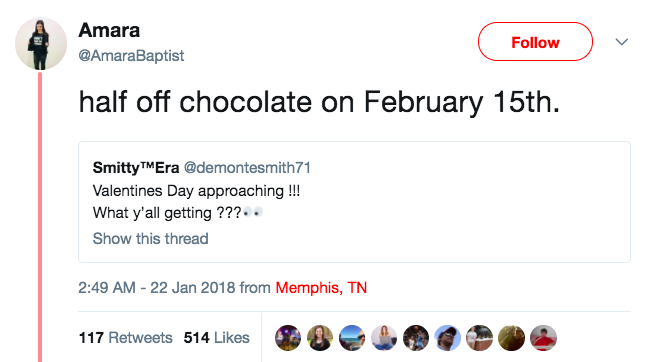 3.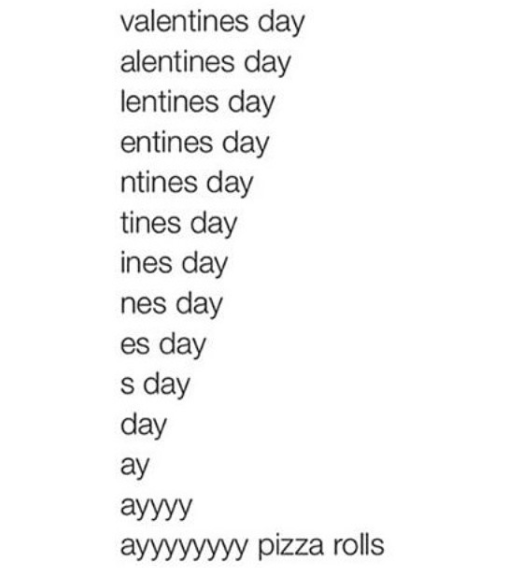 4.
Do I care if it's valentines day? pic.twitter.com/waSV5Pc7fg

— Ed Lever (@Ed_Lever) February 14, 2014
5.
Can't wait for Valentines Day. I'm gonna run into as many restaurants as I can shouting "Knew I'd find you here! You bastard" then run out.

— Ruthe Repeal Phoenix (@RuthePhoenix) January 24, 2015
6.
valentine's day is approaching, but so is mcdonald's monopoly and i'll let you guess what i'm more excited for x

— Paige✨ (@_paigemcmillann) January 28, 2018
7.
What's my type? Someone who is supportive. Someone who is warm. Someone I can just curl up and relax with. Wait I'm describing my bed again.

— Jamie Woodham (@jwoodham) December 2, 2014
8.
Roses are red,
Violets are blue,
Sunflowers are yellow,

I bet you were expecting something romantic but no, these are just gardening facts.

— Not Will Ferrell (@itsWillyFerrell) December 9, 2013
9.
https://twitter.com/bxbygirlangie/status/955876012952375296
10.
i dont need a valentine i need 8 million dollars and a fast metabolism

— pakalu papito (@pakalupapito) January 27, 2016
11.
the best thing about being single on valentine's day is I get to eat all 2 dozen of these roses by myself

— thomas violence (@thomas_violence) February 14, 2015
12.
seeing cute couples in public pic.twitter.com/QtkXkeHWYk

— what (@chanelpuke) December 5, 2013
13.
Every Valentine's Day card in history was signed on the dashboard on a car in a Walgreen's parking lot.

— Bill Dixon (@BillDixonish) February 3, 2016
14.
the white boy valentines card pic.twitter.com/DVu2FgagM6

— anti joke apple (@antijokeapple) February 12, 2015
15.
Happy Valentines Day aka spend $200 to avoid a fight

— Brian Gaar (@briangaar) February 14, 2015
16.
Finally 6 inches that won't dissapoint you on valentines https://t.co/jl6LUyHiWx

— zoey (@stars_shards) February 5, 2017
17.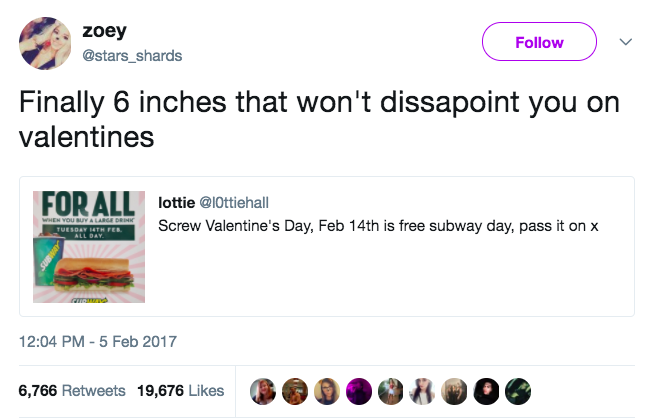 18.
me knowing im single af and dont have to buy any valentines gifts pic.twitter.com/eZ4WxMEWzj

— Lisa Simpson (@tbhIisa) February 3, 2017
19.
If you're single on Valentine's Day you're allowed to have two dinners right?

— mitchell davis (@mmitchelldaviss) February 6, 2016
20.
Valentine's Day really separates the men from the boys, and then separates me from both of them in a third location

— Megan Amram (@meganamram) February 15, 2015
21.
less than 1 month until valentine's day which means less than 1 month until i buy 75% clearance chocolate for myself at target

— Sarcasm (@ComedyPosts) January 17, 2014
22.
You are never alone on Valentine's Day if you're near a lake and have bread.

— Mike Primavera (@primawesome) February 14, 2015
23.
https://twitter.com/youngoddesss/status/828272864084295680