While Mike Primavera already does a pretty damn good job with his coed weekly funny tweet roundup, we also think that until women get paid as much as men, it's our duty to single out funny female tweets. Here's what fire the funny ladies of the Tweeter brought this week.
DISCLAIMER: the headline "23 Women Who Made Us Piss Our Pants Laughing This Week" is a bit misleading. Truth be told, no one makes us piss our pants. We do it because we like it.
1.
Here is my mother as Rick James for Halloween . I'm yellinggggg pic.twitter.com/U10chlFC2q

— . (@LaTriiis) November 1, 2019
2.
This Halloween, Heidi Klum dressed up as what I think I look like compared to Heidi Klum. pic.twitter.com/uPwQi5rNBI

— Nikki Glaser (@NikkiGlaser) November 1, 2019
3.
this is where one might say "same" pic.twitter.com/AjhHwlsnvN

— Sarah Holder (@sarahsholder) October 29, 2019
4.
getting a "can we reschedule" text right before leaving the house pic.twitter.com/vnlpriaFZS

— nicole boyce (@nicolewboyce) October 29, 2019
5.
horror movie where millennials manage to buy a house but it's haunted by the ghosts of all the things millennials have killed

"what was that?"
"oh my god Jessica it's GOLF"

— Alexandra Petri (@petridishes) October 29, 2019
6.
Happy Halloween pic.twitter.com/shZ5n1Dzed

— alexa (@_alexxaa_22) November 1, 2019
7.
This teapot is giving me attitude pic.twitter.com/sGm6hxsB3M

— Katie Mack (@AstroKatie) October 27, 2019
8.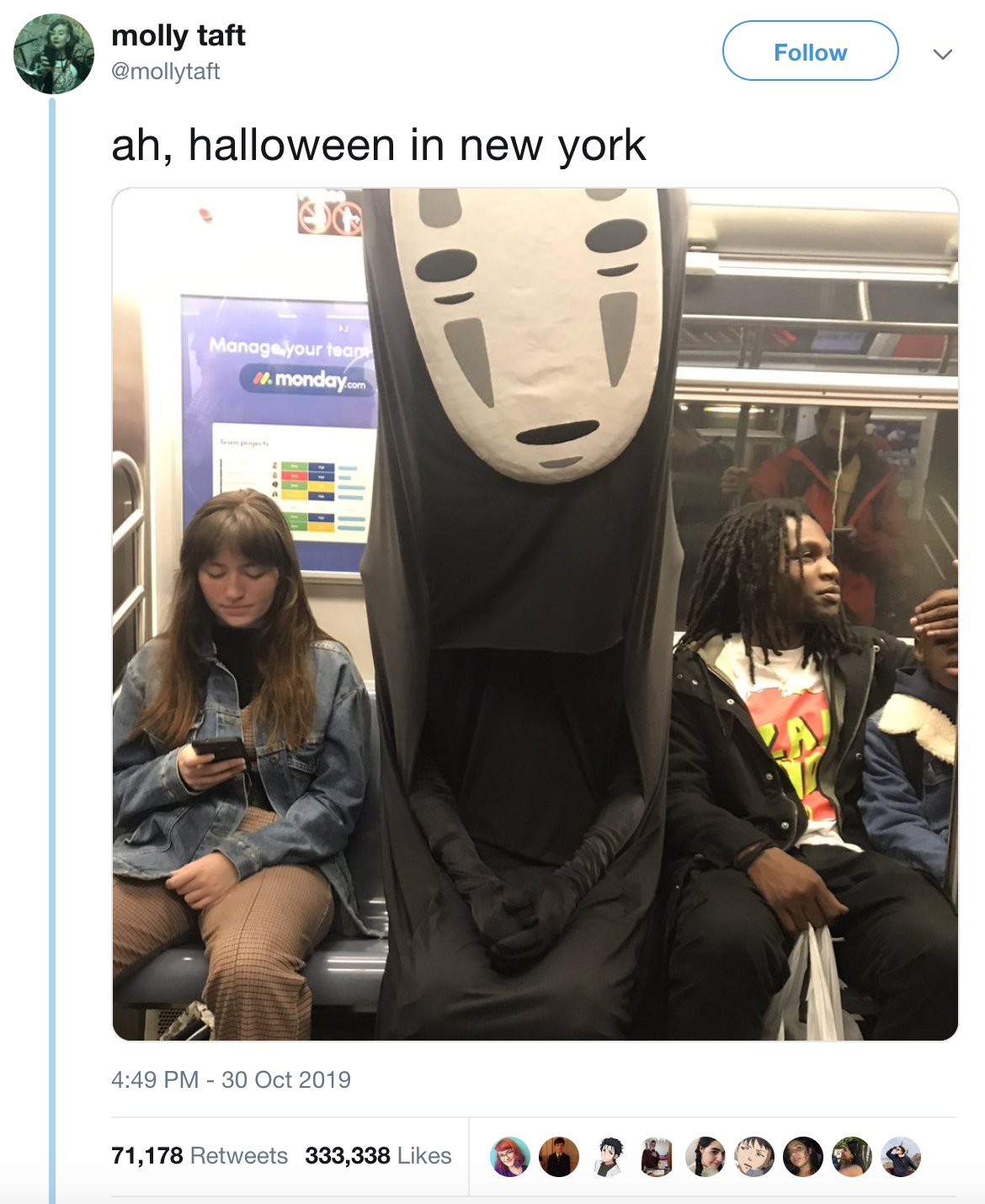 9.
There is a bug in my mail box. That's his house now. He is the captain. I wonder where I will get my mail.

— roxane gay (@rgay) October 30, 2019
10.
I decided to help him out because I thought he was stuck, turns out he just likes to be upside down lmao pic.twitter.com/jJma03I9E5

— camila (@camilalissethh) October 25, 2019
11.
Shout out to all the couples who have to have a serious argument in full costume tonight

— Charlene deGuzman (@charstarlene) November 1, 2019
12.
A little girl with green hair chalk just asked me if my hair was dyed for Halloween. When I told her it was green year round she turned to her dad and screamed:

"YOU SAID GREEN HAIR WAS ILLEGAL AFTER HALLOWEEN! WHY DID YOU LIE?!"

— BJ Colangelo (@bjcolangelo) October 27, 2019
13.
At a party last night, I went up to a woman dressed as the goth baker from this season of Great British Baking Show to compliment her on her costume…. and it WAS Helena, goth baker from this season of Great British Baking Show. I then screamed into her face and we hugged.

— Emily V Gordon (@emilyvgordon) November 1, 2019
14.
my therapist just referred to her therapist as my grand-therapist . trying to process.

— corie johnson (@corietjohnson) October 30, 2019
15.
"Listen, this may be difficult to hear but you're in major denial about the reality of your situation and I'm telling you this because I love you, not to hurt you" – me to the 2 year old I babysit who thinks he's turning 5 this year.

— Alli Brown (@heyitsmeAlliB) November 1, 2019
16.
Me when I found out I had 1.2% Italian ancestry pic.twitter.com/bIiexpcCBS

— Rachel Fisher (@TheRachelFisher) October 28, 2019
17.
Joker (2019) pic.twitter.com/wQDVW0wJ5c

— Toby Herman (@tobyherman27) October 30, 2019
18.
It's never safe in the Rodriguez house pic.twitter.com/jJUZVMsNIH

— Anna Rodriguez (@annarod8) October 24, 2019
19.
i use the WW (formerly known as Weight Watchers) program to keep track of how often i can gain and lose the same 4 pounds.

— Alyssa Wolff (@alyssawolff) October 29, 2019
20.
Whoever is making rorschach tests these days should mix it up so they don't all look like my father.

— Sloane Crosley (@askanyone) October 29, 2019
21.
You know how when a child is cranky, we always say "oh, they're hungry" or "oh, they're tired" and then we feed them or put them to bed, and then they're much better?

It's the same for us adults.

— Gennifer Hutchison (@GennHutchison) October 30, 2019
22.
There are only four country songs:

– Quittin' is for Quitters (Hard Work Anthem)

– Things Ain't Like They Used To Be

– Beer When You're Happy, Whiskey When You're Sad

– My Bitch Ex Wife (Come Home Baby)

— ellory smith (@ellorysmith) October 30, 2019
23.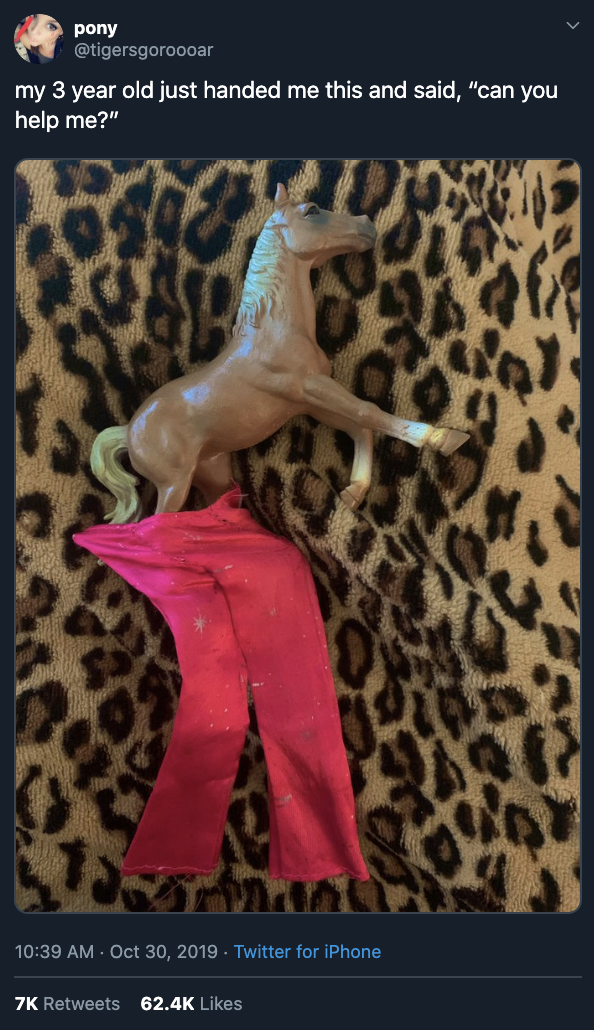 More funny: