26.
dudes be in the dm's like:

hey
hey
hey
hey
hey
hey
hey
hey
hey
wow fuck you sIut
hey

— ❥ (@AMMARlSE) September 29, 2019
27.
Seems unfair that never in my life have I sat next to a hot person on a plane and yet every person who's ever sat next to me has.

— claire parker (@SorryDontClaire) August 21, 2019
28.
young adult novels really oversold how easy it would be for 5-10 people to topple a fascist regime

— i bless the rains down in castamere (@Chinchillazllla) August 21, 2019
29.
oh my god pic.twitter.com/RTuiHSl8cW

— xXSmoreKillaXx (@INHALANTXABUSE) October 8, 2019
30.
Called a restaurant to make a reservation but couldn't think of the word so asked for a food appointment and now I can never show my face there again

— Brittani Nichols (@BisHilarious) October 7, 2019
31.
"It's Shakespeare…"

"Ugh no thank y-"

"…as you've never seen it before."

"Omg"

— Taylor Ortega (@taylor_ortega) October 8, 2019
32.
I went to a Hello Kitty Pop-Up today and there was a place to write down wishes and I found this pic.twitter.com/xKg5NPkmm6

— Charlene deGuzman (@charstarlene) September 24, 2019
33.
Every single day I say to myself "just greet your coworkers in a normal way when you walk down the hall" and then every single time I see someone I somehow do this???? pic.twitter.com/fsFotOWolo

— Rachel Wenitsky (@RachelWenitsky) September 27, 2019
34.
feels like if cicadas are allowed to just sit in a tree and scream i should also be

— dewclaw (@whynowhy) August 22, 2019
35.
hey, it's me, every girl with a boyfriend on instagram. I call him "this dork" in the photo caption so you know we have a jokey playful relationship which means I'm allowed to brag about it without being too obvious about rubbing my joy in your face

— Dana Schwartz (@DanaSchwartzzz) September 27, 2019
36.
computer science major schedule:
1. beep
2. boop
3. boop
4. bop
5. 100k salary

— only personality trait is liking charli xcx (@mmmverygood) September 26, 2019
37.
Me and the three other people who don't want to be at the party on our way to locate the rumoured obese cat in the bedroom pic.twitter.com/SYUae9VLqg

— Mindy Furano (@MindyFurano) October 9, 2019
38.
sometimes having a family amazon account is…..embarassing pic.twitter.com/6uXX2xWvWl

— eco goth (@5150wonderbread) October 15, 2019
39.
if a centaur had a dick would it be like THIS or like THIS: pic.twitter.com/HoXY0oAu6D

— erin chack (@ErinChack) October 17, 2019
40.
pete davidson and pete davidson in a wig have called it quits https://t.co/Ruez686Kd2

— im young and hot (@tayallard) October 18, 2019
41.
please present the signed permission slip from your therapist before approaching me romantically

— mb✨ (@marybethbarone) October 3, 2019
42.
high school teachers: your college professors won't be nearly as laid back as I am

my college professor: pic.twitter.com/ivKLR4afxX

— M (@atmckenna) October 16, 2019
43.
Me when the TSA asks if I have anything illegal in my purse pic.twitter.com/ccDiWl40Y1

— Blair Socci (@blairsocci) October 16, 2019
44.
When my alarm goes off mid-dream, I'll hit snooze, thinking, "Hold on, I want to see where this goes…" as if I'm the broadcast news producer in a movie where the anchor is going off book.

— Melissa Hunter (@melissaFTW) October 17, 2019
45.
All I want for my birthday is my husband to take me to a remote tropical island where we can lie on the beach for 2 days completely uninterrupted

…and then on the third day a mysterious heiress is murdered in the lobby and oh no all the guests are suspects and we must solve it

— Lucy Huber (@clhubes) October 9, 2019
46.
Been together since 4pm, no problems. I go to the bathroom ONCE 45 seconds in, and I have to rush out to this: pic.twitter.com/AN1iaZYe2k

— Madeline (@madelaneeee) September 27, 2019
47.
i just wanted to have a relaxing movie night pic.twitter.com/ZkZVsmvVa1

— Leena (@LeenaSalinas) September 21, 2019
48.
priest: do you promise to love your partner until cancel culture do you part?

bride: and I oop

groom: and I oop

priest: sksksksks tea I now prounounce you skinny legend and wife

— Abby Govindan (@abbygov) September 20, 2019
49.
*sends funny tweet to youngest sis*

sis:

sis:

sis:

sis [4 days later]: lol! btw can i borrow £73 ❤

— bolu babalola (@BeeBabs) September 23, 2019
50.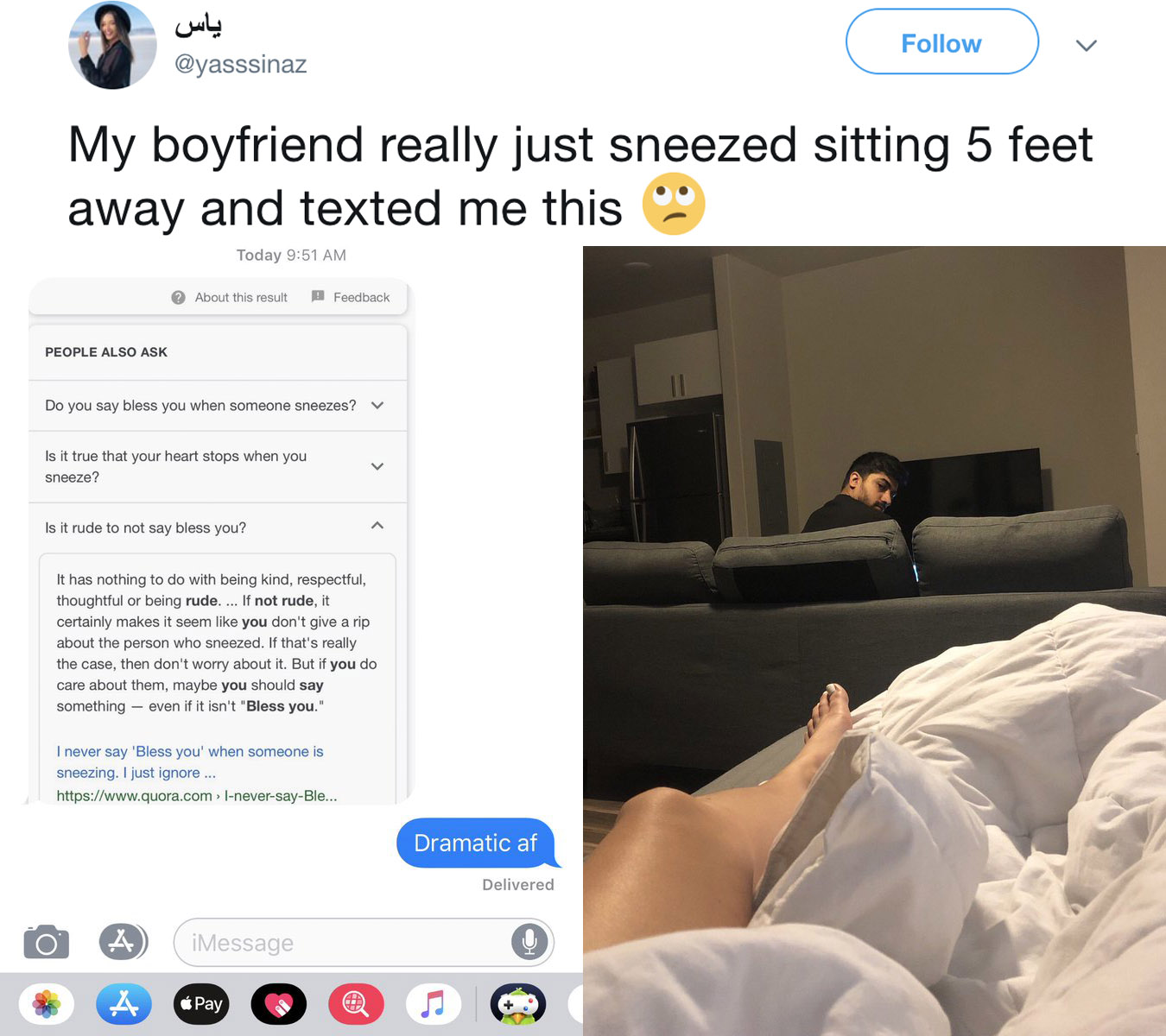 More funny: