Most of us have gotten a crash course in video conference call setup over the past several weeks. Most of them are pretty intuitive, but some folks just aren't as tech-savvy as the rest of us, so the fails ensued.
1.
my boss turned herself into a potato on our Microsoft teams meeting and can't figure out how to turn the setting off, so she was just stuck like this the entire meeting pic.twitter.com/uHLgJUOsXk

— Rachele with an e but pronounced Rachel (@PettyClegg) March 30, 2020
2.
3.
FYI this is the cat: https://t.co/B17sfSHaLf pic.twitter.com/WvXijWivSk

— Christopher Ruz #TheRaggedBlade out now! (@ruzkin) March 27, 2020
4.
Behind every successful woman is an unsuccessful man not wearing any pants:pic.twitter.com/GZsKPsXhub

— Joshua Self-QuaRayntine (@joshuaray) March 24, 2020
5.
My kid just walked into my video conference, yelled "look at my penis," and hit the button on his fart machine. Working from home going really great!

— Jenna Weiss-Berman (@WBJenna) March 17, 2020
6.
If you do WFH and have a Skype meeting, always consider if the 'art' on the wall is:

A) In shot
B) Appropriate pic.twitter.com/CqRAvCV4AF

— Gareth Barlow (@GarethBarlow) March 18, 2020
7.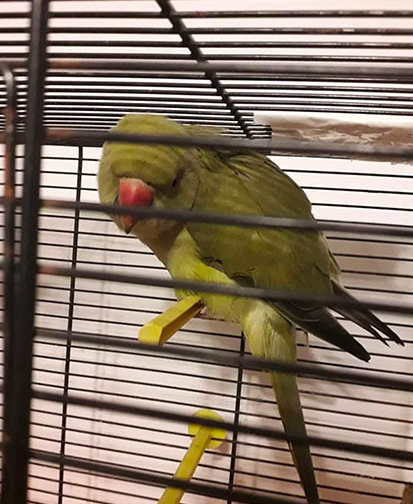 So, I have a parrot and online classes. We are not required to have video in the online class, so we just connect our microphones. Today, my bed, was extremely comfortable. As I got up at 10 am to join the online meeting in Zoom, my bed started calling me. I felt it. I joined, and didn't mute myself. Normally I'd mute myself because I have a parrot. My parrot is an Indian Ringneck, and those bastards are loud af. I decided to fall asleep through the whole class as my bed felt so good. Only after I woke up an hour after the class I realised I was still in the meeting with an unmuted microphone. I texted one of my classmates and they told me they couldn't have a normal class, and the teacher didn't know how to kick me out. They also said they tried talking with the parrot, they told me he said "Hello" and "What you doing" and then proceeded to repeat "ok" for the duration of the class.
8.
Day 3 of WFH and my family started screaming while I was in a meeting and my coworker remarked: "Now I understand why you prefer to go into the office everyday."

— rimsha (@rimshutup) March 18, 2020
9.
*enter: first zoom session for my world theater history 2 class*

Classmate: what are the grades going to be like?

My Teacher: Listen its the fucking apocalypse i really dont care as long as you come to the zoom sessions everyone is getting an A

I love being a theater major 🤣

— nia blizzard (@niafrombway) March 23, 2020
10.
When you walk into your WFH office and realize your #newcoworker just video called your boss…

Anyone else dealing with a lot of new "coworkers"?! 😂 pic.twitter.com/3RRqlGvjDb

— Matt Staneff (@MattStaneff) March 18, 2020
11.
Pro-tip: if you and your husband are both working from home, check to see if he's on a four-way video call BEFORE running past the office naked to get a towel from the linen closet. #RealStory #COVID19 #WFH https://t.co/axghUWjvs2

— Christina Kerby (@ChristinaKerby) March 13, 2020
12.
Nobody:

Me thinking my mic is off: "why is she still talking I thought this was over"

My teacher: "friend you might wanna mute yourself"

— xoxo glosslip girl (@chizarellla) March 23, 2020
13.
First class of the day, Professor asks us to unmute our Mic's to make the classroom setting on zoom more "real". Now listening to lecture plus 2 people breathing heavily and 1 munching on chips loudly into the mic #COVID19 #Virtual #ZoomUniversity #zoomfail

— John Kemper (@jtkemper_) March 30, 2020
14.
just started talking to my cat in the middle of a 68-person zoom meeting—and i wasn't muted!!! send the meteor!!!!

— daniel taroy (@danieltaroy) March 16, 2020
15.
Every WFH meeting so far:

"I'm sorry, you go…" "no, sorry I-" "Well what I was sayi-" "I'm sorry, were you saying something?" "Go ahead, no sorry, you go…"

*5 voices speak at once*
*suddenly no one speaks*

**SLOW PORTAL ZOOM INTENSIFIES DURING AWKWARD SILENCE**#COVID19

— Kaleb Coleman [AR/VR] (@kalebcoleman) March 11, 2020
16.
my wife was doing a webcast for her pre-k class but YouTube shut it down for copyright infringement because I was watching WrestleMania VI in the background

— [email protected] (@TweetPotato314) March 26, 2020
17.
A lot of blood is running cold due to this tweet. https://t.co/dbcN6GZtee

— Barry Malone (@malonebarry) March 30, 2020
18.
During social distancing, it's important to remember good conference call etiquette:

– awkward silence
– can you hear me
– [weird small talk because someone is 10 min late]
– BEEP BOOP
– strange crunch
– heavy breath
– oops sorry you go ahead
– sorry no, you
– BOOP beep
– bye?

— Julieanne Smolinski (@BoobsRadley) March 10, 2020
19.
WFH diary, day 1:

🔋 Power went out during recording

🚧 Contruction workers are extra loud today

🍌 Daughter walked in on a meeting singing "I like banaaaaanas" at the top of her lungs

— Howard Pinsky (@Pinsky) March 13, 2020
20.
Is my teacher okay? pic.twitter.com/wcblzjJTeW

— 🦋Marinah (@lowkeylionesss) March 29, 2020
21.
This AM, WFH and prepping for 5 meetings:

Me: I don't have to put make-up on! Camera's pretty blurry, no one's gonna see this nose zit.

First meeting:

Coworker: There's something stuck to your nose. Is it food?

Subsequent meetings:

Me: Yes, it's a zit, let's move on.

😂

— Philina Fan (@skyeezfalling) March 11, 2020
22.
The subject of every WFH Zoom meeting is actually "oh so that's where you live."

— R/GA (@RGA) March 11, 2020
23.
Big WFH learning for me today.

📝 Remind Ryan to put some clothes on before he goes into the bathroom first thing in the morning.

Today he walked past my team video call BUTT naked 🤦🏻‍♀️

SOOOOOOO FUNNY 😂

— Amanda Baker (@amandahustled) March 17, 2020
24.
Whole house WFH day 1 report: I whispered "I LOVE YOU" loudly into what turned out to be my spouse's active meeting headset mic. 🏆

— Lindsay Crudele 🌸👑 (@thelindsayist) March 12, 2020
25.
26.
Day 1 of online classes and my teacher asked me a question so I unmuted myself and at the same time I went to answer my mother yelled "Kelsey get your ass down here dinners ready and I'm hungry" so yeah I think the rest of this semester is going to go rather well

— K Jack (@kelsey_jack99) March 23, 2020
27.
Update on my online zoom class: my teacher farted

— hannah (@hannnahkristine) March 23, 2020
28.
I'm in a WFH meeting and my Google Home just answered a question someone on the video call asked, unprompted.

I nearly jumped out of my skin. pic.twitter.com/Z5Bv4coG3u

— Ashley is Staying In (@missalwayswrite) October 16, 2019
29.
I made my first Zoom FAIL. I accidentally invited one of our founders to my family's cocktail hour last night. LOL we all had a good laugh but oops! #zoomfail 🤪

— Amanda Mulay (@amandamulay) March 30, 2020
30.
I just dropped a pringle crumb down my shirt in my zoom class. I now have to sit here for the next 45 mins or so with a cheddar flavored chip crumb in between my boobs. #zoomfail

— Megan Owen (@MeggiOwen) March 25, 2020
31.
Work From Home… DAY 1: Crisp shirt, fresh jeans, Seize The Day!! DAY 2: Sweatpants, yesterday's underwear. DAY 3: Seriously questions value of showering and shaving. DAY 4: Takes first two conference calls from bed.🤯🤦‍♂️

— Mike Sievert (@MikeSievert) March 12, 2020
32.
Nothing worse than showing up to the wrong class…in the wrong country. #ZoomFail #Zoom pic.twitter.com/ZQ3Pv903Ce

— Zoom Fails (@ZoomFail) March 25, 2020
33.
When your classes change to Pass/Fail #Zoom #ZoomFail pic.twitter.com/YM2DxzTuLl

— Zoom Fails (@ZoomFail) March 24, 2020
34.
My online class funny affff listen to my professor 😂😂😂😂 pic.twitter.com/SdOofg9iSf

— Shelbi Janae💜 (@Shelbiplay2much) March 30, 2020
35.
Has anyone else forgotten they were on a video call for work and just lifted their shirt up over their head? 😑#zoomfail

— Sydney (@sydneykempler) March 25, 2020
More like funny quarantine conference call fails: