Baking isn't cooking. You can't eyeball measurements. You can't substitute ingredients. Baking is a math problem that needs to be carefully solved. People are learning that with all of these quarantine baking fails being posted. I'm practicing social distancing from these abominations.
1.
View this post on Instagram
2.
This was supposed to be a nice, neat, braided circle of chocolate, caramel, and banana filled chocolate yeast bread, but the strands all burst and it ended up looking like a pan of Sasquatch feces. Tasted ok, though 😀 pic.twitter.com/gRv9PmyUjn

— amanda hugandkiss nobody nearⓋ (@wendybyrdm) April 12, 2020
3.
#StayAtHome & be productive.

I'm not much of a baker. I can cook alright, but baking…not so much. So, today I tried my hand at some lighthouse cookies, since I'm from Florida.

How do you think they turned out? pic.twitter.com/kKmB07XPmB

— Justice Seeker is sheltering at home ☮️ (@tizzywoman) March 28, 2020
4.
help my cookies are not social distancing pic.twitter.com/n8yVSdjSvJ

— Yasmine Salam 🇱🇧 (@yasminesalam_) March 26, 2020
5.
My sister-in-law forgot to put flour in her cookie dough and I can't stop laughing #bakingfail pic.twitter.com/aNyLIGwF6l

— Brooke (@Brooke_Chicago) April 12, 2020
6. My make-shift attempt at making a bunny failed me, but I think I baked a fat cat instead?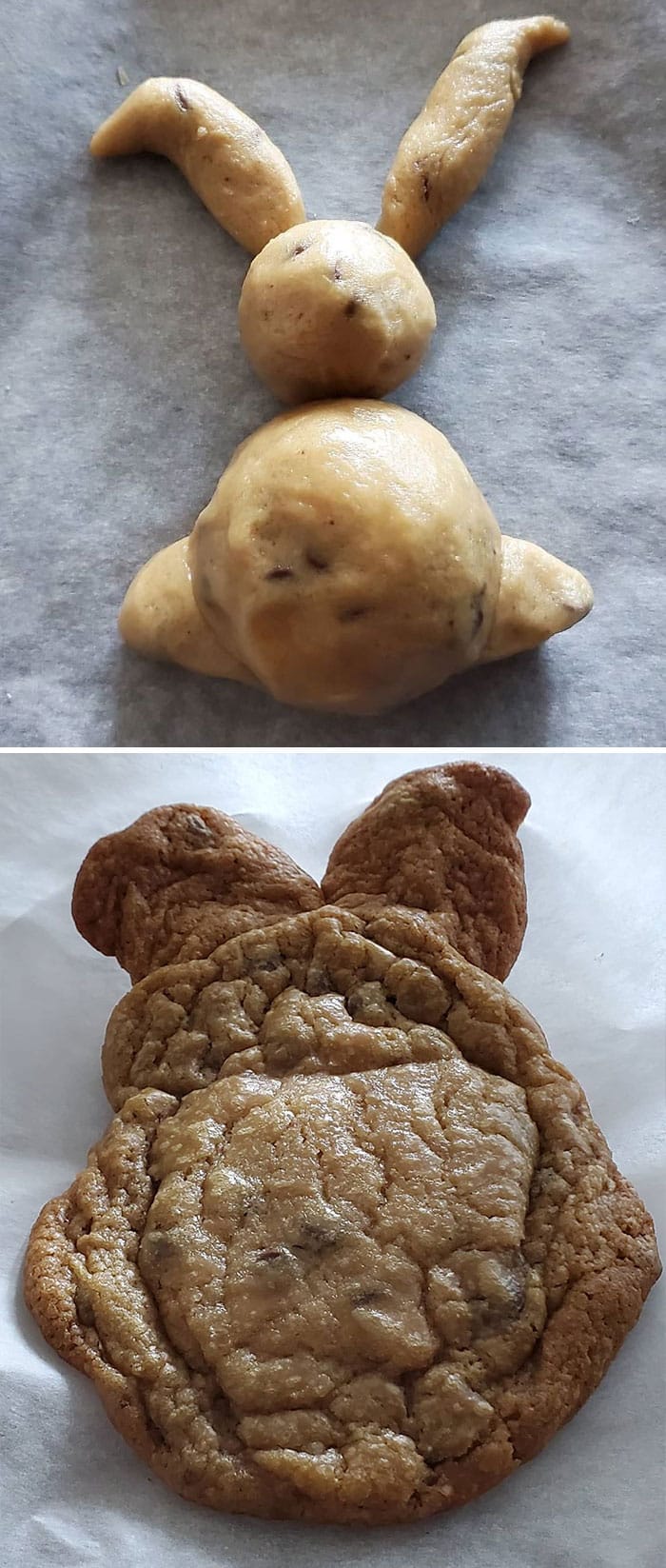 7.
8.
View this post on Instagram
9.
Perhaps baking isn't for me….. #CoronaLockdown pic.twitter.com/vDQ2XSPKoq

— Heidi Allen (@heidiallen75) March 28, 2020
10.
11.
My wife has started baking. And now we know why she doesn't normally bake cakes. pic.twitter.com/fK3hA37fas

— Tommy (@NYCFirm) April 1, 2020
12.
13.
Quarantine baking Take One. Half of the cookies are burnt, half are raw, and the fire alarm is going off.

Lessons for the future.
1) My fire alarm works well
2) My neighbours are alert
3) My baking skills can only improve from here. Good thing I didn't start with bread. pic.twitter.com/LU73Vp2u6f

— Scott Searle (@scottsearle) March 30, 2020
14.
As failed as my bunnies? pic.twitter.com/I3U0XSGMBe

— Ketan Joshi (@KetanJ0) April 12, 2020
15.
16.
Sorry I haven't posted in a while; I've been baking pic.twitter.com/wS59AONAlY

— Jacq the Stripper (@JacqTheStripper) April 4, 2020
17. Sadly my challahday easter bunny didn't quite work out. Seems to have come down with some hip dysplasia, ear disconnection, and a touch of elephantiasis in the oven… I think the main culprits here were uneven working of the various strands, slight underproofing, and perhaps some rusty baking skills. Next time…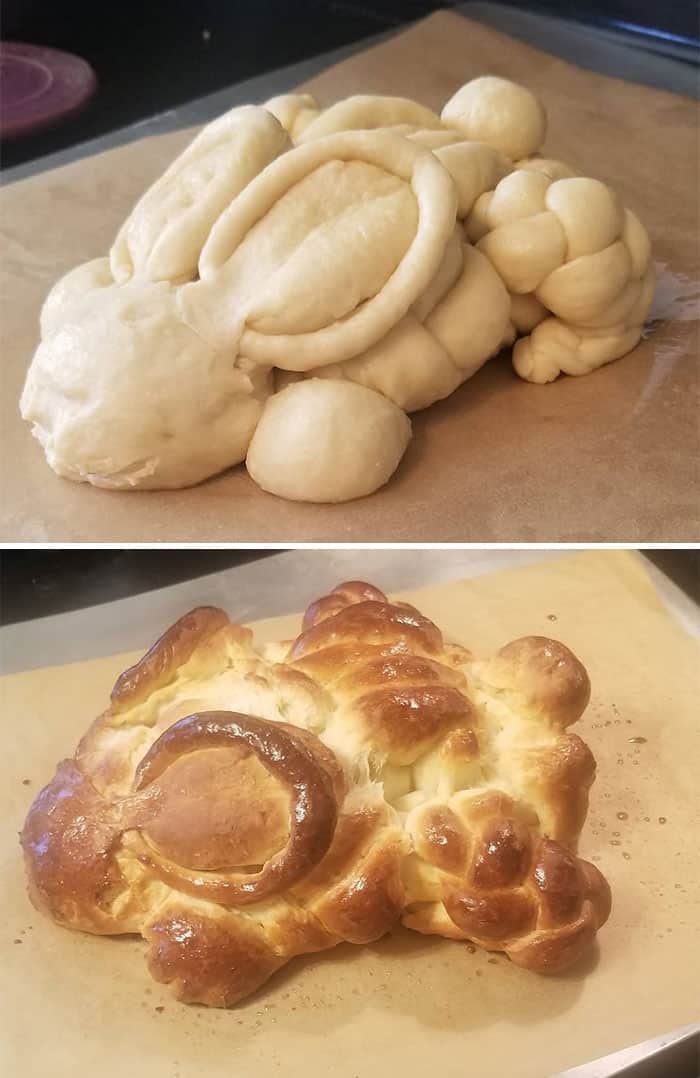 18.
19.
View this post on Instagram
20. A bit too much of baking soda.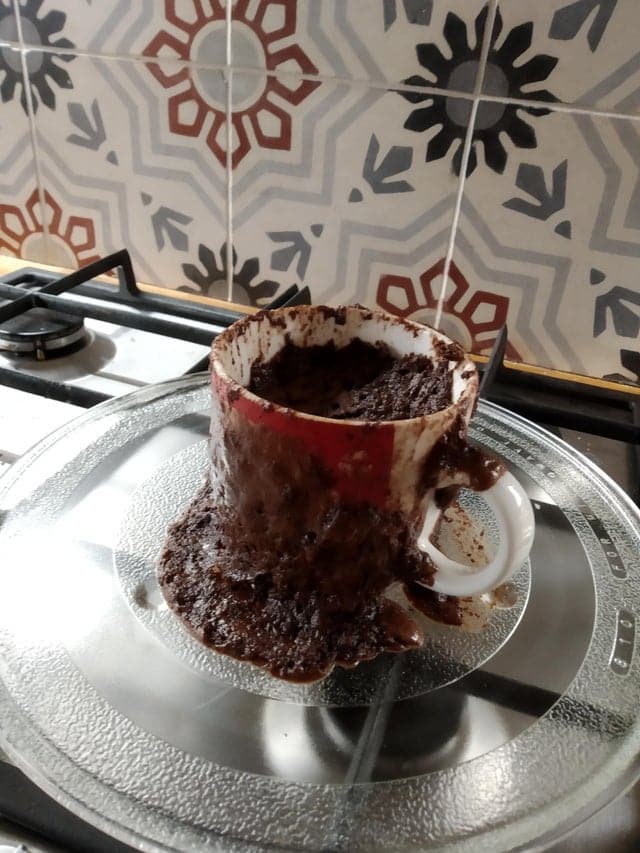 21.
22.
23.
I made banana bread. I followed the recipe exactly ish, but it failed .. pic.twitter.com/f4h9fSD9Hr

— Riley Alexander (@xRileyAlexander) April 3, 2020
24.
This is why I'm a scientist. In case you were wondering this cake doesn't taste good either. Think I'll keep supporting local bakers and find a new quarantine hobby to try. #bakingfail pic.twitter.com/v0EOkwfoq1

— Shelby (@wxcastershelby) April 12, 2020
25.
26.
Tried out my 30 year old bread making machine today. Didn't go well pic.twitter.com/TvRmLcEgPb

— Cecily Tynan (@CecilyTynan) March 22, 2020
27.
Lockdown baking? Nailed it. #bananabread pic.twitter.com/QFJXd5NRRe

— Nic Hilton (@NicHilton1) April 3, 2020
More quarantine baking fails: