Hopefully, you haven't had to visit a hospital long enough to order food but if you have, I hope it's better than the bad meals these patients had.
Hospitals should promote health and wellness, right? The whole idea of being there should be to heal and feel better than you did before you came in. Apparently, not if you're served a meal like this.
I've only had to stay overnight in the hospital a few times but I don't remember the food being this bad. Healthcare is expensive (at least in the United States) and for the prices we have to pay, the least they could do is serve up a nice meal. If they don't then I guess these meals deserve to be shamed online like every other cooking fail.
---
1. "Celebratory Steak Dinner Offered By Hospital For Proud Mother And Father"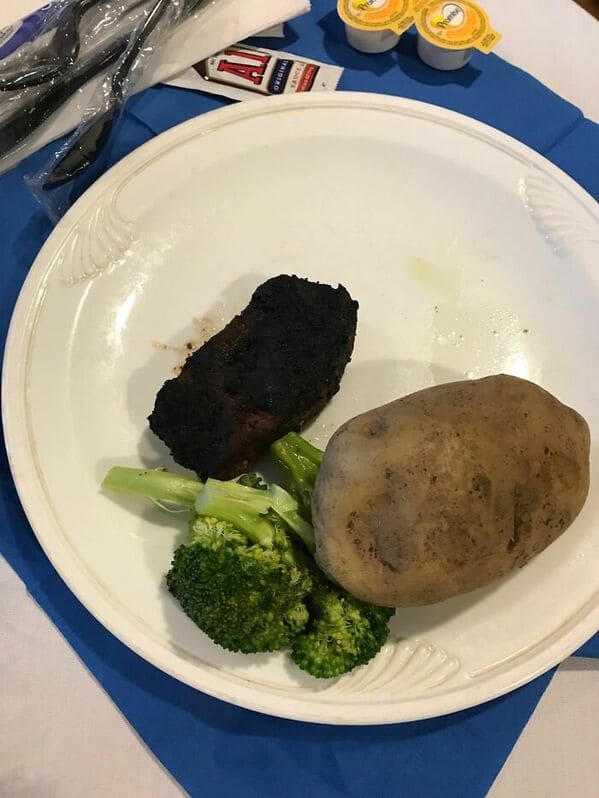 2. "Lasagna" According To Adventist Hospital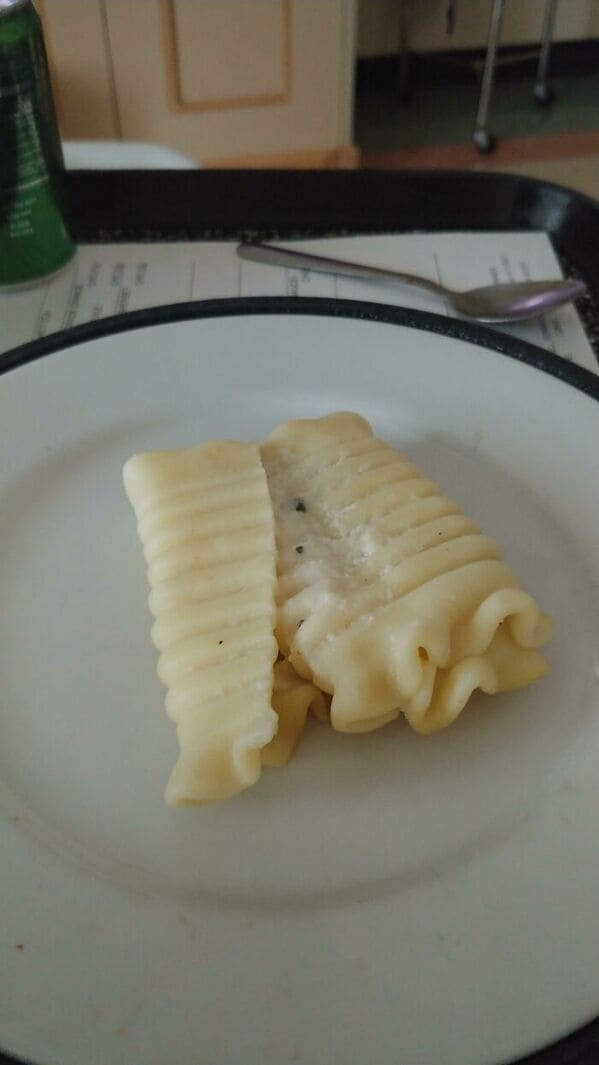 3. "Dinner In Irish Maternity Hospital"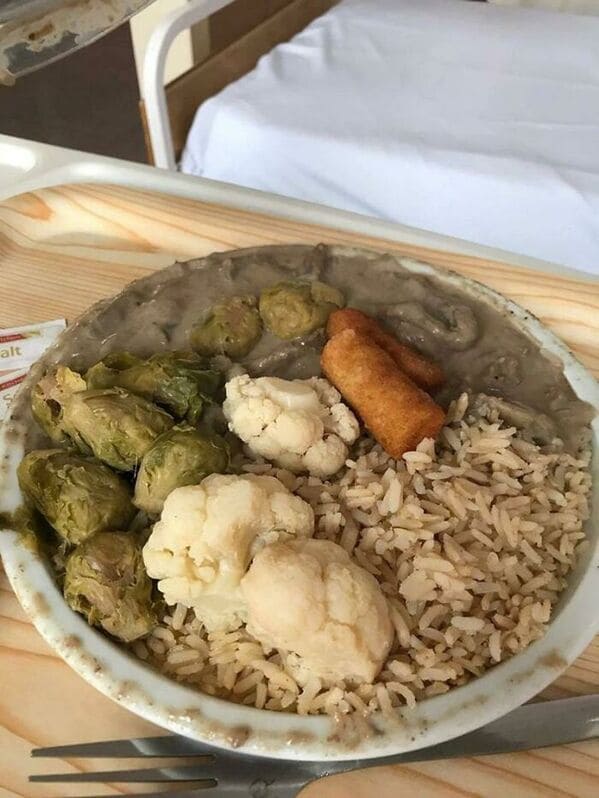 4. "What You Get For Breakfast In A Hungarian Hospital"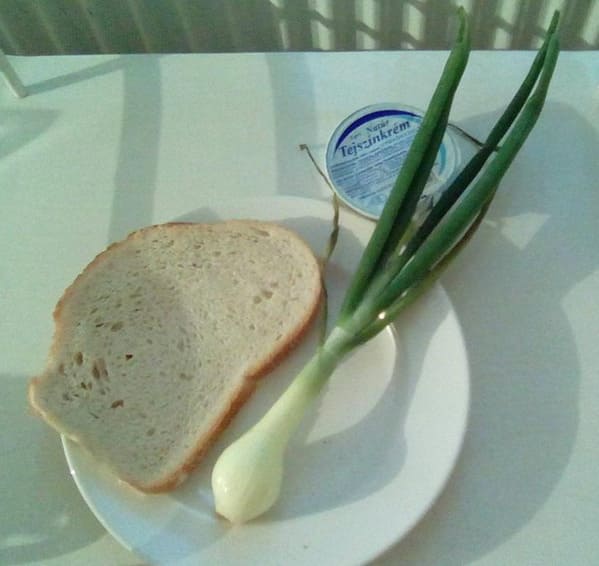 5. "Hospital Food In Italy"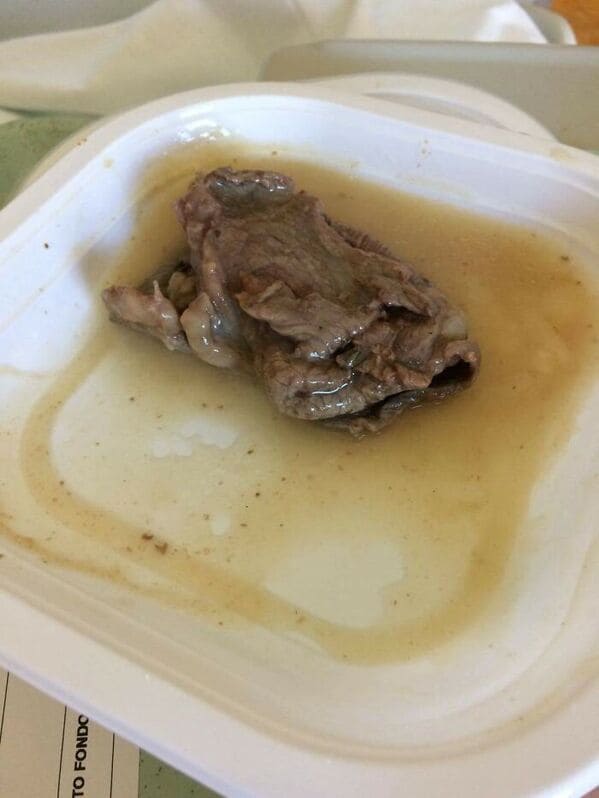 6. "This Is The Meal My Wife's Hospital Had The Audacity To Serve For Nurses Appreciation Week. I Live In Phoenix"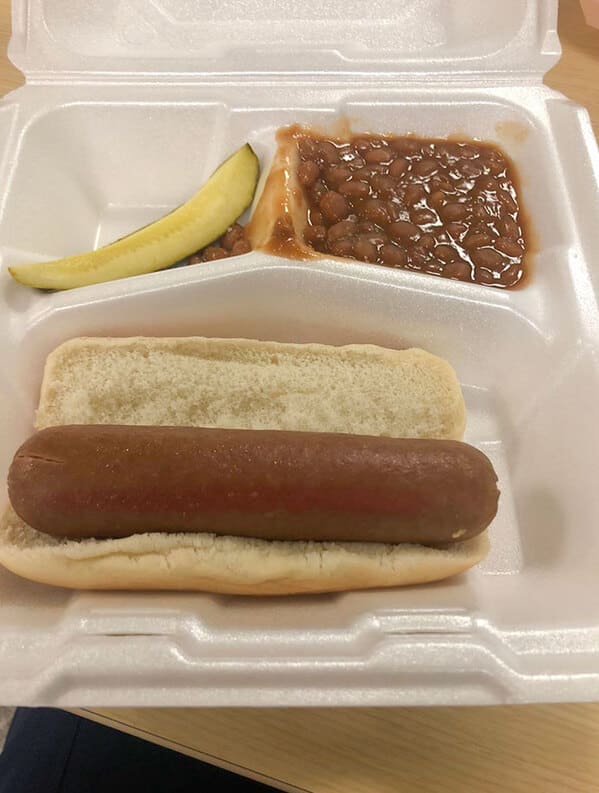 "After a year of nurse shortages, running out of PPE, working employees to the bone without hazard pay."
7. "Hospital Food Yummy"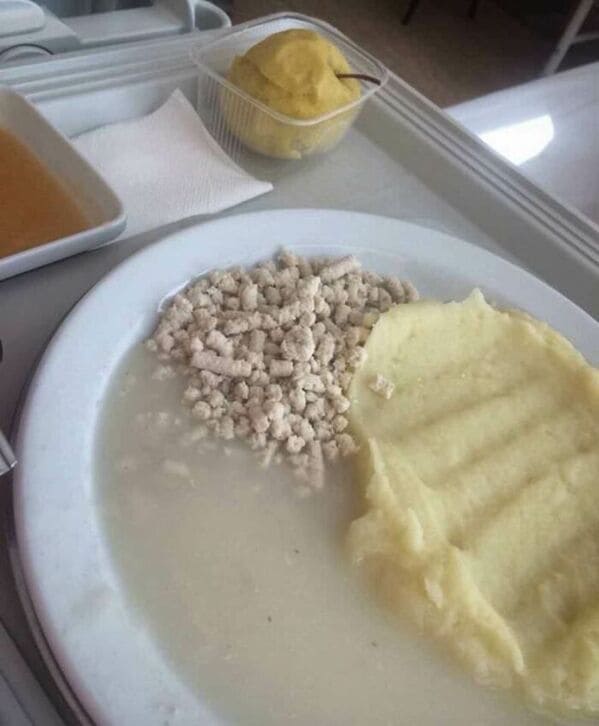 "It's mashed potatoes, something you'd feed to your bunny (or is it some kind of chicken pellets?), and water I guess?"
8. Bad Hospital Food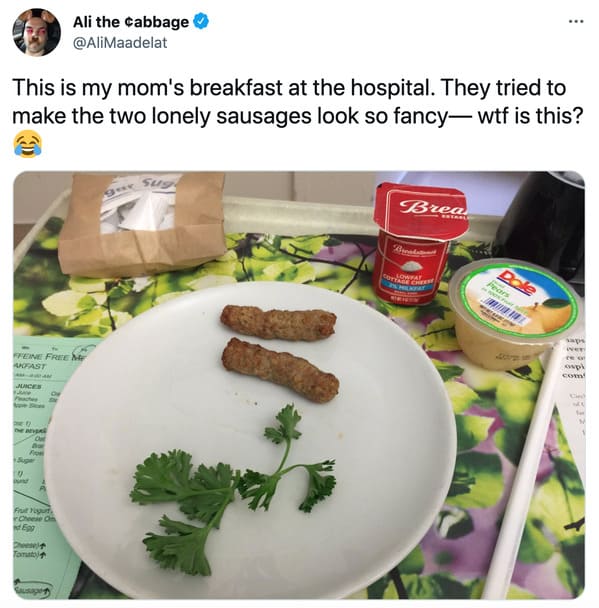 9. "A Hospitals Take On Vegetarian Cuisine. Germany"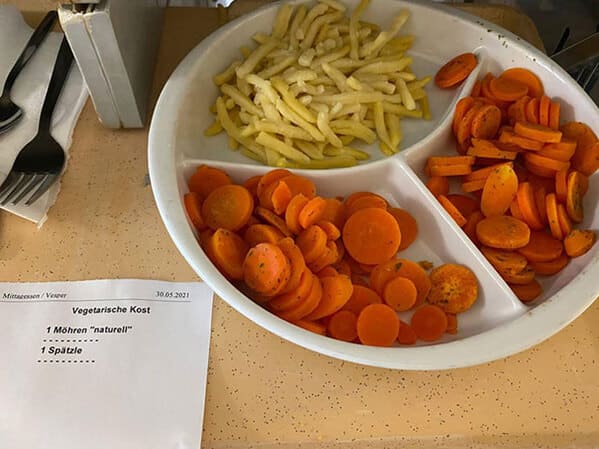 10. "Hospital Administration Told Us They'd Be Treating Us To Dinner During Our Shift. "Dinner" Is One Individual, Frozen, Uncooked Meatloaf Per Person. This Is Georgia"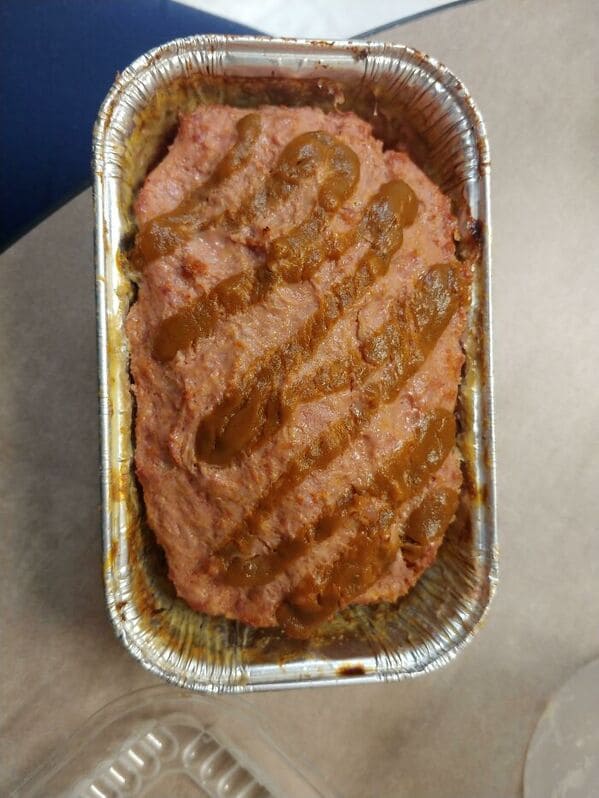 "Happy nurse's week, y'all."
11. "Since We're Posting Our Hospital Meals (UK)"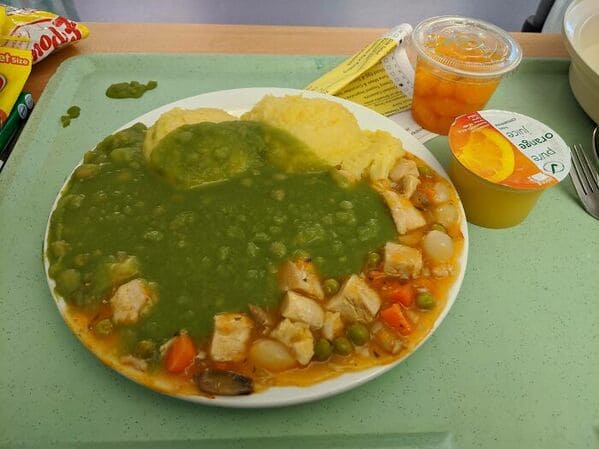 12. "This Veggie Burger Was Served To Me In The Hospital. 10/10 For Presentation"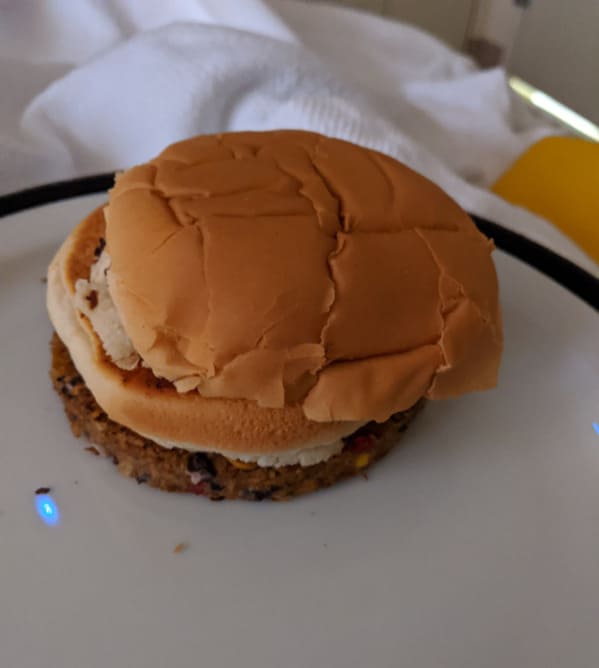 13. "My First Meal In A Week, At A Hospital For Meningitis, Entertain Me, Please. Milwaukee​, Wisconsin"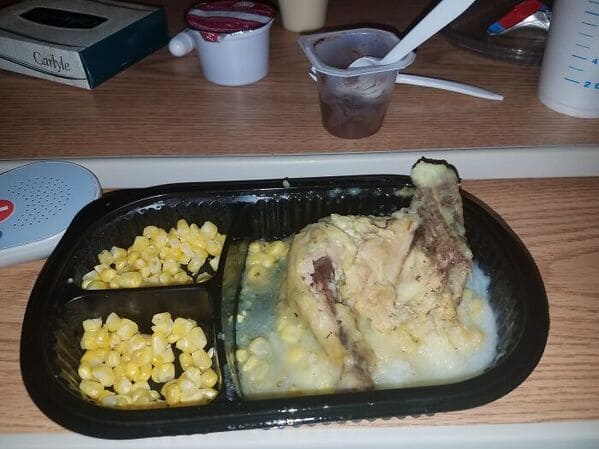 14. "My Hospital Food Memories Are Scary. It's Lithuania"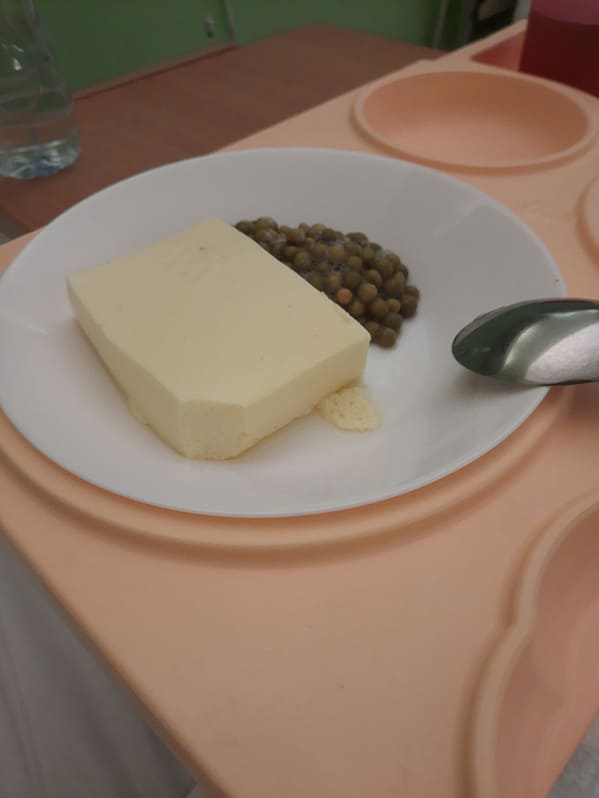 15. "Hospital Lunch In Romania"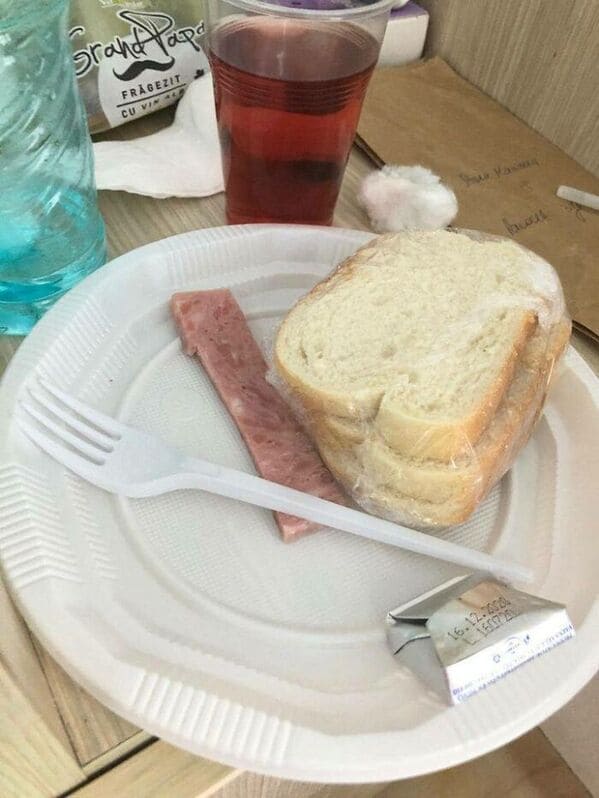 16. "Chicken Teriyaki Given To Us For Nurses Week By My Hospital"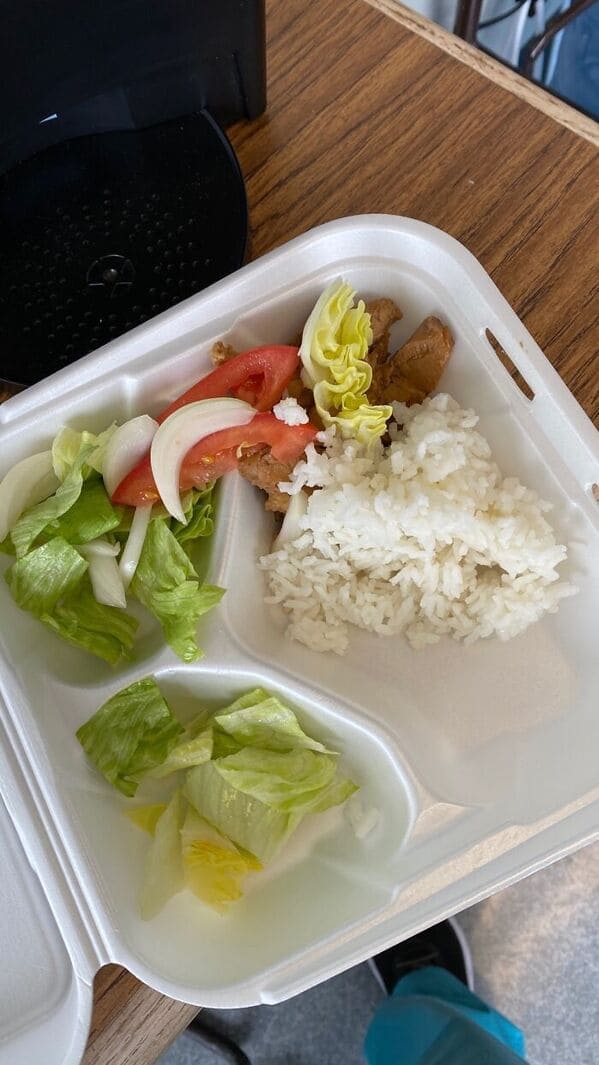 17. "My Hospital Roast Dinner"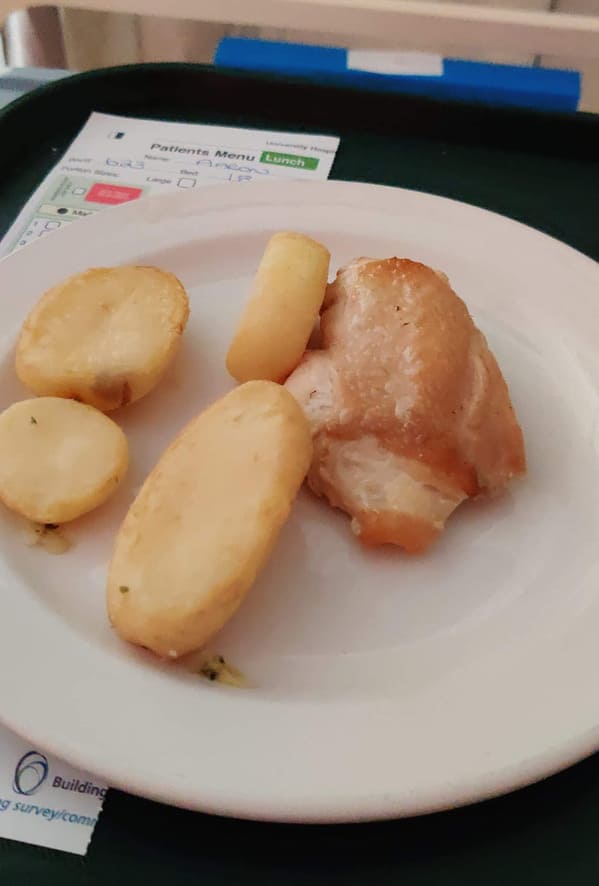 18. "Third Week Of Living On Vegan Hospital Food And I've Lost 10 Kg. I Have No Idea What This Is"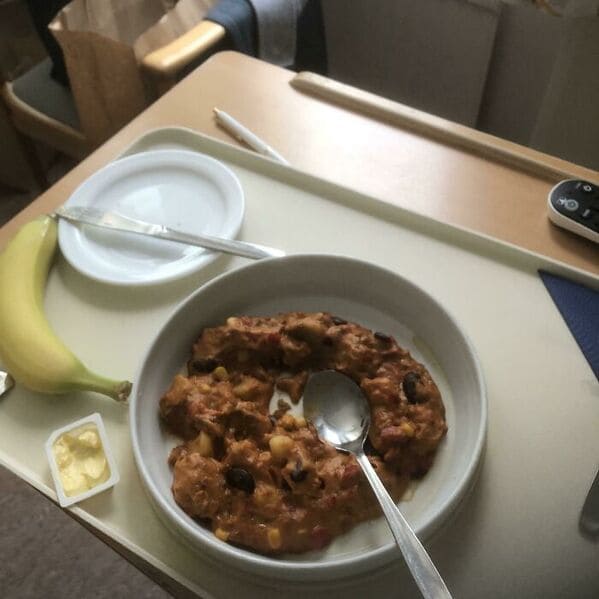 19. "Hospital Breakfast"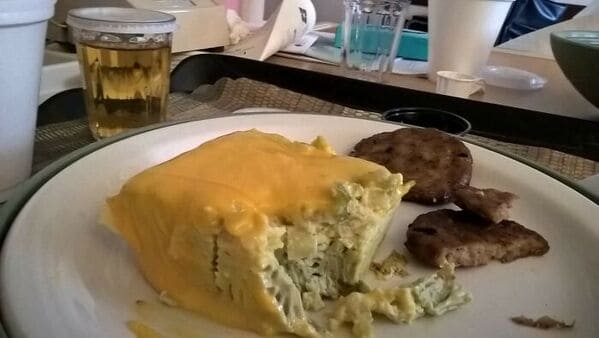 "It's baked eggs covered with American cheese."
20. "Groats With Vomit, From My Stay At A Polish Hospital"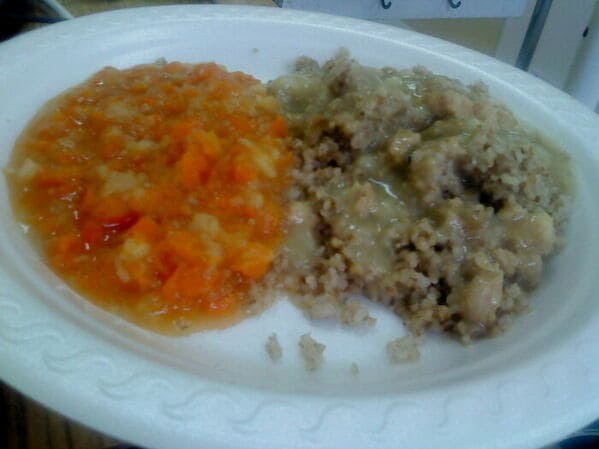 21. "The Toasts One Of My Patients Got At The Hospital For Breakfast"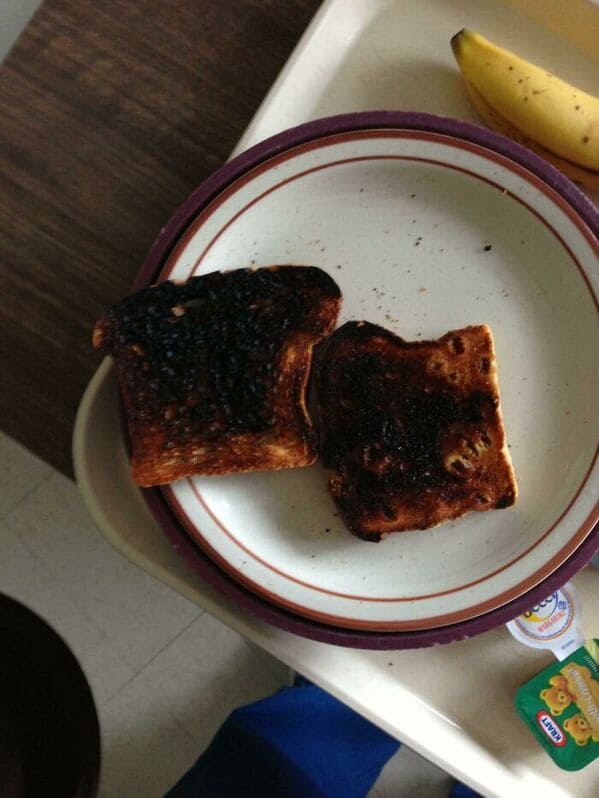 22. "This French Hospital Food Is Getting Worse – Potatoes And What I Think Was A Boiled Cabbage"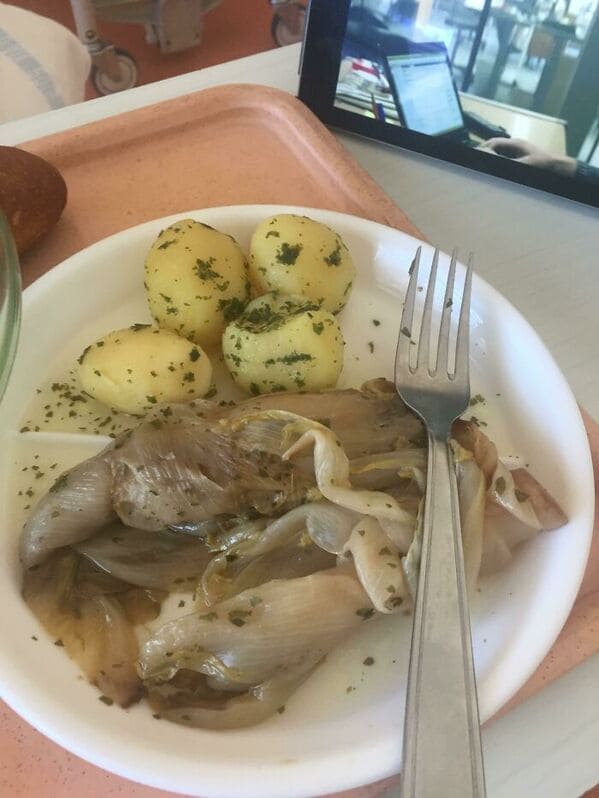 23. "Yesterday's Hospital Breakfast In Chicago. The Garnish Really Makes It"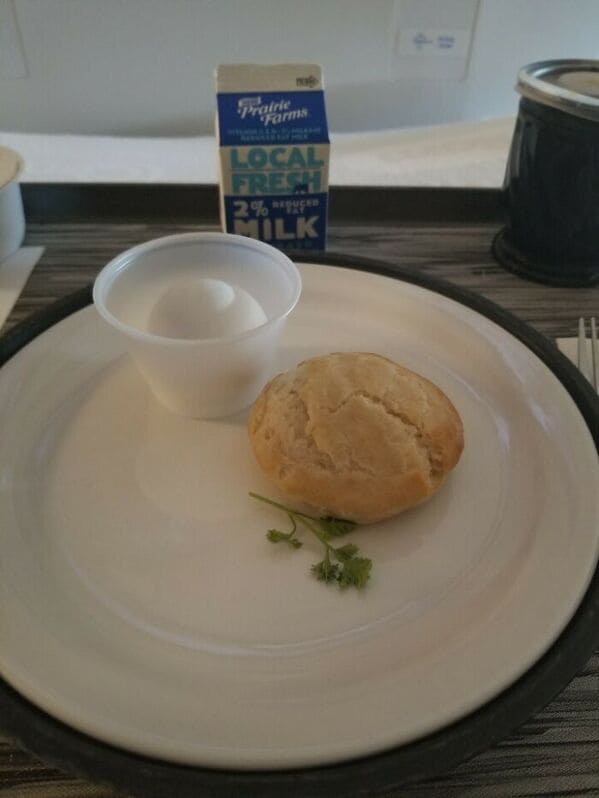 24. "Hospital Food Looks Like The Opposite Of Food. America The Great US"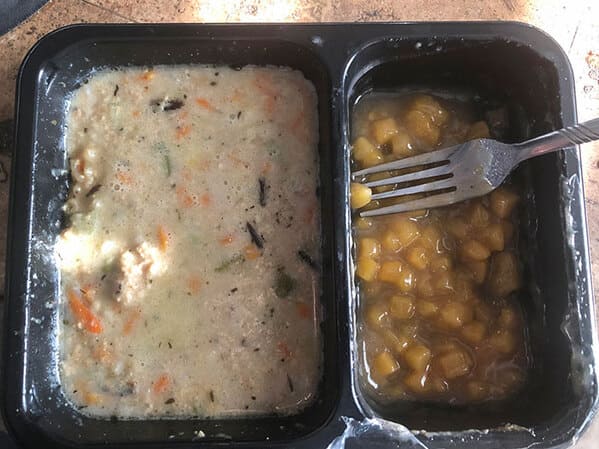 25. "Vegetarian Meal Sent Up For My Friends Hospital Meal"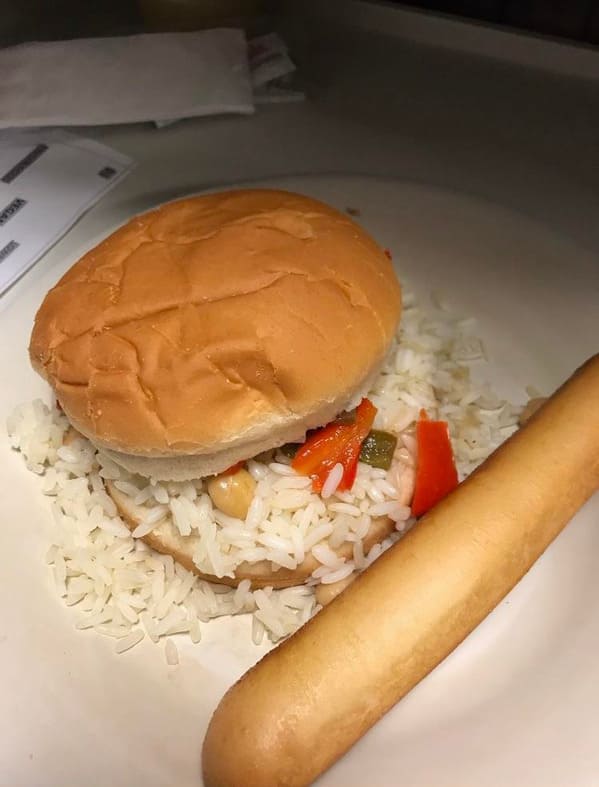 26. "Hospital Dinner In Germany At 16:30"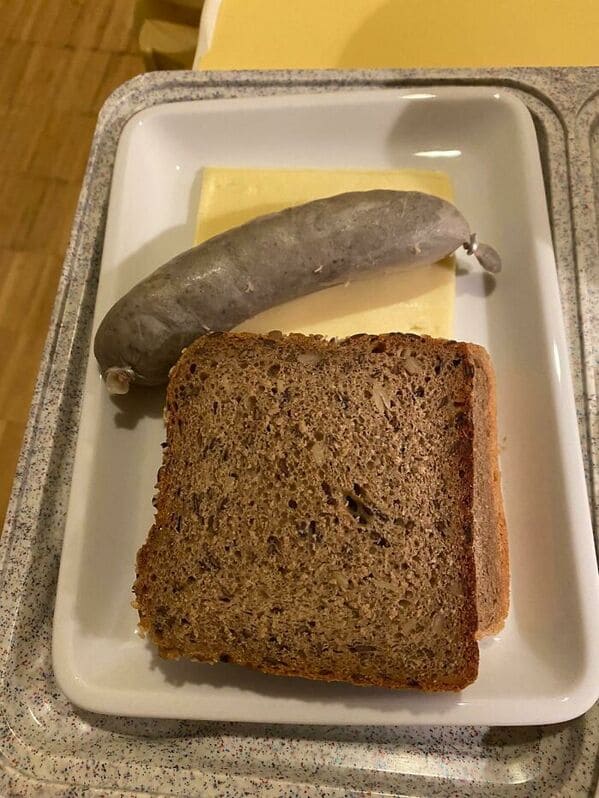 27. "Horrible Vegan Hospital Food, New Mexican Style"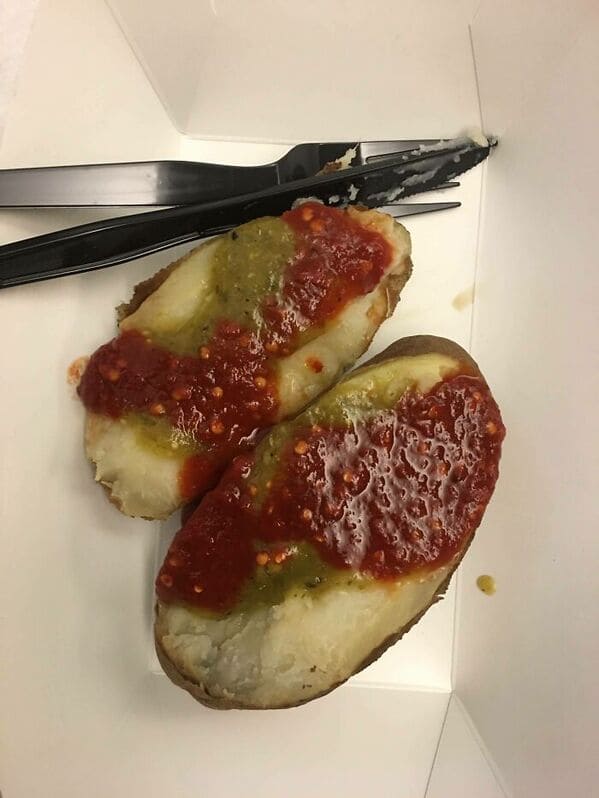 28. "Vegan Hospital Food: Potato"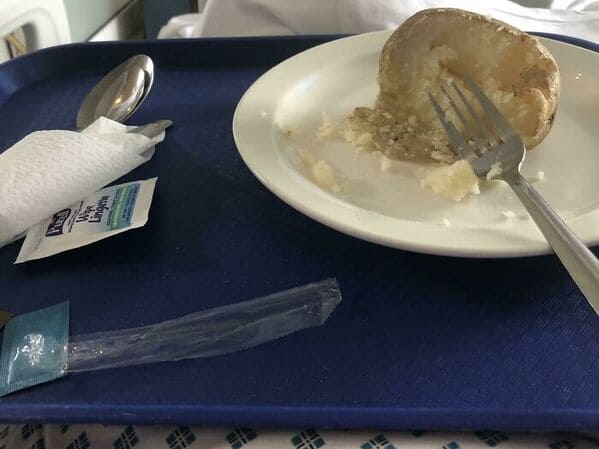 29. "Hospital Cafeteria, Bon Appetit"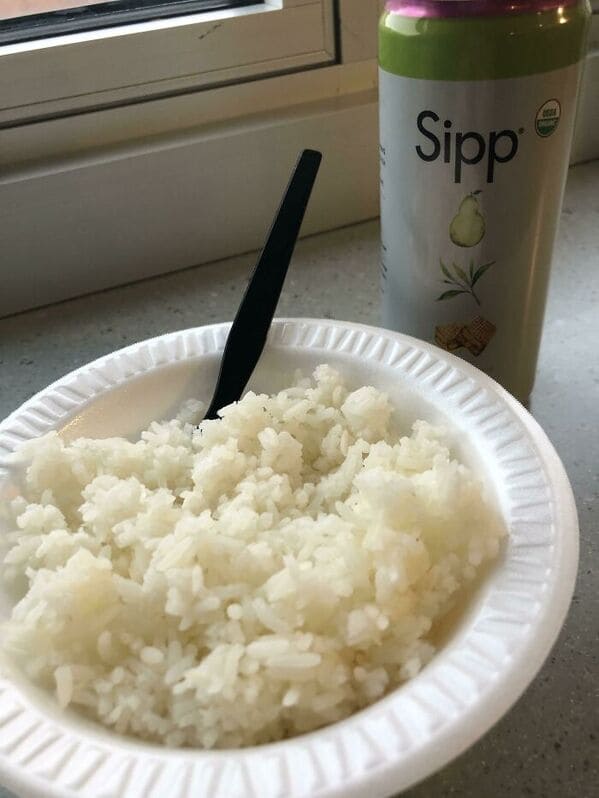 30. "This Hot Dog From The Toronto Hospital For Sick Kids"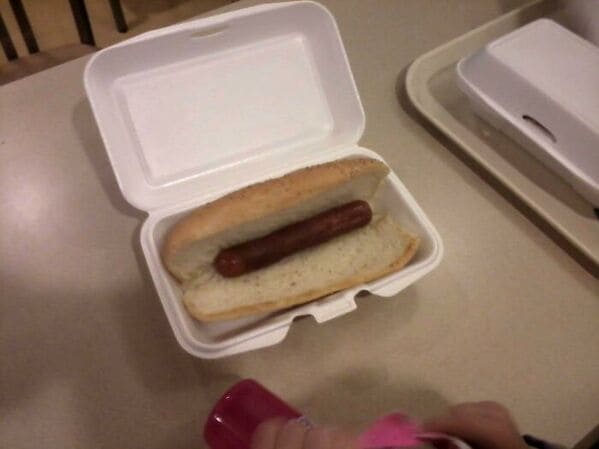 31. "Cooked Sauerkraut With Uncooked Turkey Fillet In My University Hospital In Germany"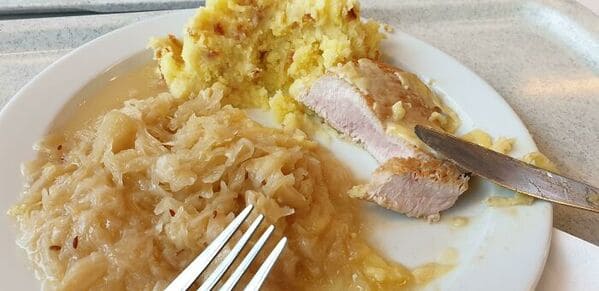 32. "Can You Identify My Austrian Hospital Food?"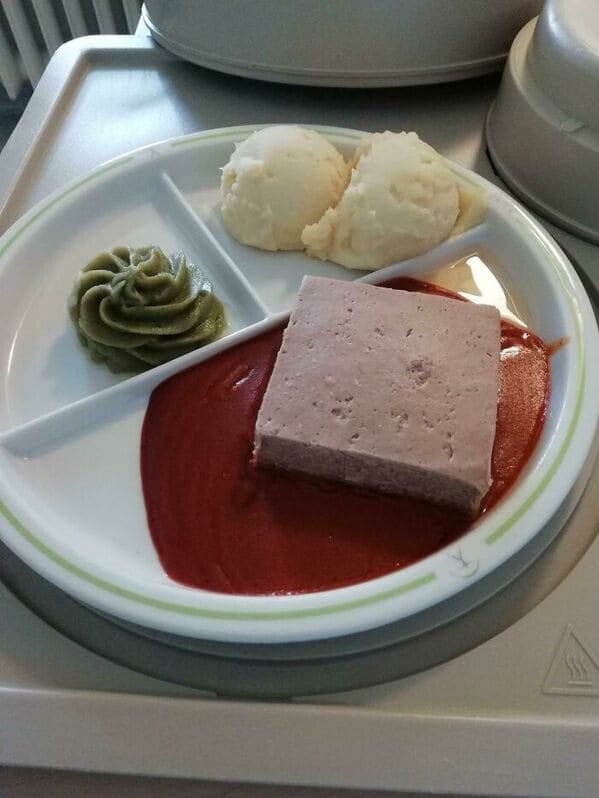 "A good guess might be "depression", but actually, it was some sort of cow paste (it immediately fell apart, it was basically the consistency of mousse) in paprika sauce, mashed potato, and mushy pea purée."
33. "This 'Chicken Tikka' My Boyfriend Got Served In Hospital Today. We Are From Wales In Britain"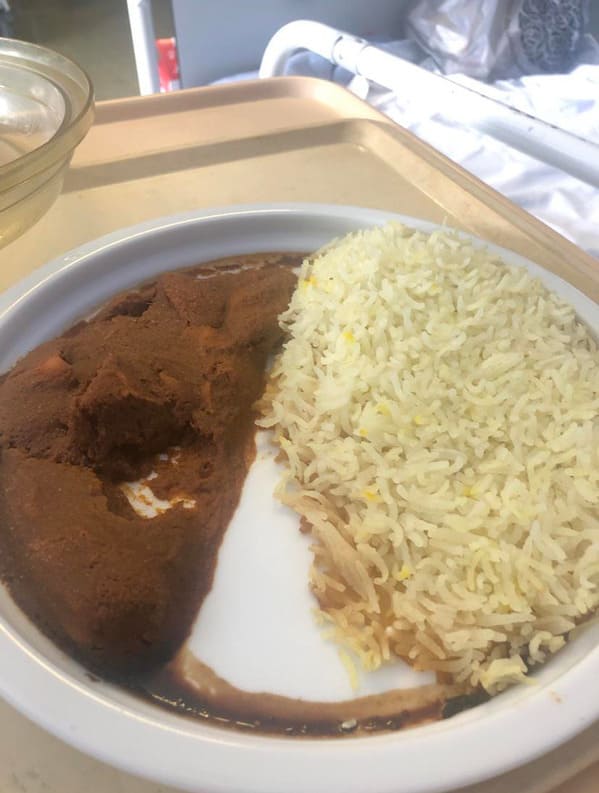 34. "Nutritious Swedish Hospital Breakfast"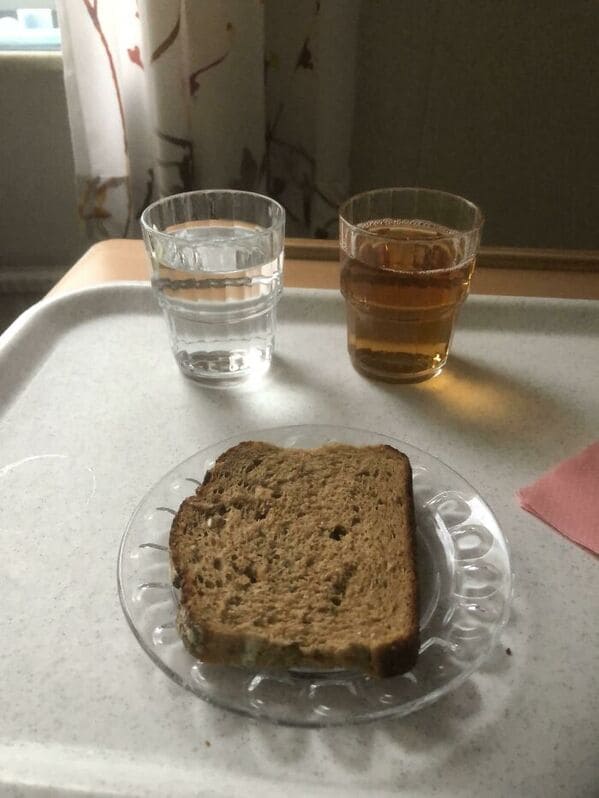 35. "My Girlfriend's Grandma Is In The Hospital. This Is Her Dinner. Yes, It Came Labeled That Way"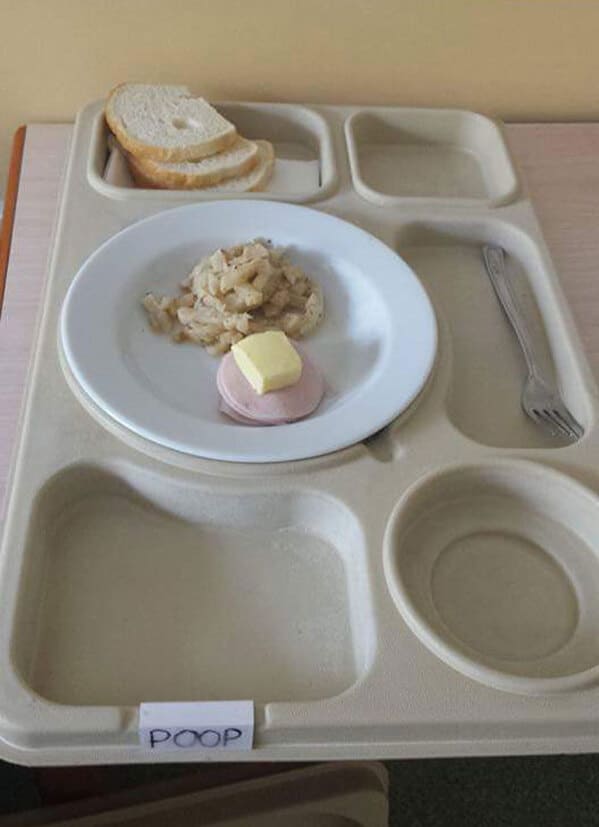 36. This Is Bad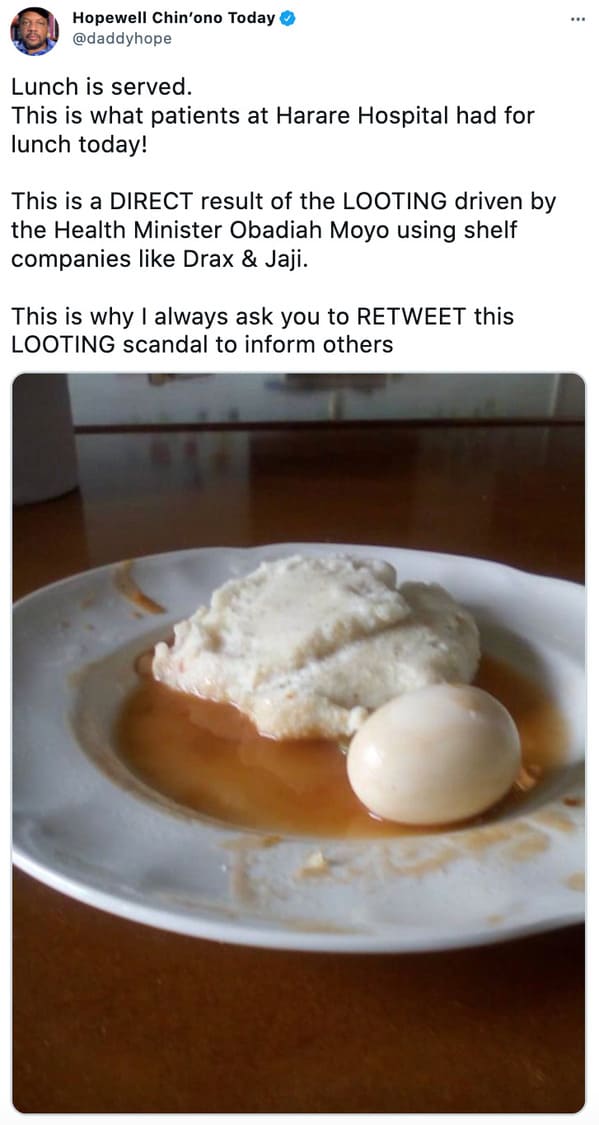 37. "Lunch At The Cardiovascular Surgery Hospital"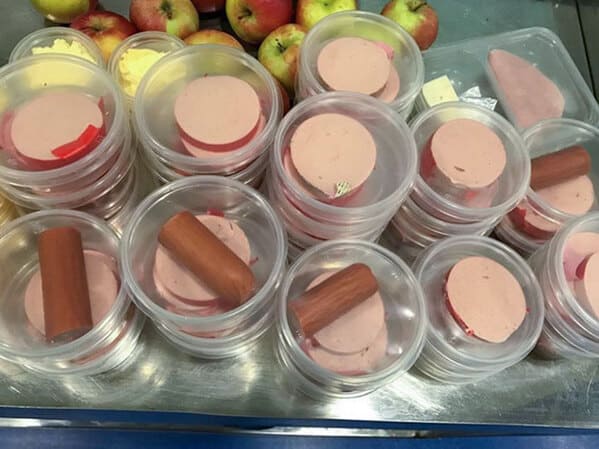 38. "My Breakfast In The Hospital This Morning. I'm Sure It Only Cost Me About $75.00"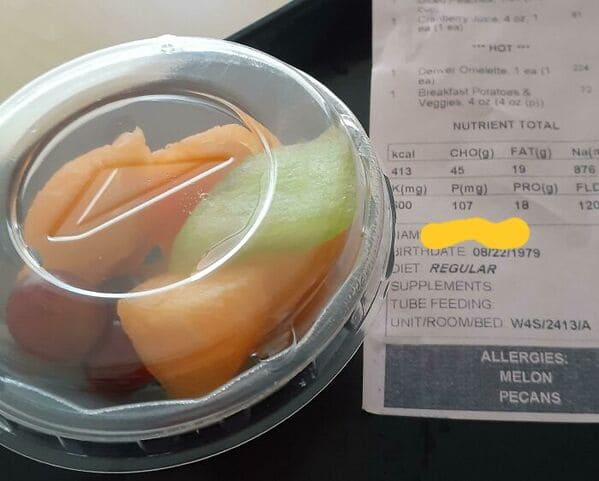 39. "German Hospital Food"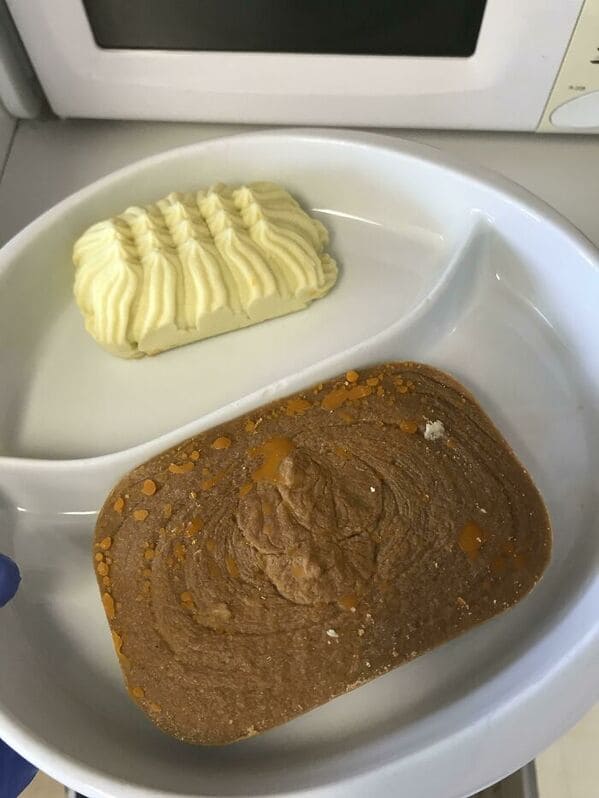 40. "Staying At A Hospital In Montreal. No Dietary Restrictions (Injured My Leg). This Was What Was Presented This Morning Along With A Cup Of Coffee"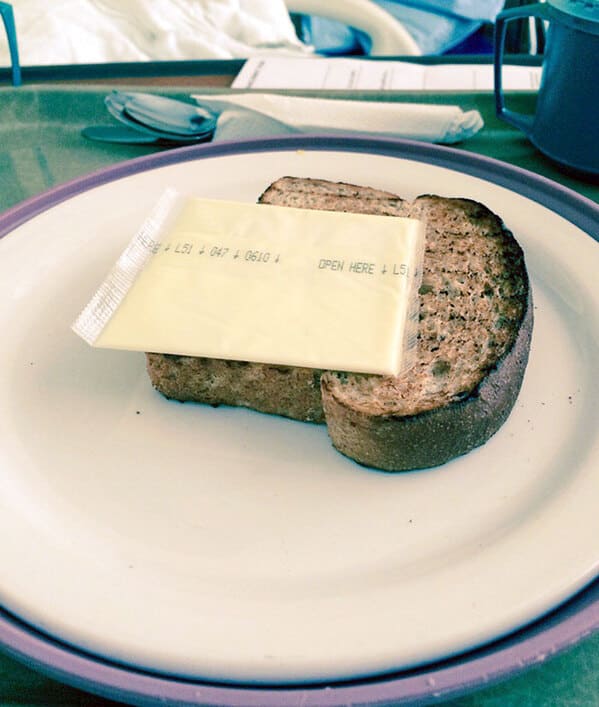 41. "Hospital Food Services At Local Hospital In Halifax, Nova Scotia"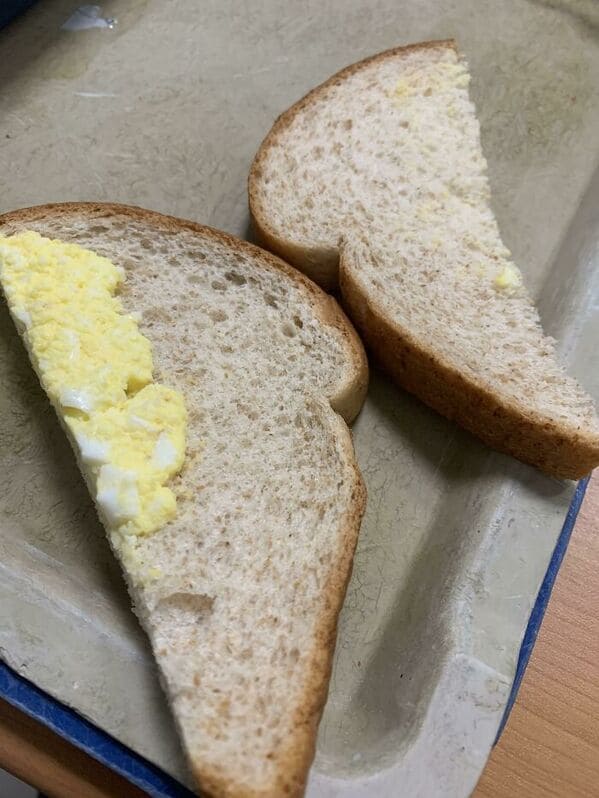 42. "Hospital Food In Lithuania"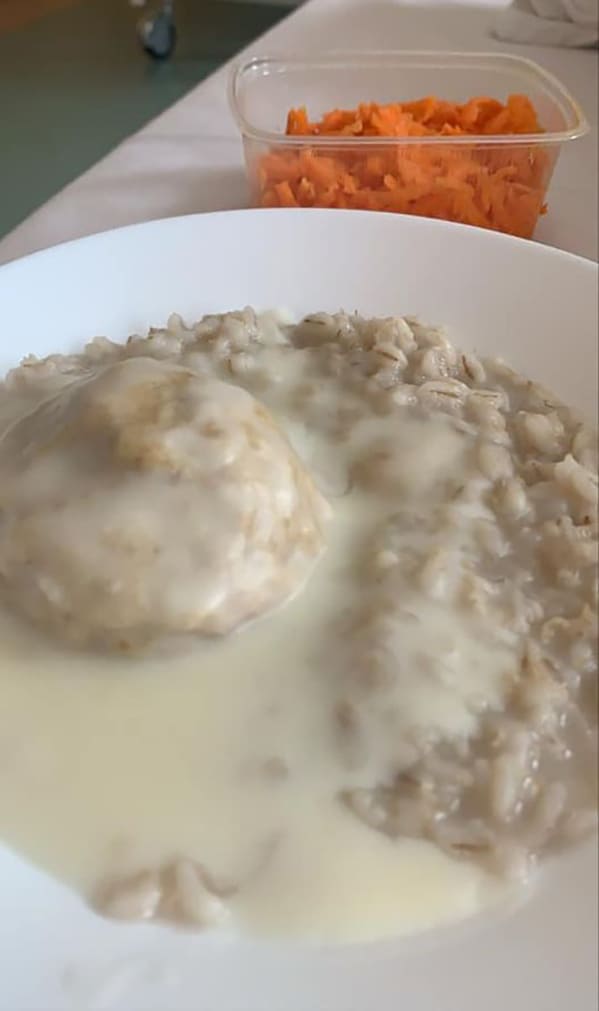 43. "Tasty Full English Breakfast From Raffles Hospital, Singapore"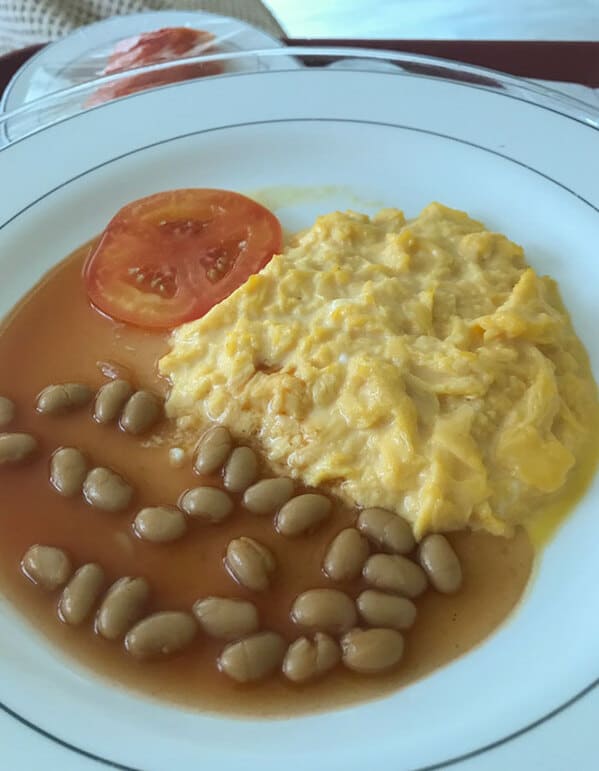 44. This Looks Like The Food In The Starbucks Display Case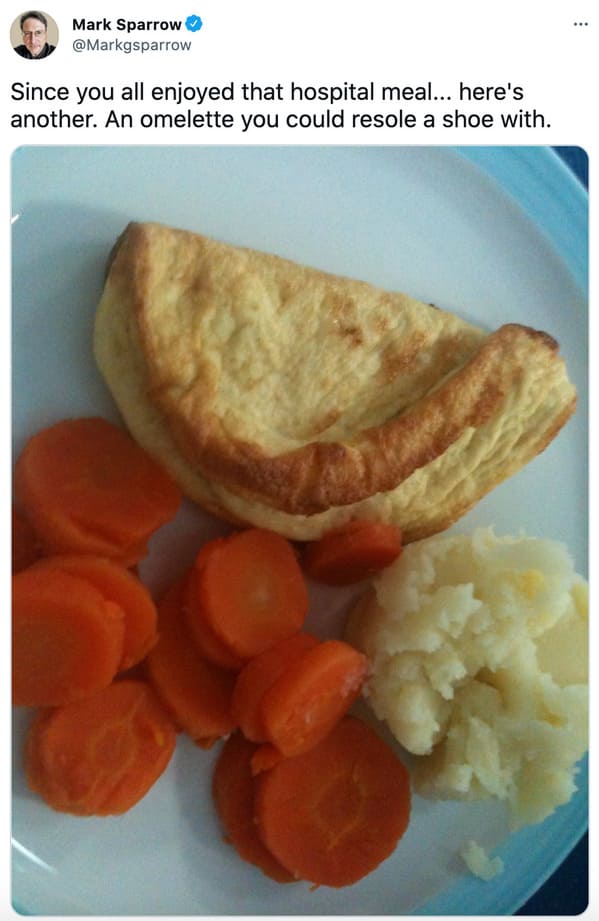 45. "Egyptian Hospital Food"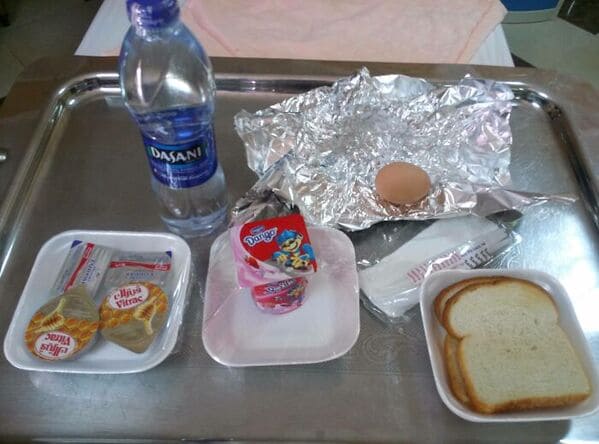 46. "Vegetarian Dinner Option At The Hospital"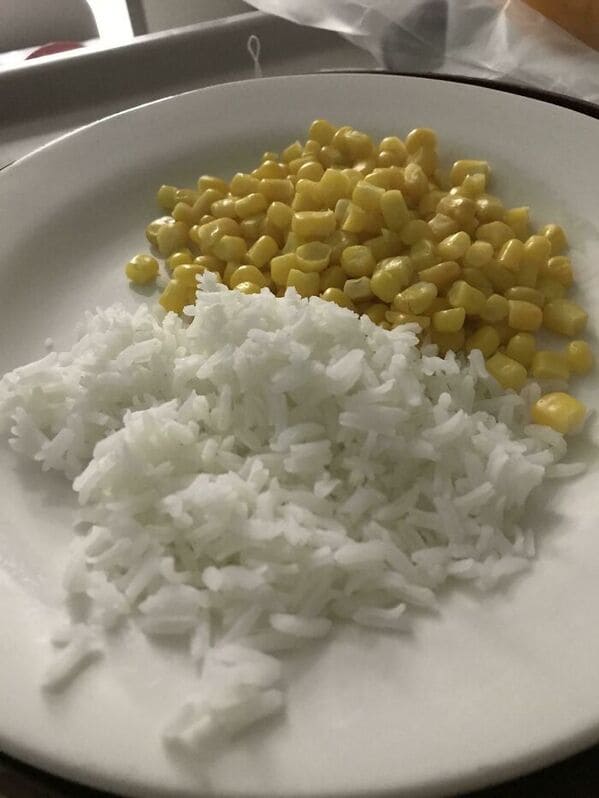 47. "Good Old Hospital Chicken Parmesan"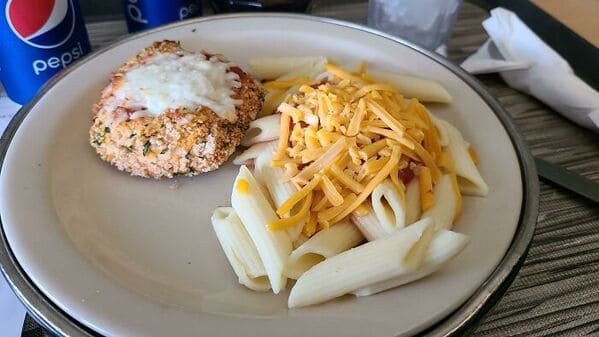 48. "Friend Sent This To Me – It's From A Hospital Canteen In Ireland"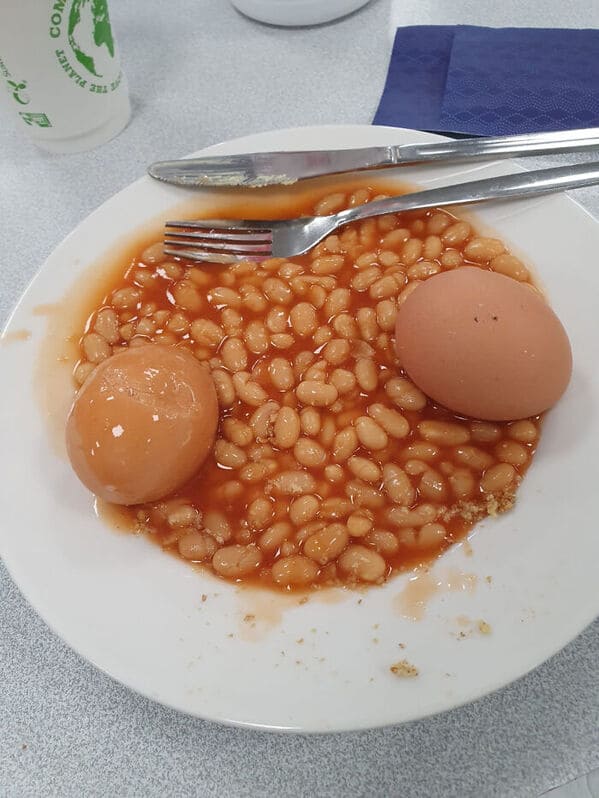 49. "Although I'm Grateful My Hospital Is Concerned And Busy With Covid, This Is My Omelet After 48 Hours Of ER/ICU Call"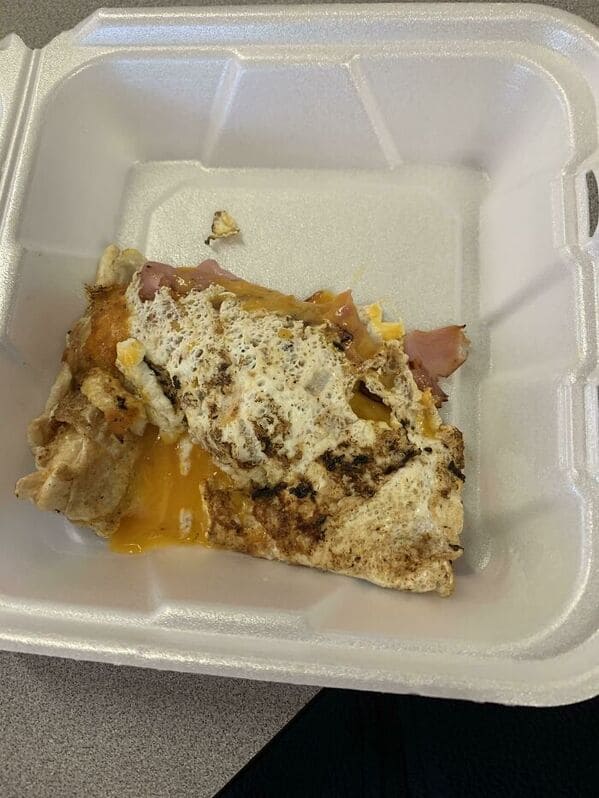 50. "Side Of Bacon At The Hospital In Florida"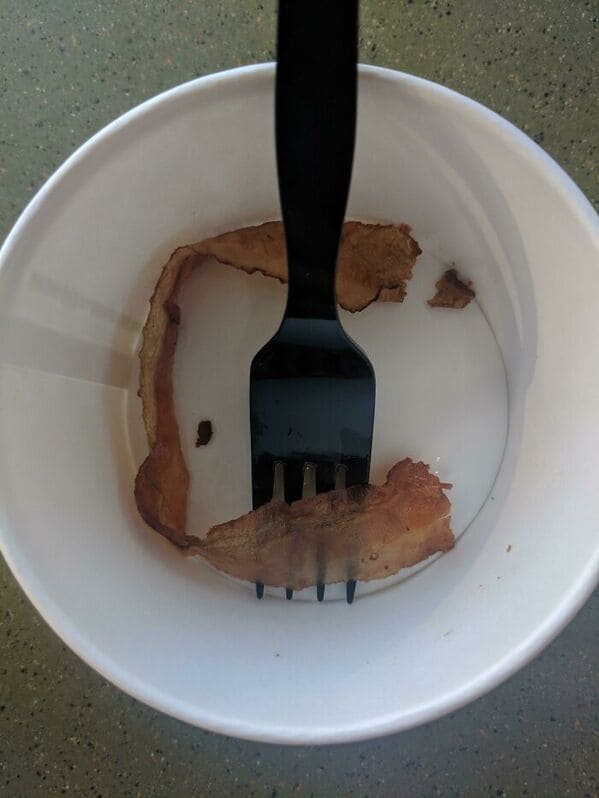 51. "Mums In Hospital Over The Weekend With Heart Trouble. She Sent Me A Picture Of Her Lunch. It's England"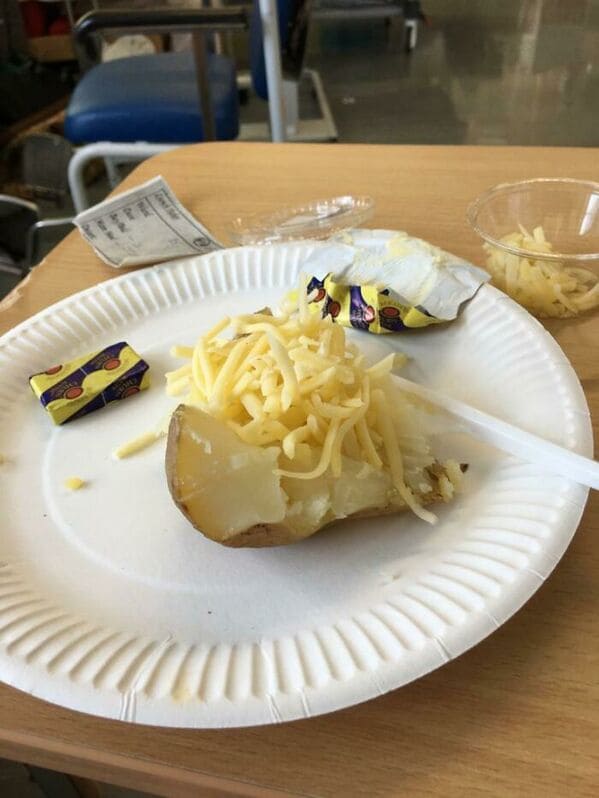 52. "In This Hospital In Ontario, When They Say 'Fresh Poutine', They Really Mean 'Frozen Fries Topped With Demolished Cheese Slices'"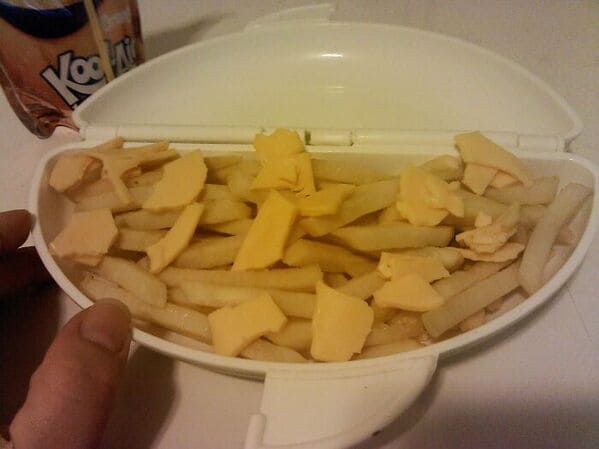 53. "My Lovely Vegan Lunch While I Was In Hospital In UK. Dry Potato No Vegan Spread"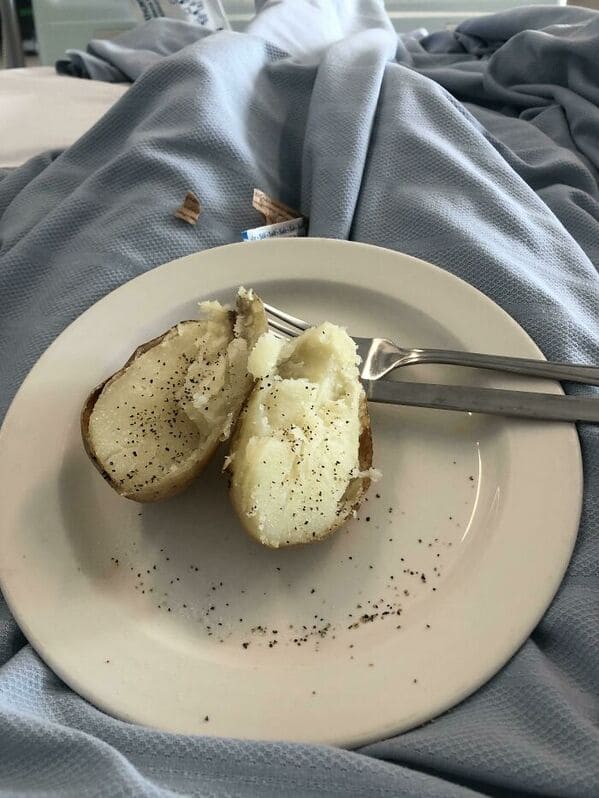 54. "2 Buttered Slices Of Bread, Some Kind Of Sweet Bun And Strawberry Jam. Hospital Food Hours. Honestly, The Bread Is The Best Part. Southern Poland"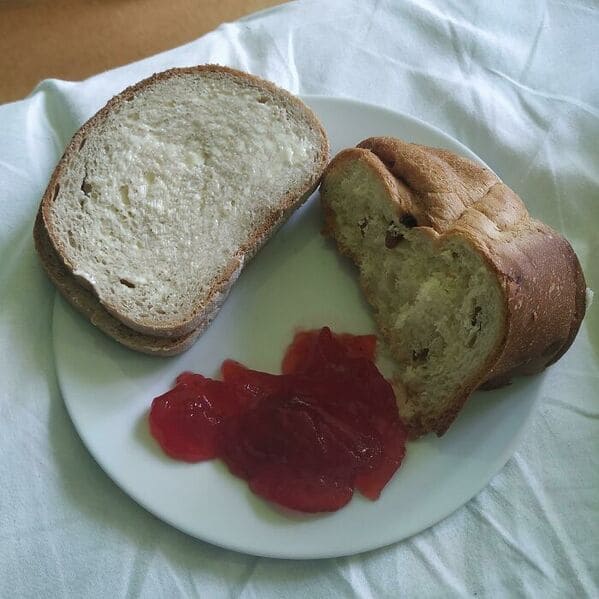 55. "Looks Like Its Regurgitated Beef On A Bun And Carrots For Lunch Today"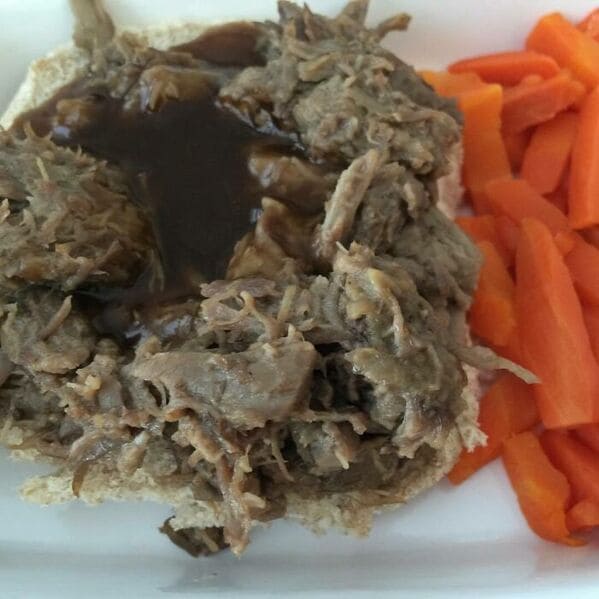 56. "Vegan Option From My Hospital Breakfast"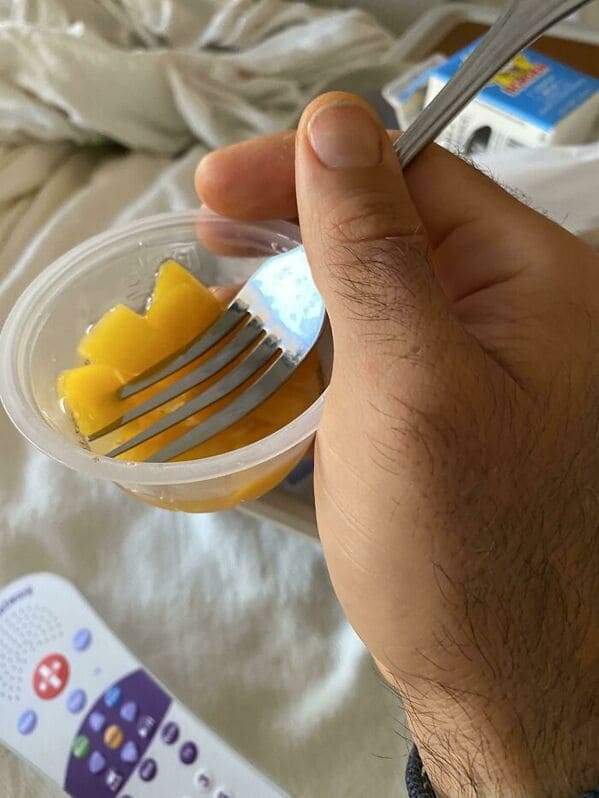 57. "My Breakfast Today In The Hospital. Dry Bread, One Slice Of American Cheese, Bit Of Jam, Sugar, And Milk For Instant Coffee. It's Not Prison, Just A Belgian Hospital"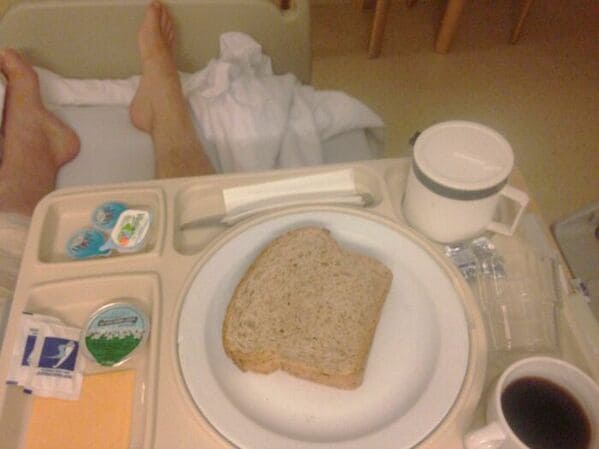 58. "In The St. Michaels Hospital, Toronto, And They Just Served Dinner"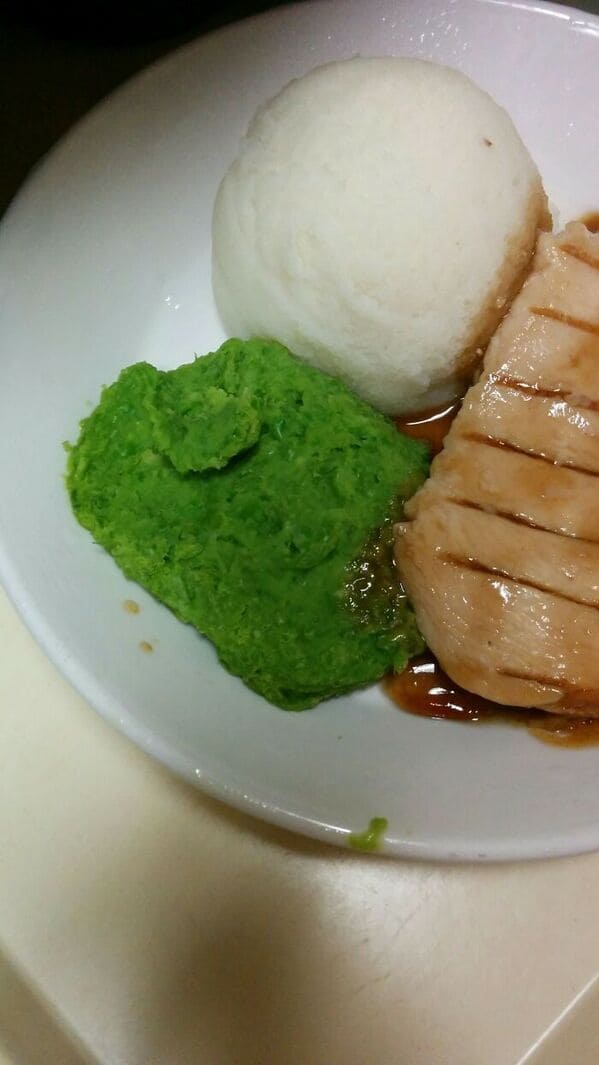 59. "This Is What The NHS Call A Turkey Dinner And All The Trimmings For Someone Recovering From Cancer"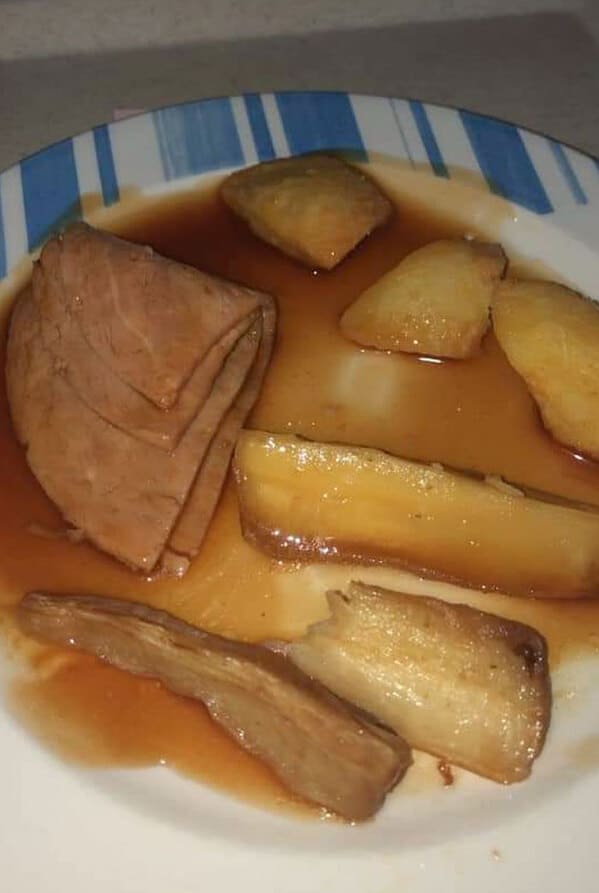 60. "I Present An American Hospital Cheeseburger"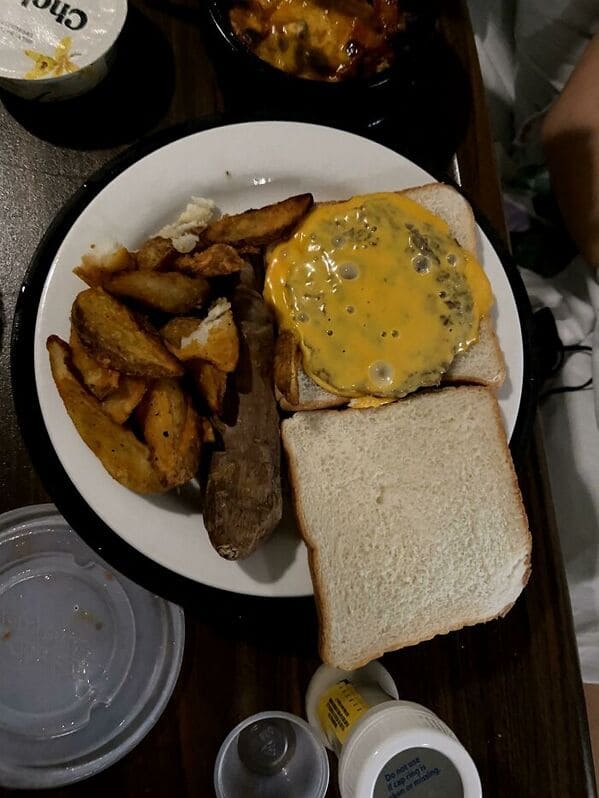 61. "Love Me Some Crappy Hospital Food. Germany"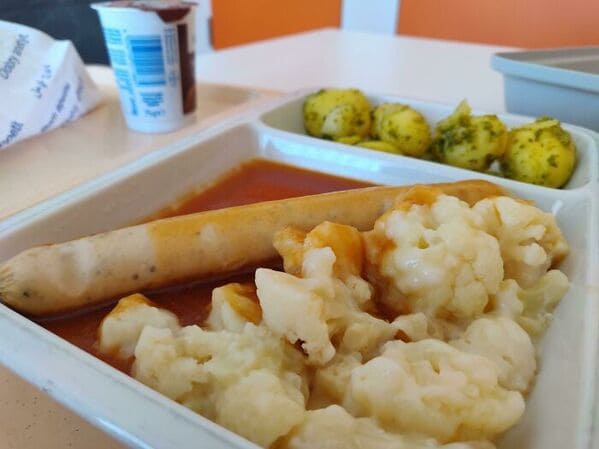 62. "Breakfast In Hospital In Serbia"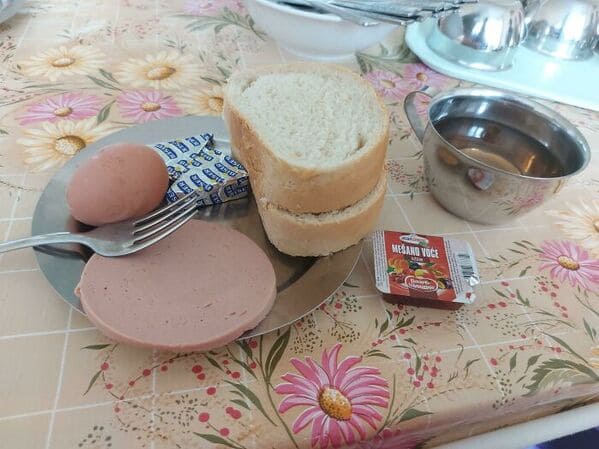 63. "Hospital Vegetable Lasagne"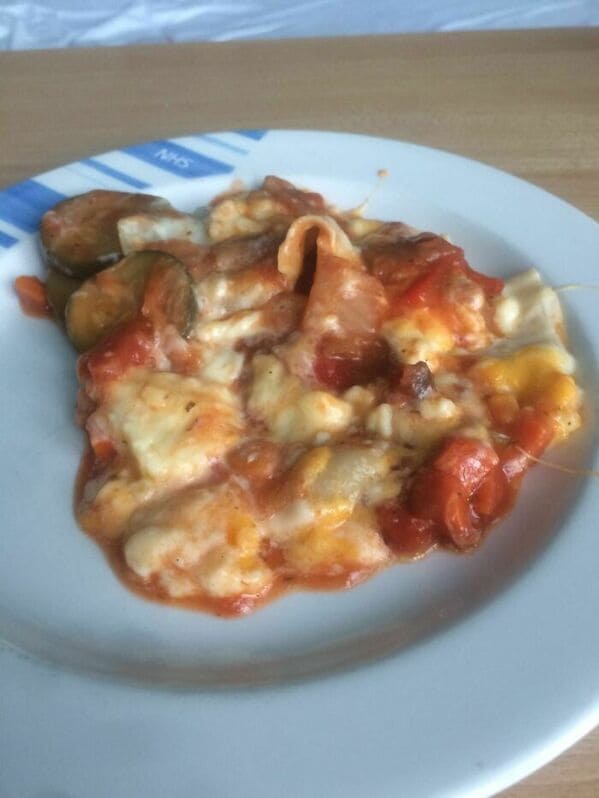 64. "I Knew I Took This Picture For A Reason. Feast Your Eyes On My Hospital Breakfast In America"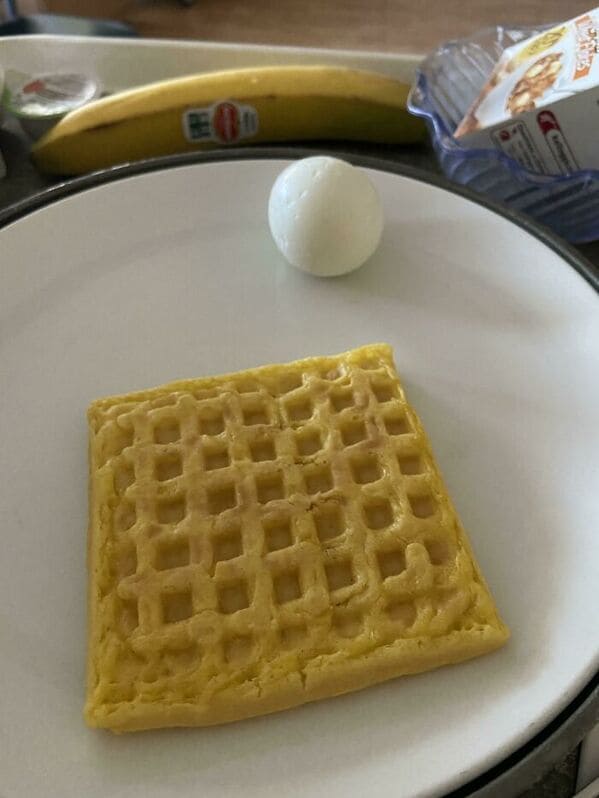 65. "Hospital Food. Note The Garnish"