Another Super Bowl has come and gone, but the Rihanna memes will be here forever. The Super Bowl is always fun because it brings people together to enjoy the big game, commercials, and of course the halftime show.
The halftime show is a significant highlight of the whole night, featuring some of the biggest names in music and entertainment, adding to the overall excitement of the day. This year's halftime show star was the one and only Rihanna.
My favorite part of the entire night is when the Rihanna memes started flowing. No matter what you think of her music or the performance itself, the memes were a hit across social media.
So, whether you're a die-hard fan or just enjoy the social aspect, these Rihanna super bowl memes should hit the spot while you nurse your hangover at work today.
---
1.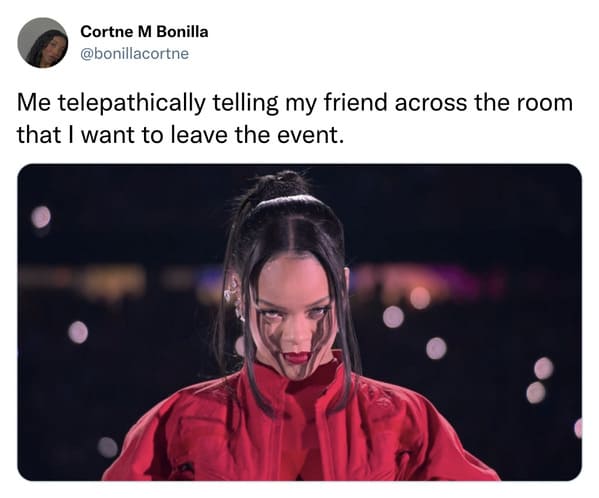 2.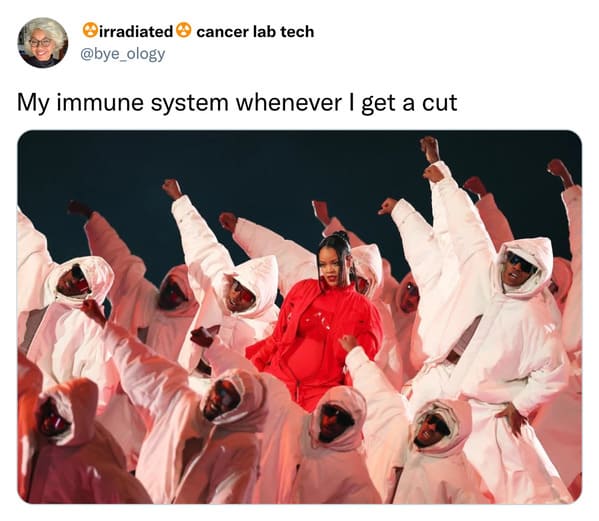 3.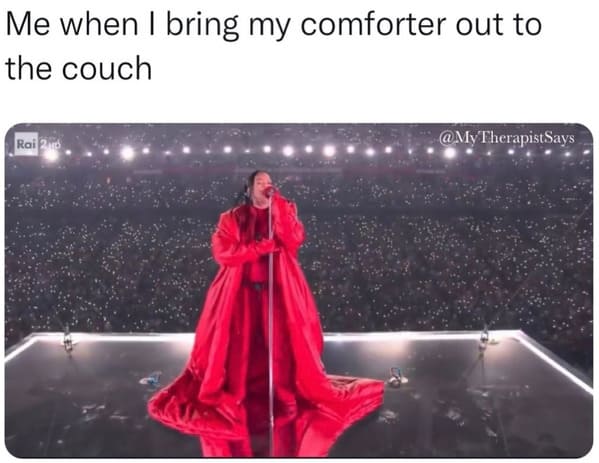 4.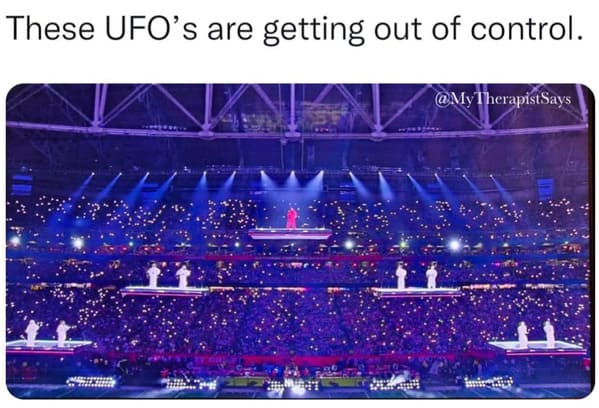 5.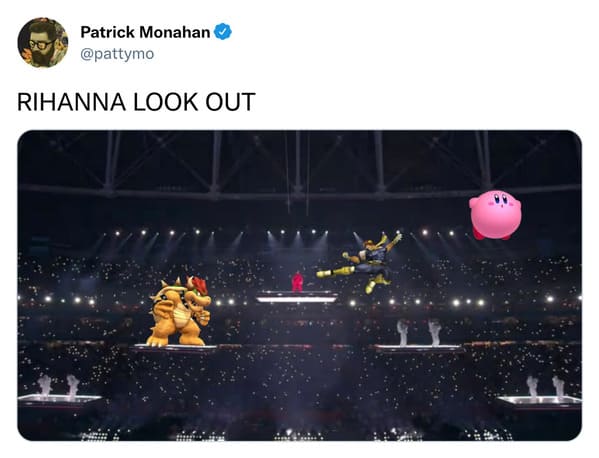 6.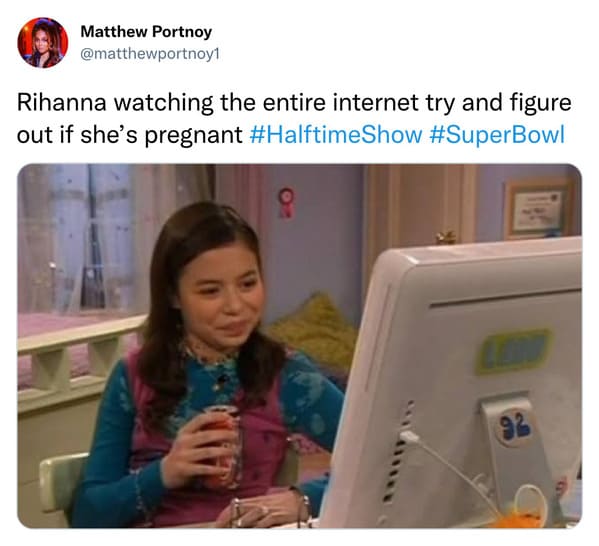 7.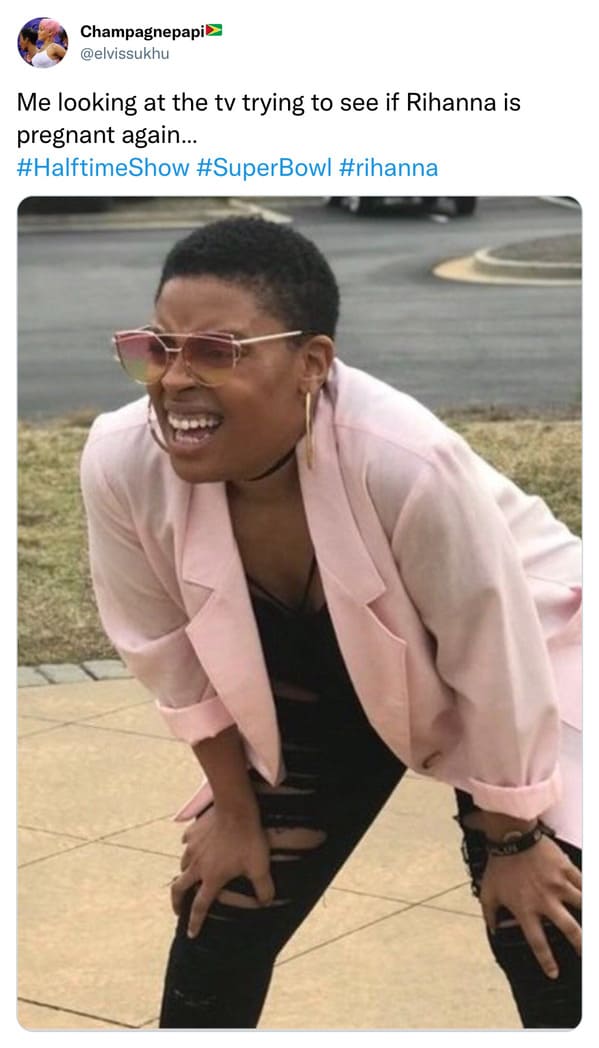 8.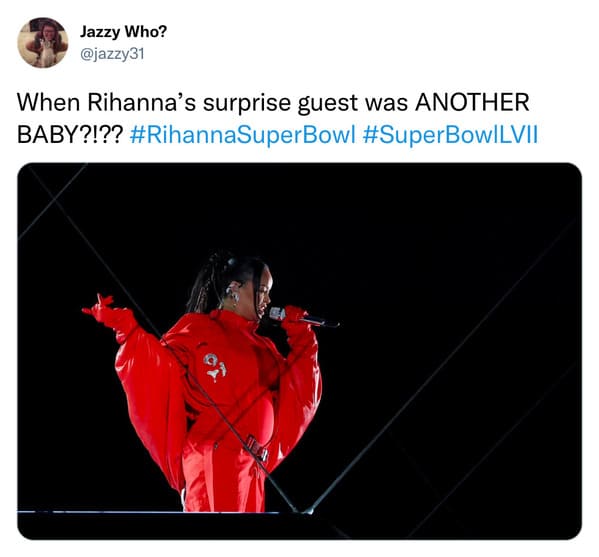 9.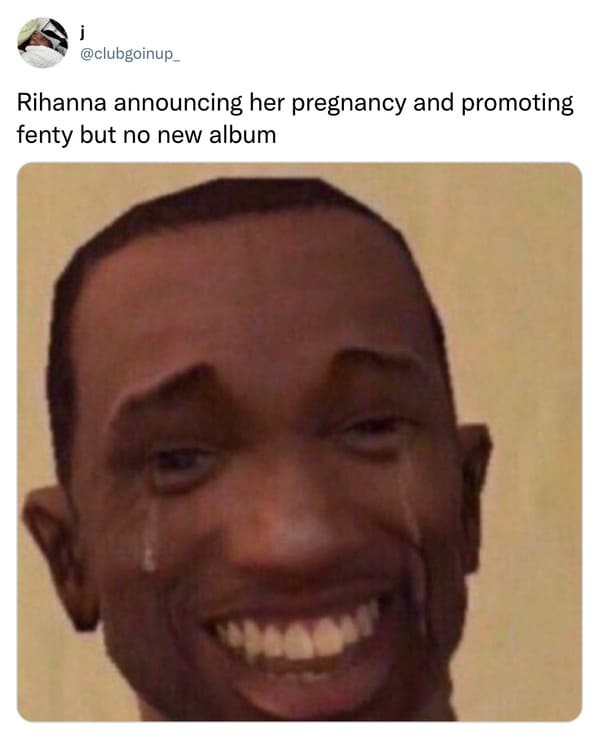 10.
Me realizing Rihanna is pregnant again, and we're never getting another album. 😭 pic.twitter.com/3gOiJa8bHE

— J. Slai (@JSLAi) February 13, 2023
11.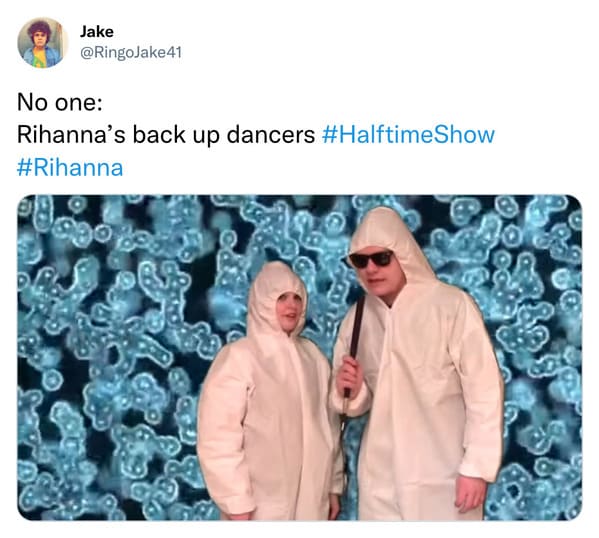 12.
Rihanna's baby in the womb during this halftime show #SuperBowl #Rihanna pic.twitter.com/XtxMX7xUBb

— Carlton Banks' Burner (@cbanksburner) February 13, 2023
13.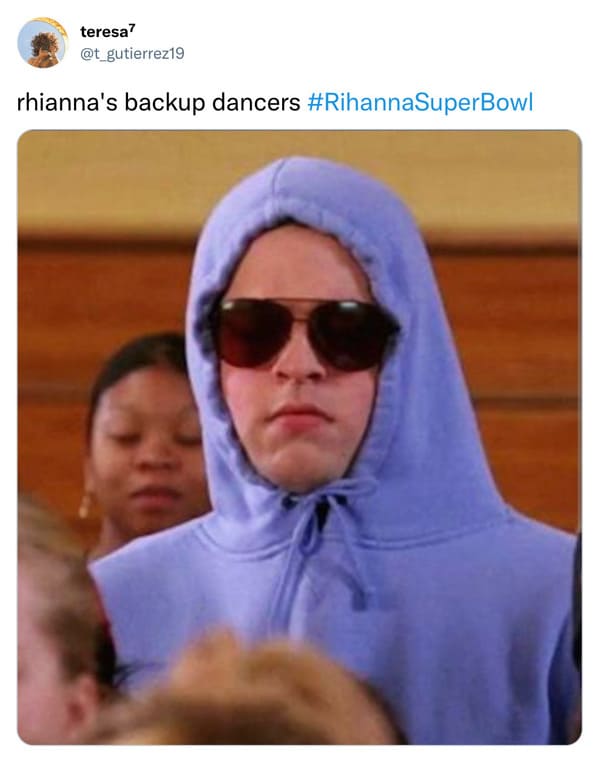 14.
rihanna's baby right now #SuperBowl pic.twitter.com/yt2ZvwJH87

— jonnyf (@jonnyfnn) February 13, 2023
15.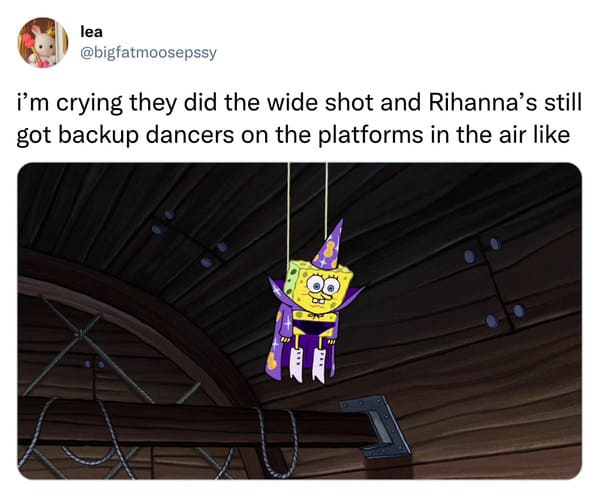 16.
Rihanna's Super Bowl halftime show… pic.twitter.com/46BQInjFyt

— NFL Memes (@NFL_Memes) February 13, 2023
17.

18.
https://twitter.com/AMENARTPOP/status/1624965213056557056
19.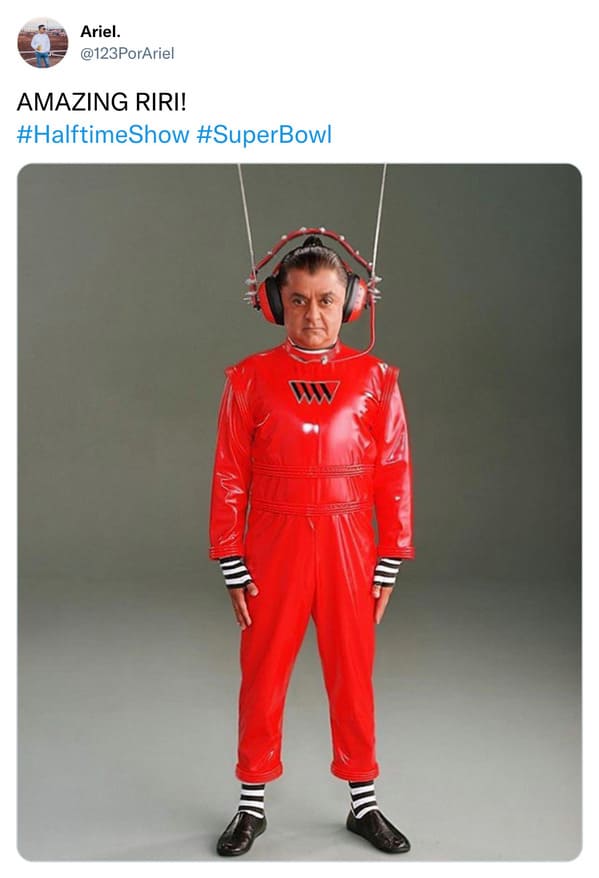 20.
Rihanna's Super Bowl Halftime Show 2023 recap pic.twitter.com/rwJjuxqltu

— Pitchers & Catchers Joey (@DJLeMVP) February 13, 2023
21.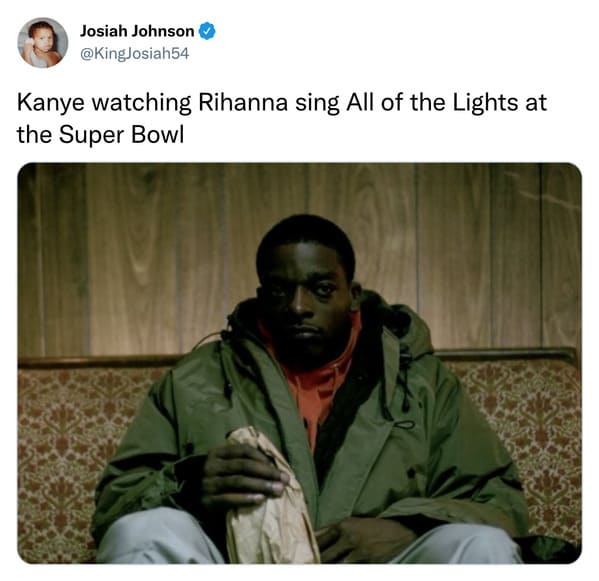 22.
Rihanna's Super Bowl but the dancers are Oompa Loompas pic.twitter.com/wHX3dPey3t

— hater da beyoncé até conseguir ingresso (rike) (@rikerikerike) February 13, 2023
23.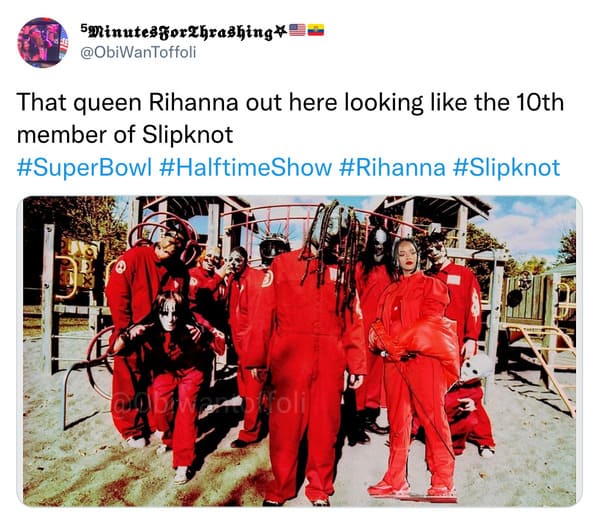 24.
Just watched Rihanna's super bowl halftime show and I kept waiting for love on the brain and it just never came pic.twitter.com/sDTURjfxok

— chef cale 🐍 | A Victim🌱 (@calesreputation) February 13, 2023
25.
Me waiting for Rihanna's show at the Super Bowl Halftime pic.twitter.com/e1KYMJtDKs

— Justwhodafuq (@Justwhodafuq) February 13, 2023