Even if you believe in a Christian God, you have to admit that some of his/her creations are utterly baffling and that some Bible stories leave a bit to be desired in terms of narrative framing.
I mean, come on. How do you explain the creation of snakes as anything other than one of God's "off" days?
If you're not above poking fun at God or Jesus (and you're NOT, be honest), then here are some—— jokes that may very well have you laughing so hard that you'll probably need to repent just a lil' bit extra this week:
21.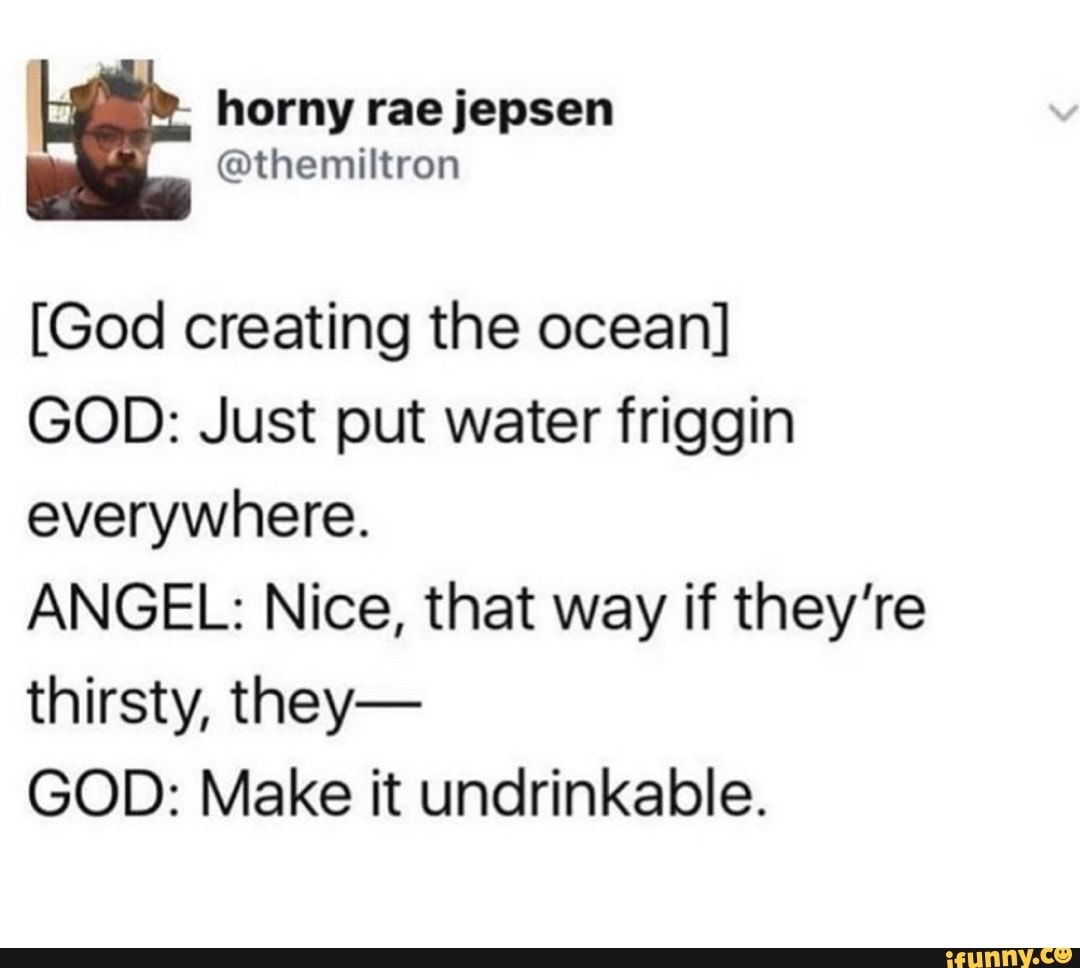 20.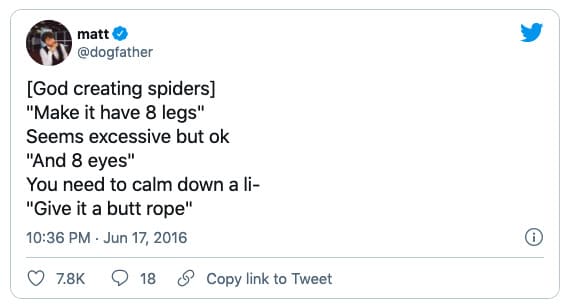 19.

18.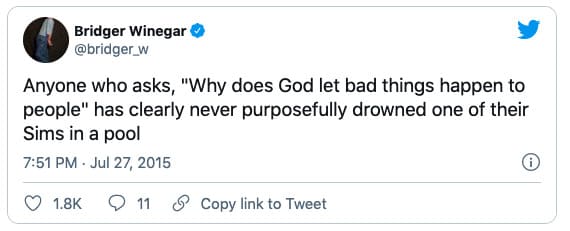 17.
God's Assistant: really? Leather wings on a mouse's body? I think you're just in a bad mood.

God: ALSO MAKE IT BLIND AND SCREECHING

— Nathan Usher (@thenatewolf) September 1, 2015
16.
[god, creating ducks]

Just like put a surfboard mouth on a big pigeon and make it like a loud idiot. I don't know

— audrey farnsworth (@audipenny) January 15, 2015
15.
"drink my blood" that's wine dude "eat my flesh" um you're weirding me out "i'm god" this is the worst going away party ever

— mustard (@nice_mustard) May 9, 2012
14.
[god creating jellyfish]

how bout an evil bag

— style rat (@themiltron) December 26, 2015
13.
JESUS: so I'm u
GOD: yes
JESUS: and ur me
GOD: yes
JESUS: I don't get it
GOD: I do
JESUS: how can one of us get it & not the other
GOD: whoa

— Corgis Saved: 1 (@matt___nelson) May 28, 2015
12.
[god making chimps]
GOD: shrink a gorilla & make it smart
ANGEL: Ok. And what sound should it make?
G: literally just have it fucking scream

— jack (@yungshepardboy) June 13, 2015
11.
Noah: Two? Why two of every animal?
[God whispers in Noah's ear]
Noah: nice lol

— Mike Ginn (@shutupmikeginn) March 30, 2015
10.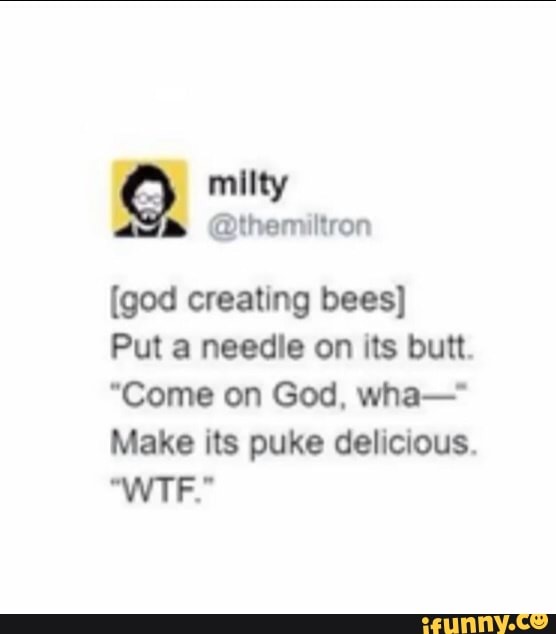 9.
*knock on door*
"Sir have you found Jesus?"
Uh, no. Goodbye.
*shuts door*
*Jesus steps out from behind door with gun*
Good answer

— Bucky Isotope (@BuckyIsotope) September 10, 2015
8.
god: u gotta build a boat
noah: can't u build ur own boat.. i mean, ur god
god: [nervously] no i can i just wanna see if u know how

— chuuch (@ch000ch) May 31, 2015
7.
[god creating animals]
ok this ones got a long throat
"ok"
make it literally just a throat
"…"
oh and give it a face
"wtf"
call it a snake

— k e i t h 🐤🥔 (@KeetPotato) October 2, 2014
6.
[god creating whales]
"I want a fat blue piece of shit with a 20ft dick and it sings underwater. Also get me a beer. No wait five beers"

— Fred Delicious (@Fred_Delicious) December 16, 2015
5.
God: kill your son
Abraham: uh…ok
God: holy shit I'm jk
Abraham: umm…
God: I'll probably kill mine tho lol
Abraham: wtf?

— paperwash© (@PaperWash) November 11, 2015
4.
*jesus givs u bread*
this is my body
*jesus givs u wine*
this is my blood
*jesus puts ur hand in soggy noodles*
and these r my BRAAAINS ooOO

— jomny sun (@jonnysun) September 16, 2014
3.
[God creating dogs]

Oh these turned out great. Im going to want all of these back at some point

— Ygrene (@Ygrene) March 31, 2016
2.
Wait what do you mean Jesus loves me? Did he say something to you? OMG I'm freaking out right now tell me his exact words.

— Mike Primavera (@primawesome) December 4, 2013
1.
jesus: what do people call the day i was crucified
me: good friday. we call it "good friday"
jesus: what the fuck

— Sage Boggs (@sageboggs) April 3, 2015