It's always seemed strange to me that Catholics get so upset when you make jokes about Jesus. I mean, God seems like kind of a dick but Jesus seems chill. I bet he could take a joke.
The following people feel the same way. They rolled the dice by telling a blasphemous joke, gambling with their immortal soul; which any comedian will tell you is the ultimate rush. Let's all take a drive to hell together. Jesus, take the wheel.
1.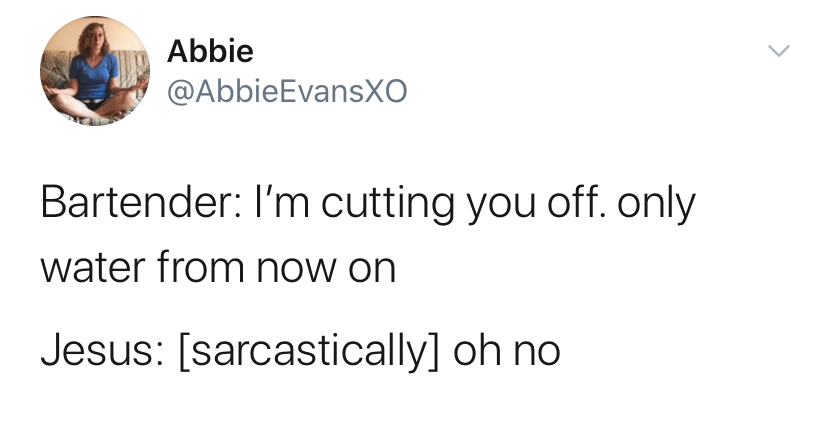 2.
Big deal Jesus, so your dad sent you here to suffer & die, that's what all the rest of us are doing too

— Do not "get my ass" (@InternetHippo) September 21, 2015
3.
Jesus: this jesus bread is my body

Disciples: *nodding*

Jesus: this jesus wine is my blood.

Disciples: *clapping*

Jesus: this jesus fish is a sweet decal for your bumper

Disciples: *just losing their shit*

— Quilliam (@nyquills) January 17, 2019
4.
5.
6.
Me: So Christ's body is the bread?

Priest: yes

Me: and he rose from the grave

Priest: yes…

Me: because of the yeast?

Priest: no

Me: okay, none of this makes sense

— Sassparilla (@Megatronic13) October 21, 2018
7.
*knock on door*
"Sir have you found Jesus?"
Uh, no. Goodbye.
*shuts door*
*Jesus steps out from behind door with gun*
Good answer

— Dr. Bucky Isotope, Political Scientist (@BuckyIsotope) September 10, 2015
8.
9.
[Jesus at Last Supper]
*breaks bread* This is my body
*pours wine* This is my blood
*opens jar of mayo*
Judas: I'm gonna stop u right there

— huntigula (@huntigula) January 5, 2015
10.