It's always seemed strange to me that Catholics get so upset when you make jokes about Jesus. I mean, God seems like kind of a dick but Jesus seems chill. I bet he could take a joke.
The following people feel the same way. They rolled the dice by telling a blasphemous joke, gambling with their immortal soul; which any comedian will tell you is the ultimate rush. Let's all take a drive to hell together. Jesus, take the wheel.
1.
Bartender: I'm cutting you off. only water from now on

Jesus: [sarcastically] oh no

— Abbie (@AbbieEvansXO) February 12, 2019
2.
Big deal Jesus, so your dad sent you here to suffer & die, that's what all the rest of us are doing too

— Posting is a human right (@InternetHippo) September 21, 2015
3.
Jesus: this jesus bread is my body

Disciples: *nodding*

Jesus: this jesus wine is my blood.

Disciples: *clapping*

Jesus: this jesus fish is a sweet decal for your bumper

Disciples: *just losing their shit*

— Quilliam (@nyquills) January 17, 2019
4.
5.
6.
Me: So Christ's body is the bread?

Priest: yes

Me: and he rose from the grave

Priest: yes...

Me: because of the yeast?

Priest: no

Me: okay, none of this makes sense

— Sassparilla (@Megatronic13) October 21, 2018
7.
*knock on door*
"Sir have you found Jesus?"
Uh, no. Goodbye.
*shuts door*
*Jesus steps out from behind door with gun*
Good answer

— Dr. Bucky Isotope (@BuckyIsotope) September 10, 2015
8.
9.
[Jesus at Last Supper]
*breaks bread* This is my body
*pours wine* This is my blood
*opens jar of mayo*
Judas: I'm gonna stop u right there

— huntigula (@huntigula) January 5, 2015
10.
11.
jesus: what do people call the day i was crucified
me: good friday. we call it "good friday"
jesus: what the fuck

— Sage Boggs (@sageboggs) April 3, 2015
12.
COP: jesus how much hav u had to drink
JESUS: (leans out window) (whispers) my blood is wine
COP: ok step outa the car pal

— jonny sun (@jonnysun) August 23, 2015
13.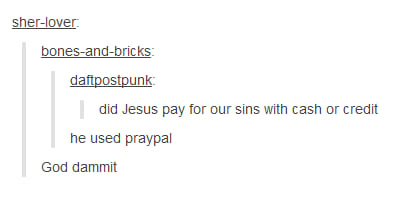 14.
15.
Judas: still on for Friday?
Jesus: Friday?
Judas: yeah, the last supper
Jesus: the what?
Judas: supper. Normal supper with the fellas

— David Hughes (@david8hughes) January 5, 2015
16.
remember teens: even Jesus once logged off for 3 days

— lawblob (@lawblob) June 22, 2014
17.
Me: I know you from somewhere

Jesus: I get that a lot

Me: no I'm sure

Jesus: just one of those faces

Me: [holding arms out] go like this

— Nate Usher (@thenatewolf) October 26, 2015
18.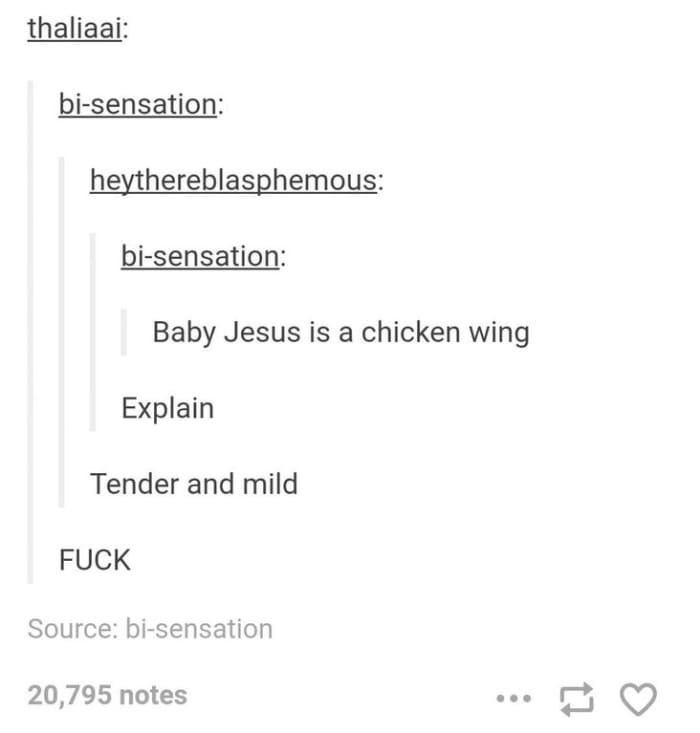 19.
20.
21.
*Jesus excitedly runs home from school*
"dad, dad! I made the football team"
*God peers over his newspaper*
"well i made FUCKING EVERYTHING"

— Fred Delicious (@Fred_Delicious) August 14, 2013
22.
JESUS: so I'm u
GOD: yes
JESUS: and ur me
GOD: yes
JESUS: I don't get it
GOD: I do
JESUS: how can one of us get it & not the other
GOD: whoa

— matt (@dogfather) May 28, 2015
23.
24.
25. *inserts shameless self-plug*
Me: "Hey you forgot to close the door! Were you born in a barn?"
Jesus: "Yes."
Me: "Oh, it's you. Sorry, Jesus."
Jesus: "I forgive you."

— Mike Primavera (@primawesome) May 15, 2012
26.
Jesus take the wheel. Jesus use your blinkers. Jesus stop swerving. Jesus slow the vehicle down. Jesus give me the keys you're drunk.

— The Volatile Mermaid (@OhNoSheTwitnt) April 29, 2015
27.
[Jesus goes over the bill at the last supper]
"Why would-[closes eyes & rubs bridge of nose]-Why would anyone order wine?"

— David Hughes (@david8hughes) April 20, 2014
28.
29.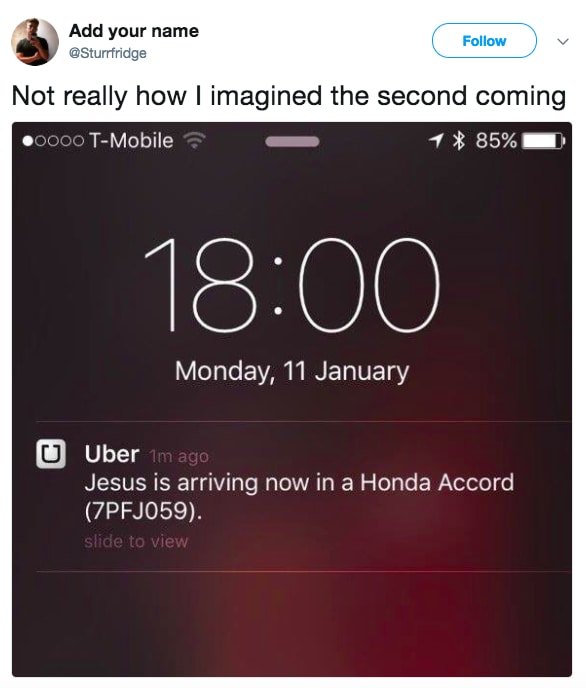 30.
"Welcome to McDonald's, what'll it be?"
Jesus whispering "5000 Filet-o-fish, and hurry"
"5000 FILETS DAN"
J "Shh, keep yr fuckin voice down"

— Sean Leahy (@thepunningman) January 29, 2015
31.
God: Did you just fart?

Jesus: Sorry I had a burrito. It was-

God: Don't say it

Jesus: To die for

God: This is why you were sacrificed

— Floyd is dead (@dafloydsta) September 30, 2014
32. Oh, you thought I was done promoting myself? Who is going to stop me? God?
Wait what do you mean Jesus loves me? Did he say something to you? OMG I'm freaking out right now tell me his exact words.

— Mike Primavera (@primawesome) December 4, 2013
33.
"YOLT." - Jesus.

— God (@TheTweetOfGod) April 4, 2015