21.
*Jesus excitedly runs home from school*
"dad, dad! I made the football team"
*God peers over his newspaper*
"well i made FUCKING EVERYTHING"

— Fred Delicious (@Fred_Delicious) August 14, 2013
22.
JESUS: so I'm u
GOD: yes
JESUS: and ur me
GOD: yes
JESUS: I don't get it
GOD: I do
JESUS: how can one of us get it & not the other
GOD: whoa

— matt (@dogfather) May 28, 2015
23.
24.
25. *inserts shameless self-plug*
Me: "Hey you forgot to close the door! Were you born in a barn?"
Jesus: "Yes."
Me: "Oh, it's you. Sorry, Jesus."
Jesus: "I forgive you."

— Mike Primavera (@primawesome) May 15, 2012
26.
Jesus take the wheel. Jesus use your blinkers. Jesus stop swerving. Jesus slow the vehicle down. Jesus give me the keys you're drunk.

— The Volatile Mermaid (@OhNoSheTwitnt) April 29, 2015
27.
[Jesus goes over the bill at the last supper]
"Why would-[closes eyes & rubs bridge of nose]-Why would anyone order wine?"

— David Hughes (@david8hughes) April 20, 2014
28.
29.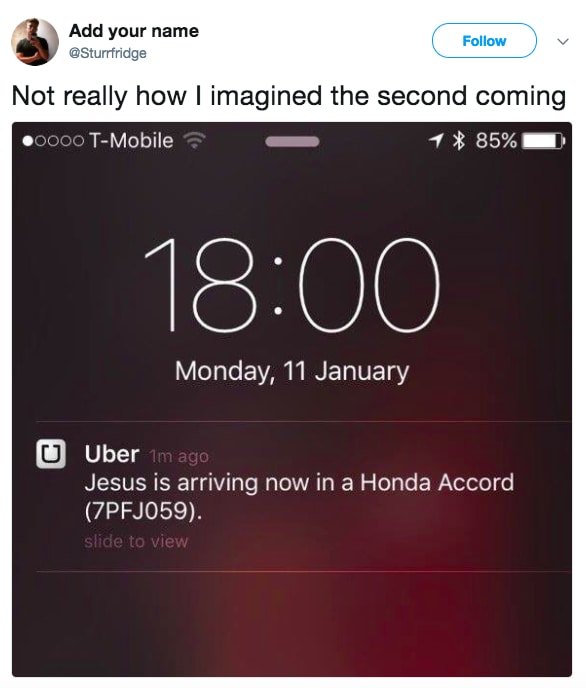 30.
"Welcome to McDonald's, what'll it be?"
Jesus whispering "5000 Filet-o-fish, and hurry"
"5000 FILETS DAN"
J "Shh, keep yr fuckin voice down"

— Sean Leahy (@thepunningman) January 29, 2015