The advances in technology over the last few decades have been so rapid it's hard to even keep track. That's how we end up with things like these. Dr. Ian Malcolm said it best: "Your scientists were so preoccupied with whether or not they could, they didn't stop to think if they should."
1.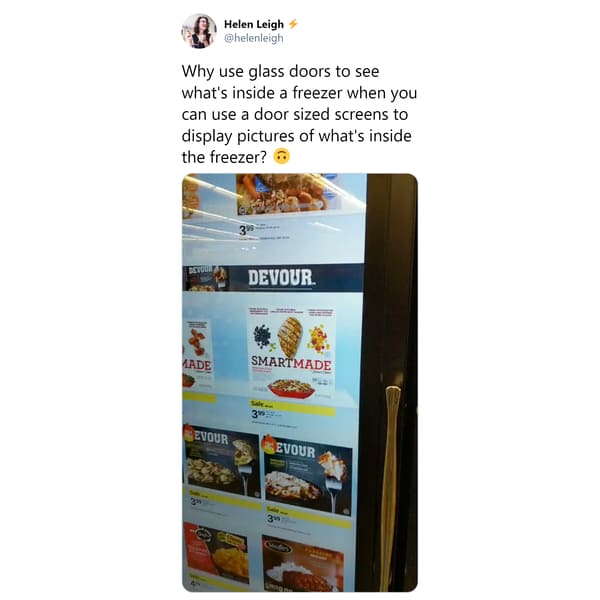 2.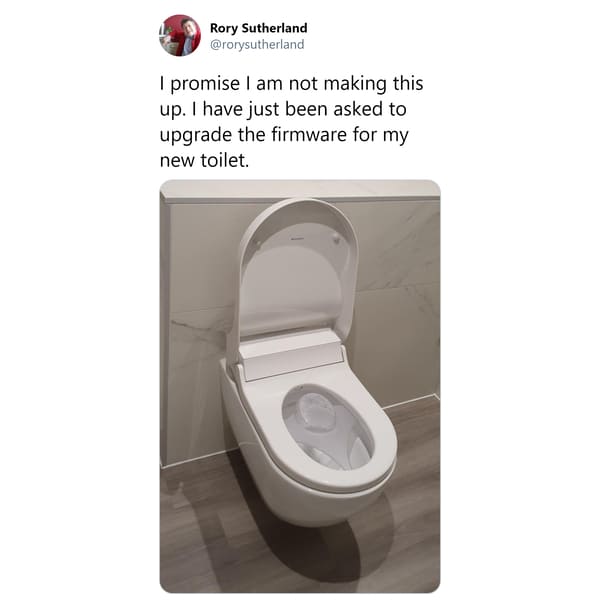 3.
Getting DDoS'd by my cats – whose dumb idea was this cat flap? pic.twitter.com/bRDWyJYr1o

— Norm Driskell (@n0rm) September 6, 2019
4.
My dad showed me how his Keurig has what is basically DRM and I immediately thought of @internetofshit. He circumvents it by literarily taking a used lid and placing it over the imposter. pic.twitter.com/nm8WWJqgEF

— ⓜⓞⓤⓢⓔ (@Mister32) November 28, 2019
5.
A Japanese start-up has invented the 'smart plank'. (Credit @mui_labo) pic.twitter.com/y0nx9DoNLZ

— Quite Interesting (@qikipedia) November 28, 2019
6.
When you really want a cold drink but first need to debug a Security Certificate of your Samsung fridge. @internetofshit pic.twitter.com/o2ymgpeO3q

— Monique Farantzos (@farantzos) December 5, 2019
7.
Just opted out of a McDonald's ad on a TV I paid over a thousand dollars for. @internetofshit pic.twitter.com/q2STy45rYI

— Wes Bos (@wesbos) November 24, 2019
8.
Just a collection of totally normal things. pic.twitter.com/QLKflS8UVt

— Ryan McLeod (@warpling) October 25, 2019
9.
when you have to stomp out the face in the snow so your surveillance camera stops texting you @internetofshit pic.twitter.com/hW2vJmXGhD

— Kyle McDonald (@kcimc) February 25, 2019
10.
This self-driving garbage can remembers to take the trash to the curb for you https://t.co/b3zzROcSfT pic.twitter.com/zrnL0WQCDh

— Gizmodo (@Gizmodo) September 30, 2019
11.
me when my phone dies pic.twitter.com/KygdjBkv2d

— Mira Gonzalez (@miragonz) September 15, 2019
12.
Hhjbbgggkkhhh how can you fuck up designing a water-cooler this bad pic.twitter.com/ryM0xWvlEn

— Doehips (@Goopypanther) July 31, 2019
13.
"It's an electronic fork that lights up and vibrates when you are eating too fast." ⚠️ pic.twitter.com/amC3dBot1P

— Internet of Shit (@internetofshit) July 17, 2019
14.
My grocery store got a robot that is supposed to monitor the aisles, but it can't get to the aisles because people just stand around staring at it.

— Kevin Roose (@kevinroose)
15.
Working on a new dish but I ha e to wait! Because the blender is updating the software…..cooking used to be easier…..😈😳😘😎 pic.twitter.com/ksnZUDIFGZ

— José Andrés (@chefjoseandres) June 28, 2019
More funny tweets: